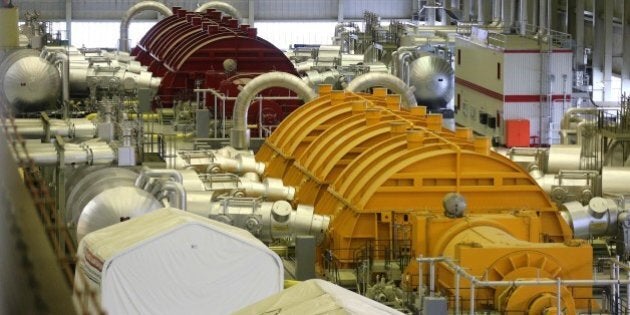 Would you renovate your house without comparing costs and design/build options? Would you use outdated technology instead of modern building practices? For most people, the answer is no.
However, for the Ontario Liberals when it comes to rebuilding the Darlington Nuclear Station, the answer is yes, absolutely. The Liberals are betting $13 billion of your dollars on this rebuild -- more, with the inevitable cost overruns. It is so risky that no private company will fully insure nuclear plants, and it prompted Standard & Poor's to downgrade Ontario Power Generation's credit rating in 2012.
At the same time, the government is refusing to conduct an independent, public review of costs and alternatives to nuclear. This is irresponsible and especially outrageous given the nuclear industry has never completed a project on time or within budget. In fact, since Ontario's previous nuclear projects have gone over budget by around 2.5 times estimated costs, the Darlington black hole could reach $32 billion.
Even if you support nuclear expansion, you want to be sure the government has made the right decision. We've seen too much of our money wasted on various energy fiascos from bad government decisions behind closed doors and buried in deleted emails. Finding financially and environmentally sustainable ways to meet our energy needs is not rocket science -- it's the due diligence we should expect from government.
So, what are the Liberals trying to hide by avoiding public accountability? It could be the swanky $100,000 fundraising dinners with the nuclear lobby, or the industry's expensive ad campaign coupled with an inability to say no to vested interests instead of fully embracing new technologies. It could also be a strategy to pivot from opposition criticism of the ill planned roll-out of renewables and the Hydro One sell off.
Whatever the reason, the Liberals are failing to capitalize on economic opportunities for Ontario. This means we risk missing out on the global renewable energy revolution. Investors and countries are acting now to take advantage of dramatically falling prices for renewable energy.
Around the world we're seeing big investments in renewable energy that are providing economic benefits, especially in job creation.
U.S. wind energy now costs less than a third of the estimated price of power from a rebuilt Darlington. Wind power supplied 97 per cent of the electricity needs of Scottish homes in 2015, on the way to 100 per cent renewables by 2020. The average price of wind power in the U.S. hit all time lows in 2014 with an average price of just 2.35¢/kWh.
The cost of solar is plummeting, with U.S. solar energy already equal to or less than the low-end estimate for power from a rebuilt Darlington. In the fall of last year alone, utility scale solar prices fell by 17 per cent. Warren Buffett -- that radical Wall Street environmentalist -- signed a record low power purchase agreement to supply solar power for 3.87¢/kWh. The average price of solar in the U.S. is now 7.2¢/kWh and falling.
It's true that with the decline of the loonie, we may not be able to enjoy low U.S. prices for anything. But there already are lower cost Canadian options for electricity.
The cheapest kilowatt is the one that you save. Commercial energy efficiency costs around 1.5¢/kWh while residential efficiency averages 3.5¢/kWh. Ontario could import excess Quebec water power for 6¢/kWh and wind power for 6.3¢/kWh. All of these options are less expensive than the best case estimate for a rebuilt Darlington.
Around the world we're seeing big investments in renewable energy that are providing economic benefits, especially in job creation. Global clean energy investment hit a record U.S. $329 Billion in 2015. The U.S. solar industry now employs over 209,000 workers. This is 77 per cent more jobs in solar than the U.S. coal mining industry and more workers than the oil and gas industry as well. Even with huge government support for fossil fuels, more Canadians work in clean energy than in the oil sands -- a shift that happened even before the bottom dropped out of the price of oil.
For every dollar invested in renewable energy, three times more jobs are created than the same dollar spent in the fossil fuel or nuclear sectors.
Yes, nuclear will create some jobs. But these jobs displace jobs in energy conservation and renewables. Plus it costs millions to create even a single job in the nuclear industry. A study by the Ontario Clean Air Alliance shows that every permanent job at a rebuilt Darlington Nuclear Plant will cost taxpayers somewhere between $5.8 and $14.4 million per job.
At a time when communities around the world are enjoying the economic and environmental benefits of a clean energy economy, the Liberals plan to lock Ontario into a nuclear money pit that historically has led to debt retirement charges, rising electricity rates, and a massive and growing unfunded nuclear waste problem that we have no idea how to solve. When the technology now exists to decentralize and democratize energy through community power, why would Ontario choose this path?
The Liberal plan is reckless and irresponsible. The timing of the Darlington announcement on the same day as the Premier announced her intention to call a by-election in nearby Whitby-Oshawa reeks of political manipulation. As in the case of the gas plant scandal, the Liberals seem to base energy policy on what works for the Liberal party, not the people of Ontario.
Ontario needs to hit the pause button on the Liberal's nuclear nightmare and conduct an independent public review of nuclear costs and alternatives. The risks are too high to move forward blindly.
Follow HuffPost Canada Blogs on Facebook