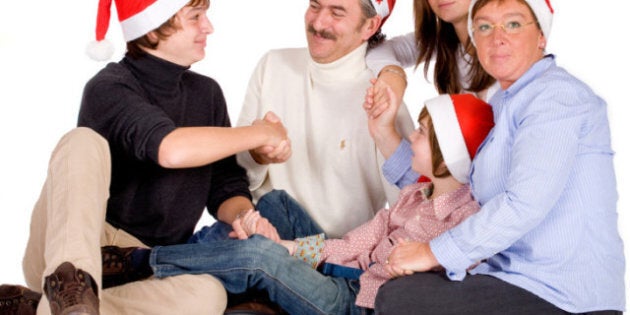 While others have a team of helpers -- flying reindeer, magical elves, Mrs. Claus -- you're generally running solo on your seasonal to-dos. To ensure you don't miss the small stuff, (the joys of the season, that is), I streamlined a holiday checklist for you.
All you need to do is print it off, put it on the fridge and take joy in crossing off the important-to-you-items once they are done. No need to do it all, just pick the ones you like.
Book a holiday shopping date with your in-house elf. (aka your beloved). We'll admit it might not be your regular date night, but it's fun pretending to be Santa while shopping for the kids and we can almost guarantee it will end with drinks (you'll need one after the mall madness).
Get haircuts. It's probably time the kids got a haircut for all the holiday events and photo ops, and you might want to treat yourself to a little trim and style as well.
Buy a small tree for the kids. Save yourself from decorating dramas and pick up a small tree for them to decorate with all their homemade Christmas ornaments.
Send the Santa letter. The technological age is upon us and not only is Santa on Skype, but you can just as easily email him your wish list or produce your child's very own digital greeting.
Download some seasonal apps.Santa Tracker, Rudolph and Dreidel HD are a good start.
Take the annual Santa photo. Years from now you'll be glad you did.
Order your turkey. If you plan on eating a fresh one, it's best to get your order in to your local butcher this week.
Make sure you have the right books. A good copy of The Night Before Christmas is essential, or experience a new tale together like Mr. Willowby's Christmas Tree.
Take the kids to a show. Whether it's a holiday movie, a musical or a carol service, it's fun to do something special to celebrate this time of year.
Give back. We have a few suggestions on how to teach your kids the gift of giving during the holidays.
Take in the lights. Most cities have cool light displays to see. Stanley Park and the VanDusen Botanical Garden in Vancouver; the Calgary Zoolights are spectacular; Ottawa's Christmas lights shine at over 60 sites along Confederation Boulevard and in Toronto, head to the Distillery District.
Do some holiday baking. We have all kinds of great recipes from Easy S'mores Fudge to Chewy Chocolate Gingerbread on EatSavvy. Just be sure to set some aside for Christmas Eve so Santa gets a nice treat.
Keep track of St. Nick on Christmas Eve. Start with the NORAD Santa tracker.
Open one gift on Christmas Eve. We like to have some cozy Christmas jammies to wear on the night we tuck in to read our favourite book, or watch

The Polar Express.

Organize and clear out cupboards. Focus on the ones where toys go. You will need a new home for all the new stuff that arrives -- trust us on this one.
The holidays aren't just about checking things off your list. They're really about creating wonderful memories.