There isn't much room for lazy in our hazy summer days, but we love them nonetheless. Enjoy every minute of this month with these savvy suggestions on how to make the most of July.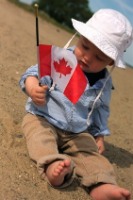 DO
Why? Because the Olympics are starting this month and it's time to get your Canadian on.
GET
Some fun outdoor toys to play with the kids.
Why? Because it's summer. And it's all about playing outside and having fun (and we don't just mean the kids).
PLAY
Set up an Olympic obstacle course in your backyard.
Why? Because a little competition never hurt anyone, but participating is the real fun. Invite friends and neighbours to compete in your own Olympics. Use lawn furniture, old tires and anything else you can find that people have to run around, climb under or over, and hop through.
READ
The Shoemakers Wife: A Novel by Adriana Trigiani.
Why? Because it's a romantic summer read that takes you and two star-crossed lovers from the beautiful backdrop of the Italian Alps to the grandeur of Carnegie Hill and the lakes of northern Minnesota. It's a riveting historical epic of love and family, war and loss, risk and destiny.
GREEN IT
Take the 2 Mile Challenge.
Why? Because apparently 40 per cent of all urban trips are two miles (3.2 kilometres) or less. So if your destination is equal to or less than two miles away, you leave the car in park and make it a walking or bike trip. All summer, no exceptions. If you stick to it, you're pretty much guaranteed to lose weight while cutting down on pollution, your gas bill, and the climate crisis all at the same time.
APP IT
Try out Postagram.
Why? Because you can take a digital photo on your iPhone or android and then have it sent as a post card -- in the mail (read: offline) -- to anyone you want. Parents, kids and grandparents love getting cards in the mail.
MAKE IT
Why? Because kids love to watch and learn about the magical transformation of the caterpillars into beautiful butterflies and now you can order a kit to help you do it at home.
DEAL IT
A deal a day to celebrate Canada EH!
Why? Because Snuggle Bugz wants to celebrate Canada Day in a big way by offering five daily deals. From June 29 until July 3, visit their site to find out what the deal of the day is.
This post originally appeared on SavvyMom.ca.