Shutterstock
We like to enforce the belief that "there is no such thing as bad weather -- just bad clothing" because we don't want our kids to be cold weather wimps. They will be dressed in style and warmth with these 19 winter gear picks that are sure to keep them outside playing for hours.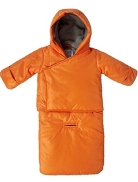 7 A.M. Enfant Bag0Coat
Smart babes run in the family. There's the one who looks smart in this hip, cozy and warm convertible bunting bag that turns into a coat by just removing a snap...and then there's the one who bought it (that's you). ($90, tell me more)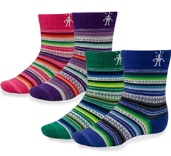 SmartWool Socks
Don't be sheepish. We've all bought bulk socks thinking they'd work well enough, but SmartWool does it better with their line that won't make feet feel wet, even when they are close to soaked. Especially good for little skaters, skiers and tobogganers! ($23.99, tell me more)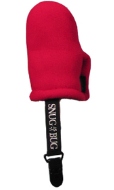 Red Clip-On-Mitts
If you're grasping for straws trying to figure out why putting mittens on a baby seems like such a chore, you've already stumbled on the issue. They literally can't grasp much of anything (including keeping a thumb in a slot and knowing left from right). Happily we've just handed you the simple solution. (Starting at $12.95, tell me more)
We've got stuff for all ages to cover their heads, shoulders, knees and toes with these 19 Ways to Keep Kids Warm.
This post originally appeared on SavvyMom.ca. Follow Minnow and SavvyMom on Facebook for more savvy tips and solutions.