Enough screens! Get them outside with our picks for outdoor toys this spring in The List: 25 Ways to Have Fun Outside. Here are just a few of our favourites.
Plasma Bike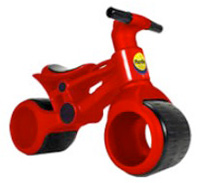 As you work on perfecting your own balancing act, you'll appreciate the thought behind this bike. For kids who are just learning to ride, the wide wheels and lightness of the bike (8 pounds) will make staying balanced look and feel easy. Just like you do, right? Ages 18 months and up. ($89.95, where to buy)
Garant Kids Garden Hose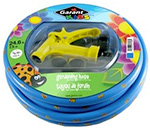 To you, the garden hose is a guilty reminder of ignored tasks (lawn watering, car washing, etc.) But to kids, it may be a fire hose, a dragon slayer, a waterfall and so much more. Bring on the pressure with this 25-inch hose and handle made just for them so you can blow off a little stream together. It's also non-toxic and phthalate-free. Ages four and up. ($9.99, where to buy)
Blue Pewi

It was only a matter of time until someone developed a hybrid for kids, but their version is way more adorable -- and affordable. This walker/rider allows for greater awareness of balance and space. Easily moved in the desired direction with sturdy non-marking caster wheels, it's perfect for both the outdoors and the home. Ages 12 months and up. ($76.99, where to buy)
Little Tikes Campin' Adventures Campsite

Do you dream of the entire family camping in harmony? Best to test that out in advance. Indoctrinate them early with a great kids' play tent, perfect for any backyard or indoor space. With three background scenes and accessories to bring it all to life, this campsite is lightweight enough to portage to the playroom and back all summer long. Ages 12 months and up. ($69.95, where to buy)
We don't mean to toy with you--here are the rest of the 25 Ways to Have Fun Outside
This post originally appeared on SavvyMom.ca. Follow Minnow and SavvyMom on Facebook for more savvy tips and solutions.