Stop, drop and roll.
Reduce, reuse and recycle.
Lather, rinse and repeat.
Slip, slop and slap.
It's not easy trying to do three things at once, but when it comes to staying safe, moms get busy.
When you think about sun safety, remember our mantra: slip (on a shirt), slop (on some sunscreen) and slap (on a hat). Our 23 Ways to Stay Safe in the Sun will do some of the work for you. Here's just a taste.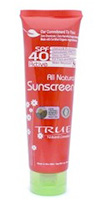 True Natural Active Sunscreen SPF 40
Beach bag at the breaking point? Save space with a lotion that provides coverage for the entire family: safe ingredients, full coverage and clear application, with water-resistant properties for anyone engaging in wet and wild fun. ($14.07, more)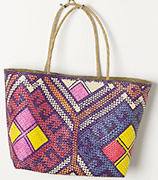 Anthropologie Imogen Tote
Outside, it's a beautiful thing to behold. Inside, it's a mess of lotions, snacks, books, glasses, skipping ropes, shovels, pails, towels, phones, beverages and bathing suits. If you have to lug everyone else's stuff around too, shouldn't you look good doing it? ($88, more)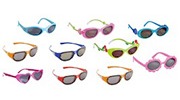 Funglasses
Sun safety is serious, yes, but that doesn't mean the kids can't have a little fun with it. Funglasses protect against both UVA and UVB rays in cute styles that kids will actually want to wear. You'll see. ($10.99, more)
We know you're burning to see the rest of our 23 Ways to Stay Safe in the Sun.
This post originally appeared on SavvyMom.ca. Follow Minnow and SavvyMom on Facebook for more savvy tips and solutions.