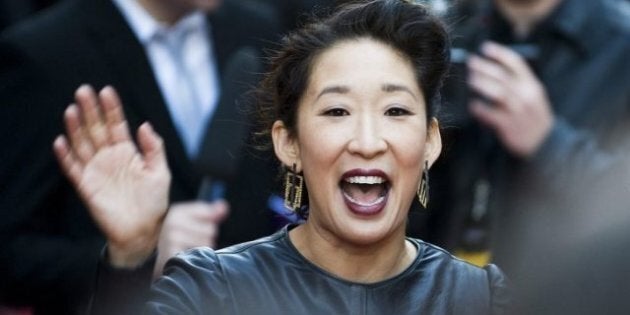 This year, Canada's Walk of Fame awards show was executed at the historic Elgin Theatre in Toronto: The event was full of glittering glamorous promise. All of Toronto society was ready to rub elbows with Sandra Oh, flirt with Ryan Reynolds and laugh with Howie Mandel. After all, mixing with celebrities usually means the ultimate VIP party, right? As I soon discovered, the answer was a resounding NO.
The red carpet was filled with publicists, interns and security. A few fans assembled outside the theatre on Yonge Street, hoping for a quick glimpse of the inductees: Roberta Bondar, Burton Cummings, Daniel Nestor, Russell Peters, Drake, and the aforementioned Sandra Oh and Ryan Reynolds. Guests were ushered from the red carpet into the theater for the live broadcast of the show. I settled into my seat in the orchestra section. Seated in my area was famed Argonauts coach Michael "Pinball" Clemons, and ex-Argo Damon Allen. The Elgin Theatre was an inspired location for the show; it was once a Vaudeville theatre, therefore it would be the perfect location for putting up with Howie Mandel's antics.
Canada's Walk of Fame awards opened with a video attempting to create a feeling of patriotism amongst the attendees. After the film, Chantal Kreviazuk took over the stage. Wearing an awkward black and red vertically striped dress which shouted Avril Lavigne rather than Canadian nationalism, Chantal belted out her newest song. Mandel rewarded Chantal's performance with a mispronunciation of her name. The pair exchanged an awkward back and forth about the mistake, lasting about five excruciating minutes. The tone for the show had been set: it was less about Canada and the triumphs of Canadian citizens; it was a show celebrating Howie Mandel, his shameless name-dropping, self-promotion and awkward antics, which left the audience beyond uncomfortable.
Midway through the ceremony, I realized that I had not yet seen Ryan Reynolds, or heard any tribute to him (as had been done for the others). He was a no-show, and his attendance was not commented on at all by the host or any of the other inductees. It seemed as if Drake had been thrown in at the last minute, and given some sort of award to legitimize his presence. Roberta Bondar, Burton Cummings and Sandra Oh all made heartfelt and carefully short acceptance speeches. Russell Peters was perfectly hilarious. Drake was charming, and there was a feeling that the women in the room paid slightly more attention to his speech than the others.
It seemed as if the evening would pick up; a level of gracious humility had been restored every moment Howie Mandel left the stage. However, disaster struck in the form of Eric McCormack. McCormack, the actor who played gay funny man Will on the hit TV series Will and Grace, led a group of aged rock 'n rollers on stage to sing a tribute to Burton Cummings. The performance was terrible. I was amazed by the fact Burton Cummings was touched by such an awkward tribute, performed by men clearly grappling with the reality of their age. Eric leapt and frolicked around the stage, he evoked an image of a drunk leprechaun rather than a studly rockstar.
The show ended with a promised Justin Bieber performance. The minor detail -- not mentioned -- was that the audience would not see J. Biebs LIVE, but rather via tape. And for a painful three minutes, the audience was forced to endure Mr. Bieber moaning and groaning an incoherent cover of a Drake song, on a screen within a stage (boom, Inception).
The party continued on much like the show had. While Jamie Kennedy had prepared the menu, the food was worthy of a two-star hotel banquet hall. Guests were treated to a drunk auction (which had some poor fool bidding $8,000 for Justin Bieber concert tickets -- I hope his kids are really big fans) and an awkward performance by Steppenwolf. Every balding, overweight man in the room started grooving to "Born to be Wild."
It wasn't a glamorous evening, nor was it a wild one. Overall, Canada's Walk of Fame awards seemed like an annoying chore for the inductees to deal with and a party where the only happy guests seemed to be the 14-year-old crowd that finally had a chance to wear that special dress Mom bought them from Holt's just for the occasion.