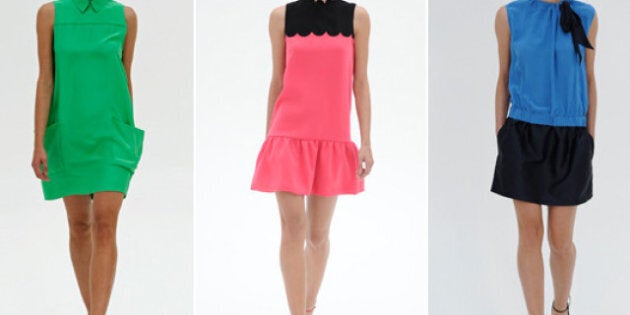 It's the most wonderful time of the year... or really the season. Fashion week has swooped in upon New York City, and has turned the city topsy turvy with the arrivals of new clothes, new looks, and of course, new rules.
Earlier this year, the Council of Fashion Designers revisited their health guidelines, and decided to raise awareness about eating disorders, in addition to stopping girls younger than 16 from walking on the runway. As progressive as this is, a ban on young runway models or raising awareness about eating disorders will not solve the problem. The problem doesn't stem from "weak" young women, or pre-teen models. The evil lies in modeling agencies, determined to sell a product, not a person.
When I was 13-years-old, I decided I wanted to be a model. I was tall and lanky: 5'8" and 115 pounds on a good day. I had often been asked if I was a model, or told I should model. And, after becoming addicted to America's Next Top Model, I decided I wanted to give it a go. I persuaded my mother I was serious, and she reluctantly agreed to accompany me on a round of the agencies in Manhattan. I had a portfolio, a list of all the major agencies in New York, and unabashed confidence. I was ready.
The very first agency I went to was Wilhelmina Models. I was told to leave my photos with the receptionist and then wait in a sitting area with six or seven other girls, also all with their mothers. We waited. We waited. We waited. After what seemed like forever, two women came out of the office.
"Thank you for coming to Wilhelmina. If we call your name, please come and collect your photos. We are not interested." Every girl anxiously stared forward, hoping that they would not hear their names called. The agents began calling names, and soon almost all the girls had left the agency. My mom gripped my hand; it looked like I might get an interview and an offer! My heart was pounding.
Finally my name was called. I walked up to the agents and smiled, holding my hand out to grab my portfolio. I didn't expect to hear what they would say next.
"You're quite pretty," Agent #1 said. I thanked her.
"Have you ever considered plus size modeling?" asked Agent #2. I was humiliated.
Thankfully the only people to witness this defeat were me, the agents, and my mom. I shook my head no, and took my photos. When we got outside, my Mom was in a rage. "That's how eating disorders are CAUSED," she fumed, as I pleaded with her not to go back into the agency to tell the agents what she thought about their weight.
A few years later, after spending my time doing odd modeling jobs here and there, I decided to try my luck with an agency again. This time I was 15, and I had won a national modeling competition for Seventeen Magazine. The prize was a photo spread of me modeling back-to-school fashions in the fall issue. My confidence had been restored. I went alone to Elite Models, despite my mother's protests that someone come with me for "moral support."
I arrived at Elite's offices, handed in my photos, and waited. Soon enough an agent appeared, with my photos and a "sorry to break the bad news" kind of speech. At least this time around, I had been expecting that. This agent told me that I needed to lose some weight off my face. I inquired how I could best do that. He told me "dieting and the gym." I thanked him for his time and left, once again disappointed.
Agencies are the culprits of furthering the evils of body image. A picture of an outrageously thin girl in a magazine is certainly in part to blame, but, nothing is as horribly influential as an agent telling a tall, skinny girl that she needs to lose weight. Will the skinny girl in the magazine make me feel fat, or will the booker of skinny girls telling me I'm fat make me feel fat?
Why not book the girl who is two inches too short? After all, Kate Moss is a mere 5'7. Why not book a model who is a size 4 or 6 instead of a 0?
If the fashion industry really is moved by innovation and change, why can't agencies be trend setters instead of trend followers?