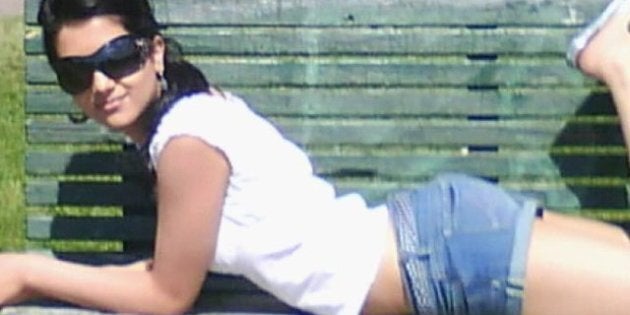 Another group should stand accused alongside the Shafia family, during the ongoing trial of their daughter's murders: the social service and youth protection professionals who catastrophically let the Shafia girls down.
Yahya, 42, Shafia, 58, and their son Hamed, 21, are accused of killing three teenage Shafia sisters and Shafia's first wife in a polygamous marriage. Zainab, Sahar, Geeti, 13, and Rona Amir Mohammad, 52, were found in a car at the bottom of a canal in Kingston on June 30, 2009, when the Montreal family was heading home after a trip to Niagara Falls, Ont.
Yahya, Shafia and Hamed have each pleaded not guilty to four counts of first-degree murder.
The Crown alleges the killings were precipitated by family anger, in particular from patriarch Mohammad Shafia, that daughters Zainab, 19, and Sahar, 17, had boyfriends. But the family has said that Zainab had been forgiven and Shafia didn't even know Sahar had a boyfriend until after her death.
When a woman is in a violent relationship, her brain shifts into a primitive survivor mode. She doesn't always necessarily think of how she should do the right thing (regardless if that means talking to someone, or being honest with the law about her relationship); instead she is consumed with fear, and desperately avoids the violent reaction which could jeopardize her, or any of her family members.
All violent relationships are equally terrible, but some are more violent than others. Many women won't ever come forward, not because they have an interest in protecting their abuser, but rather because the fear of the abuser discovering this moment of her courage, or her plea for help, could potentially kill her. Outsiders might believe she is overreacting, but they do not see the entire picture. In fact, very rarely do they ever get a picture at all.
A close friend of mine was in an abusive relationship a couple of years ago. She realized about three months into the relationship how trapped she was. When I asked her why she couldn't just leave, call her parents, or simply run away, she responded with, "He'd find me, or he'd find my friend and somehow then find me. There's no point. He wouldn't leave me alone." Three months after this conversation, the relationship escalated dramatically and the police became involved.
The abusive boyfriend was given a temporary restraining order, and my friend went to live with her family members. Her fear didn't disappear. My friend's family laid charges of assault; the police visited the abusive boyfriend on the same day the charges were laid to inform him who had charged him and with what, but they did not take him into custody, even while he was still leaving threatening messages on my friend's voicemail.
My friend went off the radar for the next month, desperate to throw him off her scent and disappear from all who had known both of them together. She had a bodyguard follow her to part-time work, to her university classes. She changed her phone number, moved into a new apartment. The threat died down, the abusive boyfriend disappeared into her memory and left her reality. The only evidence of his existence is a single cigarette burn on her wrist.
What stunned me about my friend's story was the lack of action taken. Yes, her family had rushed to her aid and did everything in their power to punish her abuser, but the police did not take him into custody. Instead, they allowed him to run (dangerously) free until his court appearance some months later (to which he showed up, pled guilty, and was immediately let go on probation). Thankfully her story ended well: She moved on, lives happily and safely, and is in a strong, healthy relationship free of violence. But not all victims have stories with such an ending.
The Shafia case is an example of horrific abuse gone awry due to a lack of qualified professionals acting as a community and helping those who were murdered. As the court has heard, the victims, especially Shafia's daughters, had attempted to secure help from outside services numerous times. Some of the professionals involved attempted to help and were frustrated by what they couldn't accomplish; but others only ended up contributing to keeping the girls in a violent relationship which inevitably consumed them.
Geeti Shafia, 13, was the youngest of the victims and was also the most vocal about her problems at home. The Crown presented to the court that police officers as well as school staff knew that Geeti had a persistent desire to be removed from the Shafia home. Geeti had made plans with her older sister, Sahar, to run away from home, but the plan was stopped with school authorities insisting that "a 13 year old belongs at home with her parents," according to court documents. Geeti had no issue vocalizing the violence she had seen and had been inflicted upon her, unlike her older sister Sahar. Geeti had spoken with the police, various staff at her school, and even youth protection workers. Still, nothing was done and Geeti remained in the custody of her parents, despite her continuous pleas for living in a foster care arrangement, the court was told.
Meanwhile, Sahar Shafia, 17, was gripped constantly with fear. The Crown said that she was vocal about her complaints at home and of her family, but when it came time to complain to social workers or the police she became silent, fearing what they would tell her parents she said, and fearing her own safety. However, she had no problem speaking to teachers at her school. She had reported that her older brother, Hamed, had assaulted her. She said she was afraid of her father. She was spied on by her younger siblings who also attended her school. She missed large chunks of school because her parents wouldn't let her leave the house. All this she explained to school staff, and the school called a social worker. As the court heard, Sahar went silent when she discovered that because she was a minor, the social worker would repeat everything she said to her parents. She had no confidentiality agreement, and thus feared what her parents would do if they found out she had spoken to someone.
The police had even been sent to the Shafia house, due to concern from a social worker who spoke with Geeti. The case was closed, but the police had noticed bruising on the girls. They also noticed how the children's behavior radically shifted from talkative and upset to fearful and quiet when their father entered the house. Although the Crown said that the police saw clear evidence of abuse, the girls were left with their family. Nothing happened and now they are dead.
It's moments like these which make you wonder, WTF? How many more women and girls have to suffer and even die until it's too late?