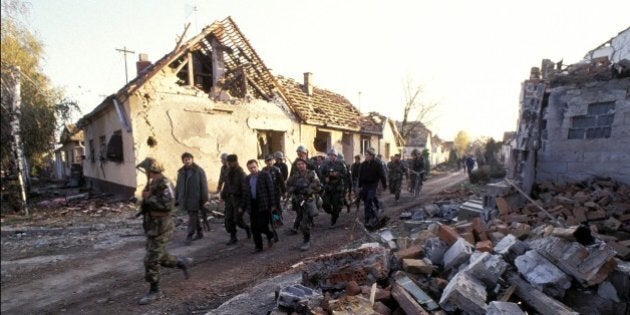 All the posts and articles about the current refugee crisis and the little boys found washed up on the beach have been very difficult for me to follow. Back in 1990/91, I was living in a small town called Djakovo in Croatia (then still former Yugoslavia) and I'd been living what felt like a pretty charmed life. I was surrounded by a huge, loving family, I had great friends, and I was excited to be finishing up grade eight to go to high school. I knew that I was going to go into broadcasting and that year I had a radio show with some classmates. Our show was called "Mix Club" and it was one of the coolest things I've ever done -- being in the studio live on the air, people were actually calling in when we invited them to, and we even got to decide on the programming and music! In late spring of 1991, I remember sitting in a cramped office with some of the regular TV/radio personalities as we solemnly watched footage of tanks rolling into Djakovo, just before it was aired on the local news.
I have a lot of fragmented memories from that time. Those tanks were coming up my street, past my home, and yet, I have no memories of seeing it in person. Just the footage burned into my mind. I also felt like there were two realities -- the ones where I was a child and the ones where there was fighting. War. Classmates hurling insults based on ethnicity from generations past, where before there was strong friendship. An end of year excursion to Plitvice Lakes National Park was cancelled because of escalations of violence. Vukovar, a nearby town, was bombed just weeks after I had performed there with my ballet troupe. And then I was suddenly moving back to Canada.
In a way, my life fractured, where I was one of the lucky ones to escape and I can't even begin to imagine what my classmates and family went through. Visiting my home in the early 2000s, I saw the bullet holes from a battle that raged for three days while my grandmother was trapped in the hallway, unable to get to the shelters. I didn't have to hide with her and instead I was safe in Toronto, going to classes, listening to music, making new friends. And yet.
I've felt lost ever since. I never went into broadcasting. I've struggled to find a new path, instead perpetually stuck in those days where I was being led out of the country just before the borders closed. Why was I able to escape, when countless others weren't? What about me made me more valuable than anyone else? Just because I happened to be born in Canada?
My heart keeps breaking for Alan and Galib Kurdi. What kinds of lives could they have lived? If there had been no war in Syria? If they'd made it to Canada?
Editor's Note: The boys' aunt told The Canadian Press the boys' names are Alan, and not Aylan, and Galib, not Galip, as originally released by the Turkish government.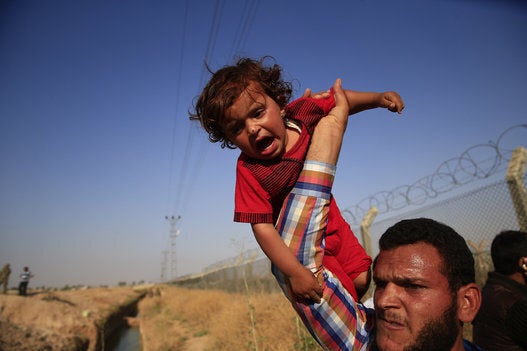 Syrians Flee Into Turkey, June 2015