Vstock LLC via Getty Images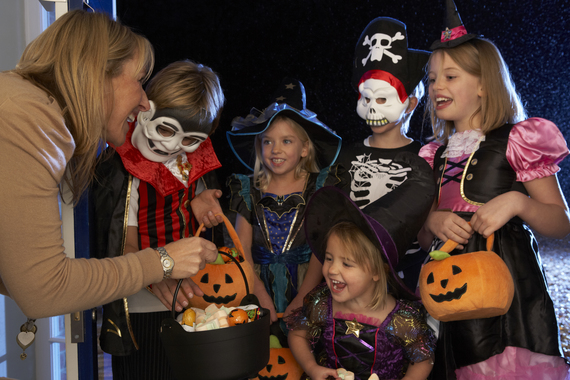 Photo by iStock
Can Halloween still be fun for someone with gluten, nut and dairy allergies? Absolutely! Aside from decorating the house, carving the pumpkin and finding the perfect costume, putting your kids in the eye of a candy storm can be a frightening prospect.
Getting ready for a gluten-free, peanut-free or anything else free Halloween just needs a little more diligence from you with a little extra planning and some close attention to candy ingredients so no one you love gets tricked by treats!
If your child was diagnosed at a very young age, he or she will be used to it. They may complain, but they know the drill. For a newly diagnosed 10 or 12-year-old child who suddenly has to play by new rules, it may feel unfair. The "why me? Why I can't I just be like my friends?" might come up. It's NEW. They have had Halloween all of their lives and the game has changed.
How to handle Halloween depends on what you are facing as a parent. Typical questions like, "How do I want to plan a good Halloween for my family? Will we have a house party, give out candy or send the kids out for trick or treating? How will we deal with the candy that the kids cannot eat?" The more allergies one has, the more complex the problem gets.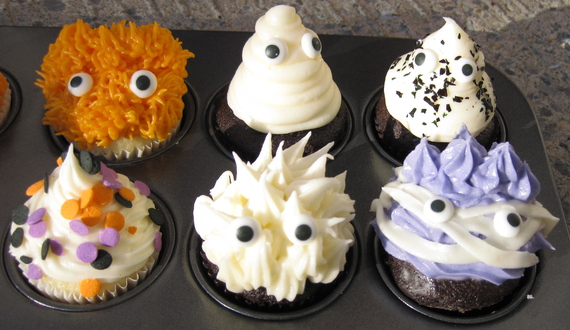 I love to help parents by sharing what I learned along the way managing my own Celiac and allergy-ridden household. Here are my best suggestions for a safe and fun gluten-free and allergen friendly Halloween:
1. It's better to give than to receive: When your kids are young, start a family tradition of dressing them up and giving out candy instead of going out to collect. Invite friends and family to join in and make a party out of it. Your kids can give out the safe treats, they will have fun doing it, and they can indulge in leftovers! Nobody feels deprived.
2. Buy backup candy: If they do go out trick or treating, at the end of the night when they return home with their loot, they can trade with their friends or family. Have your own supply of safe candy and trade non-safe ones for the safe ones. My kids usually end up at a friends house and trade there.
3. Toys are fun to receive too: If you know some of the people you will be ringing at such as special friends or family members, you can ask them to throw in some non-candy items for Halloween. There will be Halloween loot bags in party stores and inexpensive fun things to find at your local dollar store.
4. Have a party!: Plan a pumpkin-carving contest for teens only. Have a costume contest. Play horror games. Read spooky stories. Spray silly string at each other. Set specific boundaries and play hide-n-seek in your neighborhood in pairs and with flashlights. Bake cupcakes and decorate them with Halloween candy and colors. Mummify yourself and your friends with toilet paper. Kids of all ages can get into action. It's not just about the candy!
5. A conversation is the key: Knowing and understanding the situation ahead of time will help to alleviate any unforeseen expectations. I suggest preparing your kids in advance and discussing with them how to handle the candy and the evening. Let them feel they are contributing to the decision making and come up with a plan that is acceptable for everyone.
6. Have a list handy: Print out a copy of a gluten-free candy list to keep on hand so you know what is gluten-free. Canada and USA candies are not made in the same factories so please be careful which list you follow. More and more candies are gluten-free and nut-free each year. They list gets updated thanks to those who make them. Check out the Canadian version at www.myglutenfacts.com this coming October 13th.
7. Read labels carefully: You will usually find me with a magnifying glass at the end of the evening sifting through my kids bags and reading each and every label. The writing is often crazy-tiny but I do it. I won't take chances and nor should you ..... If something looks questionable, don't risk it and if there are no ingredients, throw it out. Never keep anything not fully wrapped or sealed to avoid cross contamination.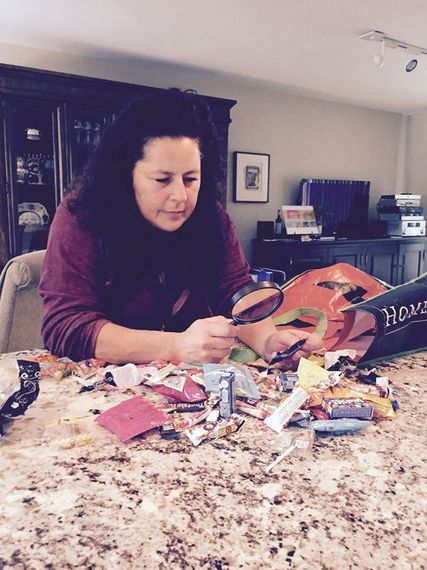 No need to fret this Halloween. Plan ahead, be safe and make it the best Halloween year ever!
ALSO ON HUFFPOST:
Non-Candy Halloween Treat Ideas