dima_sidelnikov via Getty Images
If it were up to me every family would schedule time to cook together. When my kids were very, very young I'd involve them by asking them to pass ingredients or place the sliced red peppers for the mouth of their happy face pizza. Our kitchen then had a play area so it was easy to prepare meals while watching them play and there was always an open invitation for them to hang out with mommy in the kitchen.
As they got a little older they were cracking eggs and decorating cupcakes and before I knew it my kids were competing with each other to see who could make the best salad and dressing for the house title, a take on the show Masterchef Kids.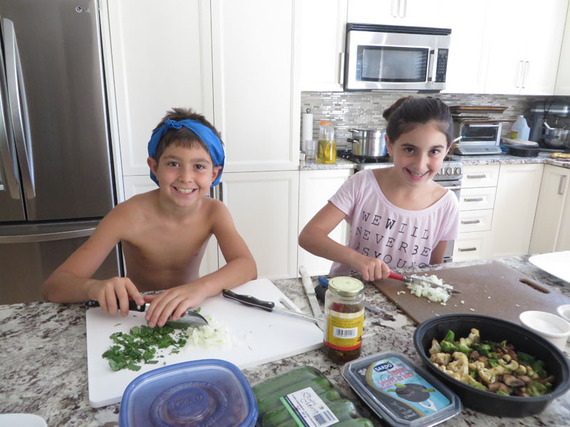 This has always been a family value of mine. It became even more important to me when their diagnoses of celiac disease and severe allergies came in and I had to convert my kitchen. Now it wasn't only about participating in preparing meals together as a family for the good it brought to us. It was about them becoming familiar with what was safe to eat and what was not. I wanted them to be comfortable and knowledgeable in the kitchen because eventually they will be making their own food to stay safe.
So why should you teach your kids to cook?
1. All the good stuff happens in the kitchen. Families who cook together and eat together spend quality time together. The best of times are spent around the supper table, the holiday table and the talks cleaning up.
2. Cooking is a survival skill. Children that know their way around a kitchen know how to fend for themselves. Skills such as working as a team, following directions, measuring and math and organization are all important aspects of cooking. These days, food intolerances and allergies are at an all-time high. More and more people will not be able to dine out and will need to learn to dine in, keeping it safe and making it fun.
3. Cooking is an education not taught in school. Go shopping with your kids and spend time in the fruits and vegetables section. Teach them what a zucchini looks like and what veggies are in season. Go home, show them what they can do with zucchini and let them taste the new dish; even if they only take a bite. Learning by touch, feel and taste is the best classroom there is.
4. Cooking is an adventure. There is a natural curiosity and creativity in kids that lends itself perfectly in the kitchen. Experimenting in the kitchen can be fun especially if you let them make a mess. Plan, prepare and let them be creative. If you treat your kitchen like a playful backdrop to learning they will -- without even knowing it. They will be honing very important life skills that can transfer over to other areas of their lives.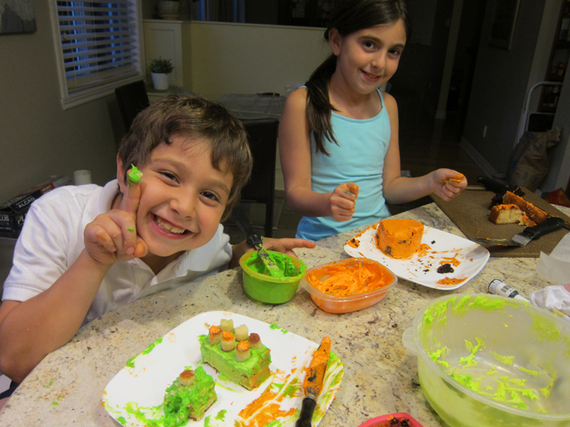 5. Set your kids up for a healthier future. Preparing fresh and wholesome homemade meals at home will most likely teach your kids to do the same. Set them up for a healthier future in terms of how they will eat when they're on their own. It is amazing how they pick up all we do, good or bad.
6. It's rewarding. The sense of accomplishment in preparing a meal is rewarding. To start with nothing and then have a meal to put on the table that looks, smells and tastes delicious is a big accomplishment for anyone. Be proud of them and encourage them. Their self-esteem will rise and they will continue to want to cook.
If you want a recipe for success having the kids in the kitchen with you...
Schedule it and keep it simple. Let them be a part of the planning process. Decide what you will make, make sure you have what you need on hand or plan a trip to the supermarket. Decide when to meet in the kitchen and get to it together, as a team. Whatever they can do without your help let them and you stick to something they're still too young to handle.