My face actually hurts from smiling so much. But I just can't stop. I hold hands with my son Noah, age 9, as we march behind the Disney Festival of Fantasy Parade in Orlando.
"Find the dream inside of you and seize the moment", the passionate life size mouse tells a crowd of children from all over the world. "When you believe in yourself anything is possible".
(Yes Mickey! I believe!)
Disney World's Magic Kingdom is so much more than attractions, rides, entertainment, activities, shopping, and food, -- it's about believing in the power of dreams and "taking the dream with you wherever you may go".
A smiling Minnie Mouse chimes in, "By believing in your dreams you save the day".
The challenge is, how do we take these magical dreams and apply them to our every day lives? All I know for sure is we are having the best time.
The families around us represent multiple cultures and ethnic backgrounds. And apparently they all took their children out of school since it's Friday morning. I met a mom from Russia with two adopted daughters; a young couple from China on their honeymoon; a family from the middle east celebrating their son's birthday; three generations from Mexico with many grandkids; an American family with a seasons pass; and a single mom from Spain that saved for years to come here with her two children.
Noah shouts over the singing animals; "Now I understand what my friends meant when they said it's magical here. I had no idea it was like this!" And quite frankly neither did I. After a 25-year absence my return to the world where dreams come true is beyond anything I could have dreamed up.
And hey, Disney is the only place where make believe characters need bodyguards to fend off the mommy and daddy paparazzi.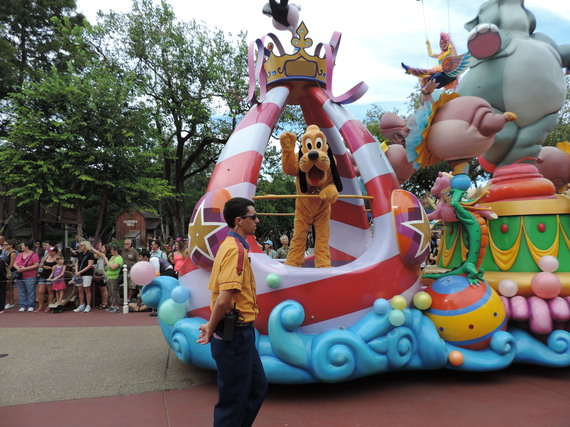 There is nothing cooler than a selfie with your favourite life size talking stuffed animal to add on your Facebook profile. Kids excitedly swarm the lovable fairy-tale creatures for hugs. Earlier I witnessed teenagers screaming and crying when Pooh, Tigger, Piglet and Eeyore walked by as if it were John, Paul, George, and Ringo.
However, when we met Mickey Mouse earlier I was so emotional I stumbled over my words. I told him I loved him as a child and was thrilled to see him again. And I hugged him. Yup, a total stranger dressed up as a mouse received my passionate embrace. Anywhere else in the world this would be unacceptable. Noah picks up on my energy and we see everything through a magical filter. My smart rationale son believes in magic.
"Mommy, will Mickey Mouse live forever?"
(Yes!)
"Does he really love us like he says?"
(Yes!)
"If you marry him can he come live with us?"
(Wait, what? No! He's married to Minnie silly, now lets go check out It's A Small World and try some famous Dole Whip!
Tip: Sign up for FastPass online before you arrive. This complimentary tool allows you to reserve up to three attractions and rides per day and saves you time waiting in line-ups.
Five Additional Magical Things To Do In Orlando
1. Have a glass of wine and act goofy with Goofy
The Pinot Grigio is all for me. Noah enjoys a pasta dinner. But we both high-five Goofy as he walks in the room and visits our table. Character dining is a great way to keep the magic going if you aren't going back to the Kingdom. We stayed at the Swan and Dolphin and they have Disney character dining at the Garden Grove restaurant nightly for dinner and weekend breakfasts. For dessert we share the coconut ice-cream and order multiple bowls to hang out with our huge stuffed animal friends all night.
2. Meet a Wild Alligator at Boggy Creek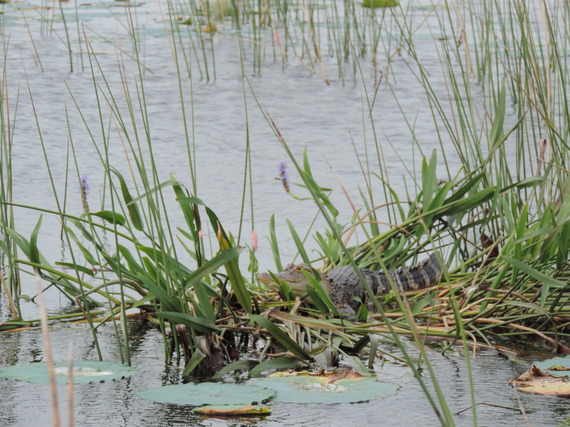 We don't attend zoos, marine parks, or any place that keeps animals in captivity, so lucky for us we discovered Boggy Creek Airboat Rides. Our boat glides magically through wetlands and zips past cypress trees and tall grass over water that eventually connects to the everglades. Our captain, Brandon, stops occasionally and points out birds and wildlife. Suddenly Noah sees an alligator and our boat slows down. We smile and wave just before the little guy slithers away.
3. Enjoy a famous gluten free, vegan, kosher cupcake
A magical cupcake you ask? Sure, why not! While it may not give you superpowers it sure tastes delicious. And to find a vegan cupcake on Disney property qualifies as magic to me. Erin Mckenna's Bakery NYC has a location at Disney Springs and is a short shuttle bus ride from our hotel. Noah and I devour multiple treats that are every color of the rainbow. We are too full to try the vegan frosty soft serve so we will have to return again.
4. Fly on the Eye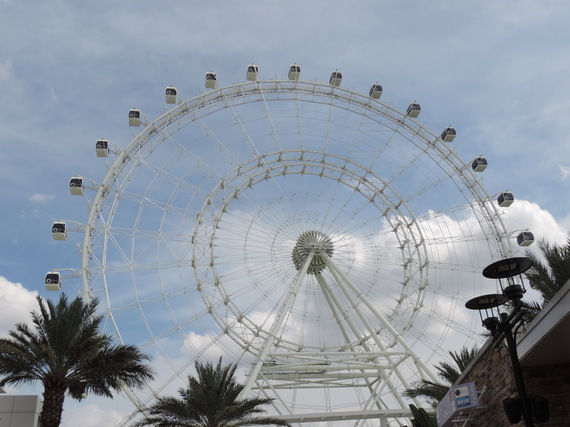 The Orlando Eye is definitely magical and allows you to see the entire city from 400 feet in the air in an observation wheel. The little capsules are fully enclosed (No jumping!) and safe for all ages. I wasn't nearly as scared as I thought I would be. Bring your camera!
5. Design your own lightsaber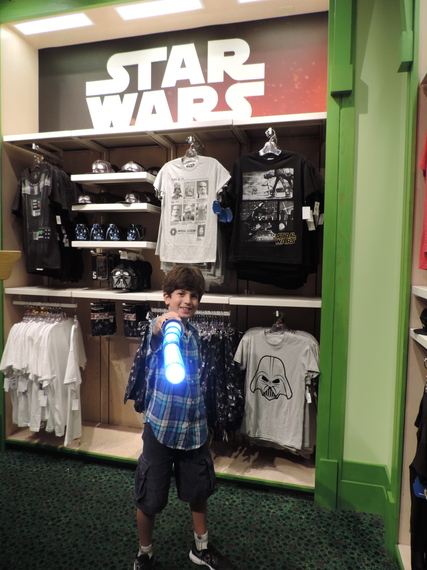 Just in time for the release of the new Star Wars movie, trekkies can build their very own lightsaber at Once Upon A Toy at Disney Springs. Noah carefully chooses the pieces for his mighty glowing sword, puts them together, and voila -- magic! Now my little Jedi Knight is all set for the movie premiere!
Our dreams definitely came true on this trip. And if we are lucky, Mickey's magical messages will stay with us long after the memories of Orlando fade.
So lets all say it together. The magic is real. And it's spectacular.
Get more ideas for planning your vacation from Visit Orlando.
All Photos Property Of Miriam Porter
The author was a guest of the Orlando tourist board. The hotel and the tourism board did not review or approve this article.
ALSO ON HUFFPOST:
15 Restaurants for Traveling Vegans