Getty Images
"Own your own piece of sky," says a downtown Toronto billboard, advertising a glass high-rise condominium, hundreds of which gleam on Toronto's fast-developing skyline.
Big glass high-rises mean modern, high-tech, success, money, and, to some, beauty. Certain real estate markets -- like downtown Toronto's investment properties and like Silicon Valley and other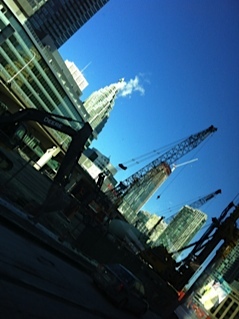 dense high-tech office parks in U.S. and Canadian cities -- have an addiction to this particular shining look that's hard to break and tenants have come to expect all the glass. But the glass boxes pose particular problems for energy efficiency, glare and comfort that some green developers want to expose.
Toronto currently has the largest number of tall buildings (132) under construction in North America, according to Christopher Hume, urban affairs columnist and architecture critic for the Toronto Star. Hume moderated a recent panel, sponsored by Holcim Cement Company, at University of Toronto consisting of a developer, two University of Toronto architecture professors, a city official and CEO of a green engineering firm that works in both the U.S. and Canada. All are working to slow the momentum of the glass tower obsession in North America.
"All glass towers all the time. It's so frustrating to see it going on," says panelist Alex Speigal of Windmill Development Group, whom Hume describes as "one of the few developers out there who does really good stuff."
"We're stuck with these buildings for so many years. It's almost criminal that they are being built. Units keep getting smaller. The huge amount of glazing gives people the illusion of giving people space," says Speigal.
While the glass buildings may look appealing, they provide little privacy, are usually energy hogs and are known for bothersome glare and for being uncomfortably hot or cold, belted by interior perimeters of what panelist and U of T architecture professor Kim Pressnail calls "no sit zones" near the glass walls.
"Drive around and look at how many of the windows are being blocked out to keep out unwanted solar gain," says Pressnail.
Everyone seems to know they're bad, yet they continue to dominate the Toronto skyline. "It is about the consumer. If people didn't buy these glass boxes, we wouldn't make them," says Spiegel, an architect who became a developer just for this very reason; he doesn't always agree with the building choices of the client, so, he says, he became the client.
People buy them because they have amazing views, they look cool and real estate values in Toronto make them a great investment. About 60-70 per cent of the downtown high-rise condo towers are bought by investors, most of them offshore, who rent them out and then sell them after they appreciate, according to Hume.
The buildings have their own momentum, which is proving difficult to slow. A few things need to change in order to encourage better performing, more energy-efficient and more comfortable high-rise buildings. According to the panellists, those change agents are: Codes, energy prices and labelling, or transparency.
"The building code is the lowest common denominator of design," says Speigel.
Pressnail agrees. "Looking at the building code leads to the conclusion that as long as energy is cheap, it's hard to justify changes," he says. "Natural gas is the crack cocaine of energy," he adds.
Panellist Kevin Hydes, CEO of the deep green engineering firm Integral Group, says, "Early adopters typically focus on ethics and values in leading market transformation. The larger mass-market leaders are motivated by corporate social responsibility, shareholder value, and return on investment. We need to translate and interpret what the innovator pioneers are doing to the larger mass market."
Hydes, one of the founders of the Canadian Green Building Council and an advisor to the Clinton Climate Foundation, cites the example of the retrofit of the Empire State Building, which made the building a model for energy-efficient office buildings. "Because the rents in the building were falling, the owner gave it a new image and the rents increased," he says. (Integral Group consulted on the project.) Notably, a significant factor in increased energy efficiency came from retrofitting the historic windows with better glazing.
Panellist Eleanor McAteer, of Toronto's Tower Renewal program, dedicated to bringing energy efficiency to high-rises, argues, "Unlike the Empire State Building in New York, you can have a pretty bad building in Toronto and still make money because of a one percent vacancy rate."
"It's the envelope that's the problem," says Hydes. "What happens if every building wants to be a glass tower? There's a conversation that can influence how these buildings are getting built. The market wants to deliver glass towers. Buyers want views. How do we make them comfortable?"
One technological solution he offers is dynamic glass, which changes based on what's happening outside. The cost of glazing is also coming down, making it easier to install much more energy-efficient glass.
"Maybe the issue isn't technology, but culture," says Hume, who says that when he drives by the billboard that says, "Own your own piece of the sky," he thinks, "I can see why people want that."
Pressnail agrees, the glass itself is not solely to blame for the energy and comfort issues. "We could build a glass curtain wall system that is low energy. It can be done. It's not the glass box that is the problem. It's the no sit zone."
Manitoba's Hydro building in Winnipeg is a high performing building that is all glass, says McAteer. And there are others. But, glass or no glass, Speigel says, people don't want to pay extra for an energy-efficient building.
One solution Speigel offers is a green loan system. These loans pay back to the condo association over 10-15 years from energy savings. Like the Empire State Building is proving, green buildings pay back, maintain their value and bring good press, he says.
"New York City has also taken a great leap forward by saying if you use a public resource like water or energy, you disclose annually," says Pressnail.
If we start labelling our buildings with a sticker with how much they consume, that will help, says Speigel. Requiring developers to establish energy costs over time and more rigorous budget enforcement would also help. "Maybe developers should be responsible for 5-10 years operations costs," Spiegel recommends.
"San Francisco is doing it [labelling]," says Hydes, who lives in Berkeley. "Toronto should just start doing it. Just print out the energy bill and put it in the lobby. You don't even need a complicated label. It's our responsibility to get this information out there."
"If it's as simple as an energy bill, get it out there," agrees Pressnail. "Labelling and disclosure is going to happen, it's just a matter of when. Disclosure will change that investment. In a better-informed marketplace, responsible design will be looked on more favourably," he says. "The truth shall make you free."
Most Energy Efficient Cities In America