The 2004 television series Battlestar Galactica (2004 -2009) was without a doubt one of the best ever sci-fi shows. You don't even have to be a fan of science fiction to love it: the show was included in Time's 100 Best TV shows of ALL-Time and had multiple Emmy nominations and wins. (The Series is now available on Netflix.)
Audiences were captivated from the very first scene with the strikingly beautiful Number Six played by Canadian actress, Tricia Helfer who kicks off the first phase of the Cylon's plan to exterminate the human race. Tricia's flawless portrayal of the calculating and conflicted Number Six kept audiences riveted throughout the series as several copies of Number Six began to wrestle with the necessity and ethics of the Cylon plan. Indeed throughout the series audiences were inspired to think about how we treat those who are different from us and those who are at our mercy.
For many, the issue of cosmetics testing on animals raises similar ethical questions. Is it necessary?, Is it ethical? And for many, the conclusion is No and No. While I can't be sure what conclusion the fictional Number Six would reach, I am thrilled to know that Tricia Helfer sides with the animals, and has teamed up with Cruelty Free International to help end cosmetics testing on animals in Canada.
"Animals shouldn't suffer for the sake of beauty. I am proud to join Cruelty Free International in urging Canada to end cosmetics testing on animals."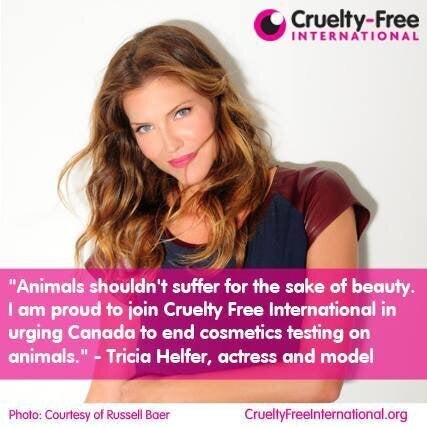 While the European Union, Norway, Israel and India have banned animal testing for cosmetics, 80% of the world, including Canada, still allows animal testing for cosmetics. Cruelty Free International is working to change this.
I recently returned from Ottawa, Canada where I gave a presentation at the International Cooperation on Cosmetics Regulation (ICCR), which is a voluntary partnership among the health authorities of Canada, Europe, Japan , and the U.S. The presentation stressed that it is in the interest of everyone - consumers, regulatory agencies, and the national cosmetics industries - to have broadly similar safety testing regulations, and given that animal-tested cosmetics are now prohibited from sale in the European Union it makes economic sense for other countries to do the same.
The Canadian Government through Health Canada works to ensure product safety for Canadians, and as the European Union has shown, this goal is entirely compatible with ending cosmetics tests on animals. Indeed, modern alternatives are usually cheaper, faster and more human-predictive than antiquated and cruel animal tests. Canadians can add their voice to Cruelty Free International's online petition urging Health Canada to take action
Cruelty Free International kicked off its campaign in Canada in 2012 gathering pledge signatures with The Body Shop as part of the largest ever global initiative to end the use of animals to test cosmetics - pledges were collected in over 65 countries and the campaign garnered the support of 1 million consumers.
In February of this year, Cruelty Free International and The Body Shop Canada presented the global pledge to Elizabeth May MP, Leader of the Green Party and we have now launched a new petition with help from Elizabeth May to call on the House of Commons to establish a ban on animal testing for cosmetics. A copy of the petition is available for download from Elizabeth May's website The petition creates an effective and unique opportunity for caring Canadians to take action and make their desire for cruelty-free cosmetics in Canada heard.
We are thrilled Tricia Helfer is now adding her voice to our Canadian campaign. She joins a growing list of compassionate celebrities who want to help ensure that cosmetics are safe and humane everywhere in the world.