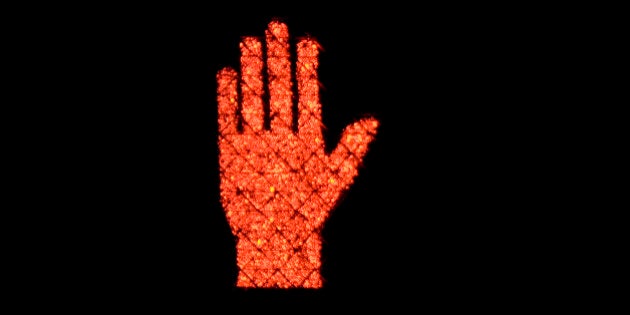 It's a sad day for Toronto as a family will hold a funeral for a seven-year-old girl. She was hit by a van near her home. Her death is an unimaginable loss to her family and the community. This loss of life should compel us to think about making our streets safer for all, but especially for pedestrians and bicyclists, who are more vulnerable than others are.
Georgia Walsh was struck by a van last Wednesday in Toronto's Leaside neighbourhood. The community, saddened and justifiably angered by this tremendous loss, is raising questions about the harmful impacts of increased traffic on residential streets.
While the children remain vulnerable to traffic accidents, however, seniors are the most vulnerable of all pedestrians. As we think about making streets safer for pedestrians and others, we should also be mindful of the aging population in Canada that may increase the odds of fatal accidents in the future. A mix of strict enforcement, local empowerment, traffic calming schemes, and better education is needed to make the streets safe for all users.
Seniors are the fastest growing cohort in Canada. By 2041, one in four Canadians will be a senior citizen, up from 15 per cent today. Pedestrians over the age of 65 are also disproportionally hurt or killed in accidents. A pedestrian death review in Ontario revealed that in 2010, seniors accounted for 36 per cent of the pedestrian fatalities, but only 13.2 per cent of the population. Children accounted for only 3 per cent of the total pedestrian deaths.
The unfortunate death of a child will raise strong emotions and reactions. Banning through traffic is the most commonly requested intervention after fatal accidents involving children. Such interventions are neither possible, nor advisable. Any city would cease to function if communities restrict local facilities for their personal use only. Think of communities around hospitals demanding the same restriction on through traffic, which will ultimately prevent others from approaching hospitals and other public places such as schools, malls and places of worship.
Communities will call for stricter enforcement of traffic rules with even more stringent penalties for traffic violators. Such advocacy indeed has merit, but also severe limitations. Remember, not all accidents involving pedestrians are caused by the drivers. Pedestrians, unfortunately, are also culpable in many incidents. The 2010 accident statistics for Ontario revealed that 32 per cent of the pedestrians killed had either been drinking alcohol or impaired. Similarly, 20 per cent of pedestrians who died were crossing an intersection without the right-of-way. Thus, not only do we need stricter penalties for the drivers who do not adhere to traffic regulations, we also need better education for the increasingly distracted pedestrians whose smart phones are making them act in not-so-smart ways.
At the same time, we should know that pedestrian safety has improved in Canada over the years. Consider Ontario, where pedestrian deaths per 100,000 population have declined from 2 in 1988 to 0.72 in 2010. Similarly, total fatalities in accidents have declined from 13.1 persons per 100,000 to 4.38 persons.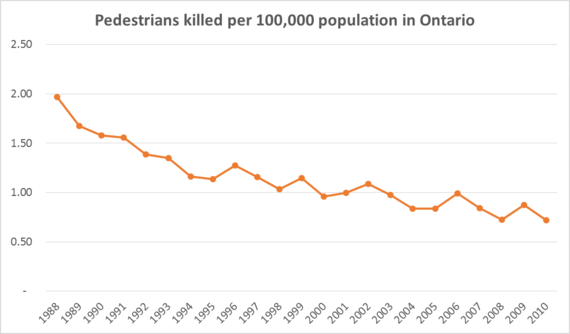 Source: http://www.mto.gov.on.ca/english/safety/orsar/orsar10/ORSAR10.pdf. Page 35.
Area wide traffic calming to reduce traffic speeds
The key to improving pedestrian safety is reduced speeds on residential streets. Traffic studies have shown that the odds of survival for pedestrians are much higher at lower speeds. This is achieved by traffic calming schemes, which are part of traffic engineering initiatives to improve safety. Traffic studies in England, for instance, revealed that traffic calming schemes, which lowered operating speeds to 20 miles per hour (32 km/hour), reduced fatal accidents by 70 percent.
That traffic calming works is also acknowledged by the Transportation Association of Canada and the Canadian Institute of Transportation Engineers who have jointly produced the Canadian Guide to Neighbourhood Traffic Calming to "provide guidance for practitioners with understanding traffic calming principles and applications, and to achieve an appropriate level of standardization while minimizing liability and maximizing safety."
Empowering local communities
A key goal in improving pedestrian safety is to empower local communities to lobby their representatives for appropriate traffic calming schemes for their neighbourhood. In a very short span of few years, neighbourhoods' demographics can change drastically. A street with no children may transform into a street with several young households with toddlers. This requires the planning authorities to be mindful of the changing characteristics of neighbourhoods that may transform from commercial to residential land uses. At the same time, parents with young children should avoid relocating to streets known to carry heavy through traffic.
Because of our urban disposition, most pedestrian fatalities (75 per cent) occur on urban roads. While Canada boasts one of the lowest accident rates, still preventing loss of life and injury in traffic accidents should remain a priority.
The steady decline in pedestrian fatality rate in Ontario suggests that we can strive to make our streets even safer, as we prepare to cope with the aging population.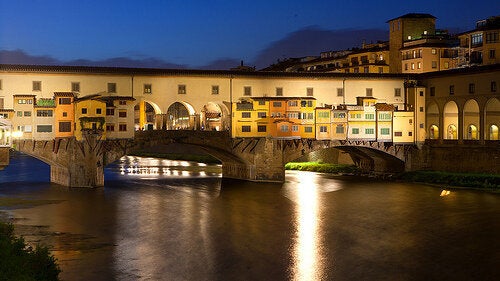 Best Big Cities For Pedestrians