"Nahid, why don't you apply for immigration to Canada? You have a baby boy and his future is going to be promising there." It was 17 years ago when my friend encouraged me to take this large step in my life. We postponed immigration a few years though, and when we did, it took us five years to land here.
The federal government official websites informed us that education in Canada is free, but what we may have not paid enough attention to was each premier reserves the right to independently decide on various matters -- one of which is public education.
Considering the ongoing dispute with the B.C. Teachers' Federation, apparently B.C. Premier Christy Clark has the authority to ignore Supreme Court rulings and, unlike other premiers, she holds enough power in her hands to meddle with public education.
The B.C. government has underfunded schools for many years; children's education in B.C. is not its priority; B.C. "liberals" are not real progressive liberals in that B.C. conservatives remind them that teachers are not your enemies!
I am a parent of two children; my son is in Grade 12 and my daughter is in Grade 2. With the current obscure fate of negotiations, I am anxious not only about my son's future but also about that of all other Grade 12 students in B.C. whose achievements are greatly indebted to the amazing work of their teachers.
Obviously, if the strike continues, the students can't complete graduation requirements. And when they seek admission to universities, would universities (in other provinces in particular) exempt them from the requirements?
I am also anxious for my daughter as much. She seems to mentally grow up so suddenly due to the conversations we have at home. She knows who Christy Clark and Peter Fassbender are. Once she asked, "How come they went to school when they were my age, and now when we want to, they stop us? Why doesn't Christy Clark like kids?"
Here is a valuable lesson for the politicians: when the time comes, children can decide for themselves and they don't need to be brainwashed! There were times I couldn't find an answer for her questions, like why she didn't have a graduation ceremony but a neighbour friend did. Shall I tell her it is because her friend goes to private school?
I am also anxious about the children with special needs as they are deliberately deprived of the attention they deserve. I am anxious about their frustrated parents who are ignored and hence disdained.
This is an insult to my intelligence when the government coaxes parents with $40/day, when it replaces day care for education; when it debases education to $40/day; when it discriminates against teenagers.
It breaks my heart when people say the world doesn't revolve around B.C. education; when I am ridiculed and told to move out of B.C.; when the CTV news anchor giggles and jokes at the end of a report about the strike (because I don't find it very professional).
I'm appalled when a poll asks if teachers should be legislated to go back to work, and when the survey asks at what age it's safe to leave a child at home alone. We seem to miss the main point which is public education that each child is entitled to; the rest is casuistry.
It is beyond disdain that teachers are accused of being greedy, overpaid and underworked. It is daunting that many of them think of quitting their jobs. Now that we are approaching the scheduled school re-opening, the government plays the democracy farce of negotiations, and ignores a media blackout, yet insists on denying teachers' vital roles.
The education minister and the premier need to be courageous enough to tell people the truth. It is respectful, honest and humane to let us know clearly that they seriously plan to privatize education; people have the right to know. Based on the facts and evidence, I can't assume they will ever negotiate in good faith. It is sad but true.
The message to the B.C. government is clear: "Remember we, as parents, don't let you do whatever you want to our children. We support public education for children. We support the teachers."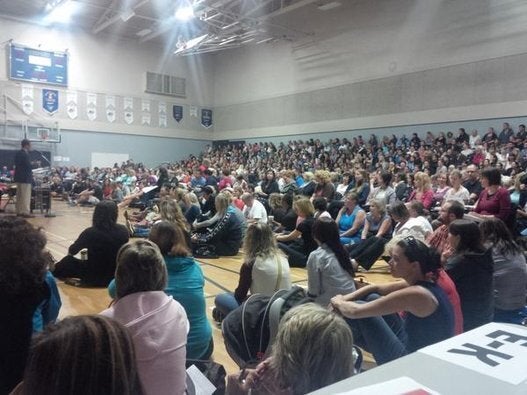 B.C. Teachers' Strike 2014
Related blogs on The Huffington Post B.C.: