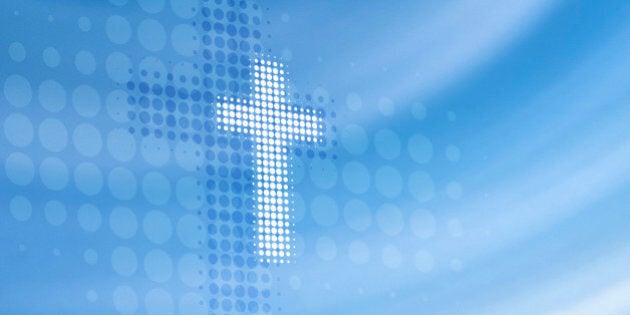 They arrived from Vancouver, Cape Breton and everywhere in between. A few even came from the U.S. Most, but not all, were Roman Catholic, and about half were educators.
For some it was a first-time experience. For others it was an annual tradition going back decades. All in all, it was an eclectic group that gathered to enjoy a plentiful two-day helping of spiritual nourishment at the 2016 Canadian Forum on Theology and Education (CFOTAE).
"The Forum," as it's often simply called, was initiated in the 1970s as a small professional development workshop for Catholic teachers and has grown over the years into a much larger national conference. This year's event, held April 1 to 2 at St. Joseph's Catholic Ukrainian Conference Centre in Oakville, Ont., boasted more than 450 attendees, making it the largest to date.
The popularity of the conference this year was in large part thanks to the two well-known presenters, Diarmuid O'Murchu and Joan Chittister, OSB, both prolific spiritual writers and sought-after international speakers.
O'Murchu, a member of the Sacred Heart Missionary Order and graduate of Trinity College, Dublin, is a social psychologist who has worked in hands-on ministry throughout his life: he has counselled couples, the bereaved, AIDS-HIV patients, the homeless and refugees. A sought-after workshop leader and international speaker, his best-known book is Quantum Theology.
Chittister's books number more than 50, and her influence has recently spilled over into the mainstream, attracting attention from television personalities such as Oprah Winfrey and Charlie Rose. The American sister is an author, columnist, commentator, speaker, and impassioned activist who advocates for justice, peace and equality, especially for women in the church and in society.
CFOTAE organizer John Quinn, a retired religious education teacher, felt that his choice of presenters this year attracted an "excellent group" of attendees, whom he referred to as "committed, open and searching." Thought-provoking questions were raised and the dialogue that took place among participants during the breakout sessions was both lively and profound. Chittister echoed Quinn's remarks, calling the event "honest, exciting, open and very church-changing."
This year's theme was "Evolution and Spiritual Life: Exploring changing images of God and the implications for daily life and spirituality." Sub-topics addressed included feminist spirituality, the relationship between science and theology, evolving human consciousness, religious ecology and the proper place and role of humans in the plan of creation. Both speakers encouraged all in attendance to accept new scientific knowledge and "use it to develop a more mature understanding of what lies at the core of your beliefs."
Chittister began her talk by cautioning that "we must not think that scientific evolution happens in a vacuum." She reminded participants that the church has had a long tradition of revising and shifting when it comes to theology: the Age of Enlightenment brought to an end to mainly mythological understandings of God, and Galileo's findings caused a shift in beliefs around the cosmology of the universe itself. "So too are we forced, in this modern evolutionary world, to rethink even the very nature of God," she said.
She expanded on this theme throughout the conference, offering up more questions than answers while encouraging participants to keep "hearts and minds open" to the possibilities of "new interpretations of the Divine presence in our world."
A new interpretation she explored at length was that of the "divine feminine." Chittister discussed the implications of a gender-neutral understanding of God and its importance to the church, to society at large, and to individuals seeking a deeper sense of their own spirituality.
"If we see God only as 'maleness,' males becomes more God-like than females," she explained. "And 'maleness' becomes the nature of God and the norm of humankind rather than simply one of its manifestations. If we limit ourselves to the divine masculine we will never see the divine feminine in God or in ourselves."
Jeanné Morson noted that Chittister was expanding on themes from her books, which Morson often uses in her chaplaincy work with youth at St Jean de Brebeuf High School in Vaughan, Ont. "Sister Joan says that it's only 'by applying the Word of God to the issues of the day that we can ever claim to be disciples now,'" said Morson. "This is a challenge I see our church facing, especially with our young adults: to be relevant, open to meaningful and heartfelt dialogue, and affirming of the unique dignity of each person, without exception."
Like Chittister, O'Murchu also explored new paradigms for understanding church and faith, with his main discussion concerning our human role in the plan of creation. "It is abundantly clear that we are not in charge, that we are not the ultimate species in any sense," he said. "We rely on many other aspects of creation to survive on earth, and we are but one small organism among so many others."
He explored at length the idea of the divine existing in every natural thing, and fully developed the idea that Chittister introduced when she informed attendees: "You are what God put here to complete creation."
"I find it inspiring to think that we are creation becoming aware of itself," enthused O'Murchu. "Our unique vocation, and contribution to creation, is to enhance the growth in consciousness." He offered academic and theological supports, as well as humorous and personal anecdotes, to explain how we humans are part of the divine evolutionary process.
"Did you know that 'energy,' the fundamental matter of all creation, has not been defined precisely by science? Why do you think that is?" challenged O'Murchu. He went on to explain how it's at this point, where science leaves off, that spiritual understandings of the universe take over.
George Dolak, who has attended CFOTAE almost since its inception, found O'Murchu especially compelling. "I was first introduced to him through his book Quantum Theology," commented Dolak, who was most influenced by the author's theories around relational theology. "I like the idea that because everything is believed to be created by one God, everything is truly, spiritually, quantumly, energetically, as well as physically, connected to God and, hence, to each and every created thing."
"I feel I'm among kindred spirits, open and receptive," said O'Murchu. "We're all seeking to discern the call of the Gospel and the call of our times amid spiritual challenges that invite us into expanded, enlarged horizons. I know many participants are feeling stretched by the material I've presented, but I, too, am experiencing an expanded consciousness thanks to the enriching interaction of the overall group."
Quinn praised the speakers for questioning the status quo. "I think the findings of the new cosmologists will prove the greatest challenge to Christianity," he said. "Not a challenge to our belief in God (that is, faith) but a challenge to our understanding of God (that is, theology). Some may try to ignore what we're learning here and claim everything we need is in Scriptures... but both Diarmuid and Joan invite us to 'do' theology."
By this, Quinn means that during the forum, participants do not passively receive information. Rather, they are invited to actively seek a deeper understanding of their faith by questioning and exploring new ideas. "This fits well with what I was taught in high school by the Jesuits," adds Quinn. "Being Catholic doesn't mean putting your brain in park."
For 37 years CFOTAE has been welcoming attendees with a faith-filled atmosphere and a broad range of Catholic thinkers. Forum-goers have had the opportunity to listen to, and question, such distinguished guests as Wilf Murchland, CSC, Frank Morrisey, OMI, Andre Guindon, OMI, Michael Czerny, SJ, Dr. Mary Malone, Christine Schenk, CSJ, Paul Hansen, CSSR, Mary Boys, SNJM and Roy Bourgeois, to name but a few.
Next year's forum will be no exception, promises Quinn. "We are thrilled that Sister Teresa Forcades has agreed to be with us in 2017," he said. The Catalan Benedictine nun, also a physician, feminist and prominent social activist, is sure to provoke continued discussion and exploration next spring.
Follow HuffPost Canada Blogs on Facebook