Although this past Friday was the thirteenth, 29 businesswomen across the country thought of it as their lucky day. These fortunate few were shortlisted to receive some "radical generosity," thanks to hundreds of Canadian women who have decided to take an active role in leveling the entrepreneurial playing field for their female peers.
What is radical generosity, exactly? It's a unique concept conceived by Vicki Saunders, founder of SheEO, a Toronto-based group that celebrates and supports women-led ventures. Her long-term vision is for this grassroots crowd-funding initiative to take hold not just in Canada, but all around the globe.
Here's how it works. A $1-million funding pool is created by asking 1,000 women to each donate $1000. (Hence, "generosity.") The $1000 is neither a charitable donation, nor will there be a return on investment, per se. (Hence, "radical.") Rather, the donors (called "activators") offer a vote of confidence to a select group of entrepreneurs by way of a five-year, interest-free loan. Once repaid, the funds will be loaned out to the next ten female-led businesses.
Activators, if so inclined, can also give back through mentorship, networking and getting involved on multiple levels with the SheEO finalists. "It's simply an amazing support network of women helping other women," says Saunders.
Financial support for female entrepreneurs has historically been tough to come by. Saunders points out that "less than seven per cent of venture capital goes to women-led businesses, though women are starting up their own businesses at twice the pace of men and they make 80 per cent of purchasing decisions." It's her belief that SheEO will serve as a kick-start to create a shift in this imbalance.
This year, 238 entrepreneurs across Canada entered the competition by submitting pitches describing why their venture deserves a piece of the million-dollar pie. The pool was recently reduced to a shortlist through a collaborative process that involved the activators and a specific set of criteria. This select group, representing all regions of the country, comprises a diverse range of businesses: a medically-supported fitness clinic, a non-profit communications agency, a developer of apps for people with special needs, a compostable-packaging company, an e-commerce platform for indigenous artisans, a toy manufacturer, a swimwear designer, and more. What they all have in common is that they embody new models, new mindsets and new solutions for a better world. "We're most interested in companies that have a positive impact on society as well as a thriving financial return," says Saunders.
"Be recognized as a finalist in the SheEO competition is a mind blowing compliment to the heart, spirit and sweat that I've poured into my business," says Toni Desrosiers, president of Abeego. "The concept behind SheEO is a revolution in funding and I'm proud to be a part of it."
On November 30, the shortlist will be whittled down to the final winners. Each of the chosen entrepreneurs will receive not only the loan, but also a one-year support program that includes world-class coaching, retreats and workshops.
Another innovative aspect of the SheEO program is the way in which the pot is to be divided. In an effort to push back against what Saunders calls "an outdated winner-takes-all culture in business," the finalists must negotiate with one another to decide how the fund should be dispersed. There are two rules: the funds can't all go to one person, and they cannot be split evenly. Saunders believes this open and cooperative process will benefit the entrepreneurs by forcing them out of their comfort zone and into a mode of peer learning and sharing.
Recently Tracey Luel, an entrepreneur and early activator, hosted a "salon" at her Oakville home where she gathered together an eclectic group of friends and colleagues to help spread the word about SheEO. "I'm so excited to be part of this amazing support network," announced Luel as she introduced Saunders to the group. "I just know that together we're going to accomplish so much in terms of providing support and guidance, in nurturing the spirit of female-led businesses, and in making an economic impact across the country."
Thanks to vocal activators like Luel, and through the tireless work of Saunders, who has been traveling back and forth across the country all year spreading her radical generosity message, SheEO is almost halfway to its goal. More than $350,000 has been collected so far and there is plenty of momentum during SheEO's final push. The deadline for donations is November 27.
SheEO's funds are collected and administered free of charge by the Bank of Montreal, which, along with Freshbooks, is sponsoring the program this year. For more information or to see the complete list of finalists or women activators, please visit the SheEo website.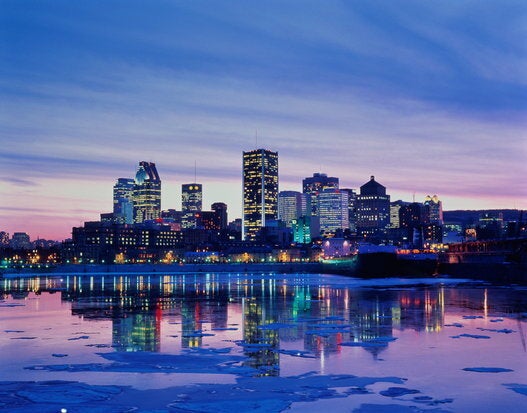 The Worst and Best Places to Own a Business In Canada: CFIB