George Pimentel via Getty Images
Naomi Klein is nominated for the Writers' Trust Shaughnessy Cohen Prize for Political Writing for This Changes Everything: Capitalism Vs. the Climate. The winner will be announced on March 11 at the Politics and the Pen gala in Ottawa. For more information visit www.writerstrust.com.
An excerpt from This Changes Everything: Capitalism Vs. the Climate:
"You have been negotiating all my life." So said Canadian college student Anjali Appadurai, as she stared down the assembled government negotiators at the 2011 United Nations climate conference in Durban, South Africa. She was not exaggerating. The world's governments have been talking about preventing climate change for more than two decades; they began negotiating the year that Anjali, then twenty-one years old, was born. And yet as she pointed out in her memorable speech on the convention floor, delivered on behalf of all of the assembled young people: "In that time, you've failed to meet pledges, you've missed targets, and you've broken promises."
In truth, the intergovernmental body entrusted to prevent "dangerous" levels of climate change has not only failed to make progress over its twenty-odd years of work (and more than ninety official negotiation meetings since the agreement was adopted), it has overseen a process of virtually uninterrupted backsliding. Our governments wasted years fudging numbers and squabbling over start dates, perpetually trying to get extensions like undergrads with late term papers.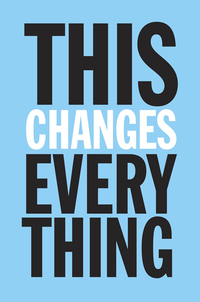 The catastrophic result of all this obfuscation and procrastination is now undeniable. Preliminary data shows that in 2013, global carbon dioxide emissions were 61 percent higher than they were in 1990, when negotiations toward a climate treaty began in earnest. As MIT economist John Reilly puts it: "The more we talk about the need to control emissions, the more they are growing." Indeed the only thing rising faster than our emissions is the output of words pledging to lower them. Meanwhile, the annual U.N. climate summit, which remains the best hope for a political breakthrough on climate action, has started to seem less like a forum for serious negotiation than a very costly and high-carbon group therapy session, a place for the representatives of the most vulnerable countries in the world to vent their grief and rage while low-level representatives of the nations largely responsible for their tragedies stare at their shoes.
This has been the mood ever since the collapse of the much-hyped 2009 U.N. climate summit in Copenhagen. On the last night of that massive gathering, I found myself with a group of climate justice activists, including one of the most prominent campaigners in Britain. Throughout the summit, this young man had been the picture of confidence and composure, briefing dozens of journalists a day on what had gone on during each round of negotiations and what the various emission targets meant in the real world. Despite the challenges, his optimism about the summit's prospects never flagged. Once it was all over, however, and the pitiful deal was done, he fell apart before our eyes. Sitting in an overlit Italian restaurant, he began to sob uncontrollably. "I really thought Obama understood," he kept repeating.
I have come to think of that night as the climate movement's coming of age: it was the moment when the realization truly sank in that no one was coming to save us. The British psychoanalyst and climate specialist Sally Weintrobe describes this as the summit's "fundamental legacy"--the acute and painful realization that our "leaders are not looking after us . . . we are not cared for at the level of our very survival." No matter how many times we have been disappointed by the failings of our politicians, this realization still comes as a blow. It really is the case that we are on our own and any credible source of hope in this crisis will have to come from below.
Excerpted from This Changes Everything: Capitalism vs. the Climate. Copyright © 2014 Naomi Klein. Published by Knopf Canada, a division of Random House of Canada Limited a Penguin Random House Company. Reproduced by arrangement with the Publisher. All rights reserved.
MORE ON HUFFPOST: