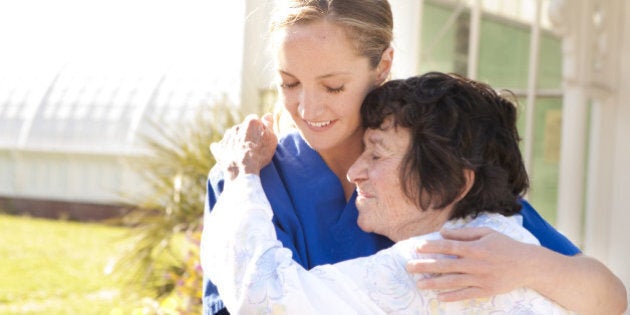 Be positive. Stay strong. Take care of your family, take care of yourselves too. Show your emotions, but don't be negative. Some days this is possible, but not every day!
In my years of nursing and supporting caregivers, time and again I've seen the high expectations we have for ourselves. Caring for someone who has health challenges or is facing a tough diagnosis can cause so much pressure on a daily basis. Worries, decisions, coordinating care and conflicting responsibilities can make caregivers feel overwhelmed.
Caregiving is a rewarding job but nobody can do it alone. On the days when you make a health care decision, delegate a responsibility to another family member, or find the support that you need to manage as a caregiver, you can feel the best kind of relief.
So how do find the professional help that you need?
Having more professional support for the person you are caring for, and support for yourself to cope with stress, can take multiple forms depending on your situation.
Of course, professional help will include doctors and/or alternative health practitioners. You may not be aware, however, of the many additional in-home supports available:
Nursing -- including help to monitor your health, recover from an injury, manage medications, provide wound care, create a care plan
Personal care -- help with daily care needs such as bathing, toileting, dressing
Physiotherapy -- help for pain relief, back pain, mobility problems, blood circulation, relaxation
Occupational therapy -- help to make day-to-day activities easier and safer in your home
Speech-language therapy -- including stroke recovery for seniors who have difficulty speaking or understanding speech
Social work -- help for families to address conflict, cope and manage stress
Transportation services -- Transportation to and from appointments
Many of these costs can be covered through your local health authority, and your doctor will have more information. For example, you can be connected with a case manager who will visit the home, determine what the person qualifies for, and create a care plan.
These services help keep you and the person you're caring for where they are most happy -- at home. If you need in-home health services, companion care, patient counselling, these services are also available through Elizz, powered by Saint Elizabeth. This is especially helpful to supplement the services that are not covered by government health plans, or if you want more than the funded hours.
Caregiver support services for you are also an important part of your journey. Your own mental and physical health is extremely important. Elizz offers caregiver support services, including:
Caregiver coaching
Group support
Respite care
Online counseling
What about if you're not sure where to start? Every person, every caregiver's situation is different. Elizz offers an online assessment tool to evaluate the health and social care needs people are facing and make recommendations for services. This online tool was developed to gather information about your circumstances and recommend the Elizz services and supports that might be right for your situation. Our Care Solutions Specialists are ready to review your results and tailor a more customized service plan that best suits your needs.
If you're a caregiver -- or know someone who is -- are you finding the help that you need? What other kinds of support do you need?
Follow HuffPost Canada Blogs on Facebook