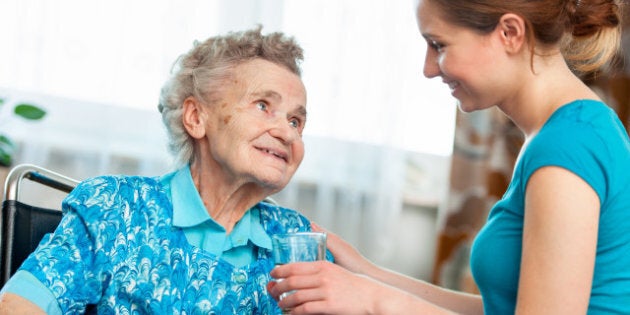 Natalie Strouth is a nurse with Saint Elizabeth and the information specialist behind Ask Elizabeth, a free caregiver support service. Saint Elizabeth, a home health care company, has been a trusted name in Canadian health care for more than a century and is a national, not-for-profit, charitable organization.

In her weekly column, Natalie answers your questions about caring for a family member or friend who needs extra support -- and caring for yourself as a caregiver.

Send your question to askelizabeth@saintelizabeth.com
Sandra asks: My mom's health has been deteriorating greatly over the past year. As an only child, I am her primary caregiver and this last hospital stay has really taken a toll on me. She gets very limited formal help and the rest of her care is left to me. I am so tired and can't concentrate on anything any more.
My colleague, Cathryn, was happy as an only child, and felt no need for brothers or sisters while she was growing up. But when her parents divorced and her grandparents developed serious health issues that consumed her mother's time as a primary caregiver for seven years, Cathryn suddenly felt panicked and alone. She needed someone to not only share the current emotional burden, but for the first time she realized what lay ahead. With a young family and a demanding job, she worried about how she will cope as an only child in the future when her own mother needs more care.
Research tells us that the demands placed on caregivers often means that they face significant health problems themselves. Caregivers, on average, take more medications and have higher levels of depression and stress than people who are not caregivers. They are also less likely to take proper care of themselves, for instance getting regular exercise or going to the doctor.
The good news is, only children who are caring for aging parents -- and all caregivers, for that matter -- can find tremendous support by tapping into a network of friends, family, and community members.
No one can do everything themselves, especially an only child. When you are both mentally and physically exhausted, you are less able to provide a good level of care. Exhaustion and burnout does not in any way mean that you are a bad caregiver, it just means that you have reached your limits and have no more internal resources.
1. Build your own 'sibling' support system of friends, spouses, even your own children. Knowing that it's OK to ask for help is key to providing care and advocating for yourself and your mother.
2. Shore up support from community resources:
Local crisis lines and intervention programs
Have a financial planner. The costs of caregiving can really add up when you don't have others to share them with, and planning is essential.
Call 211 for information and referrals to local home and community supports
Government funded home care programs
Respite care, local retirement or long term care facilities
Not-for-profit community support organizations
3. Get support from caregiver groups and relief programs. Of course, there is no single way to do this. The needs over caregivers are often overlooked, and they depend on many variables: the demands of caregiving, which change over time; your caregiver's family, financial and work circumstances, your emotional temperament and response to stress; your relationship with the person being cared for, and resources available, among many other factors.
Saint Elizabeth recently undertook a research project involving family caregivers to identify caregivers' unique needs and what good support looks like in different scenarios. A key recommendation was that caregiver support programs need to ask caregivers what they need and then tailor services accordingly.
Joining a support network ensures you have people to talk to who understand what you are going through is invaluable. If you don't think attending a support group is the right fit for you, there are online groups as well that offer a sense of connection and solace.
Caring for someone else can be one of the most rewarding and uplifting journey we can take however as with everything there are something that can be done to set yourself up for success and avoid the pitfalls that lead many to burnout and exhaustion.
Some only children may actually find some benefits to their situation, such as no disagreements with siblings over care planning, no feeling of resentment if siblings don't all contribute to caregiving responsibilities, and the ability to make decisions themselves.
You may want to read this recent post in the New York Times' New Old Age blog, "Suddenly, They're All Gone." Carol Mithers reflects on her caregiving emotions and experiences, from the other side, in an insightful and beautifully written piece.
Send your caregiving question to askelizabeth@saintelizabeth.com. Answers may appear in an upcoming weekly column. Ask Elizabeth does not offer legal guidance, nor does it answer questions about personal health issues.