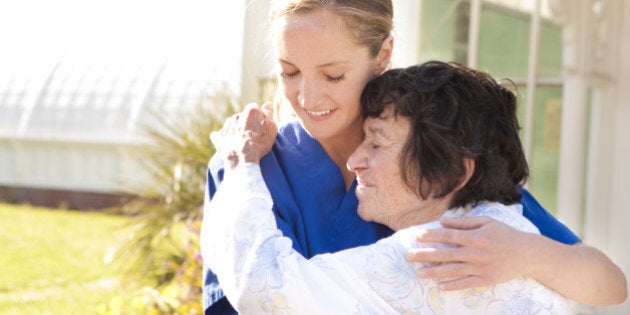 The first Tuesday of April is National Caregiver Day in Canada. It is a day designated to recognize and honour the countless hours of support that 8.1 million Canadian caregivers are providing to their family and friends with health issues.
More than six million Canadians -- 35 per cent of the workforce -- are also juggling the demands of caregiving and paid work. And more than one in four of these caregivers (28 per cent) are raising their children.
It's more than just balancing family and work. Caregivers want to provide the best care possible to the person in their care, they want to make meaningful contributions at work, and they want to raise engaged and well-adapted children.
It's a lot to take on, and it's a difficult workload to maintain. Ultimately the caregiver has to make sacrifices in some area of their life, and it's usually their own emotional, physical or mental well-being that suffers the consequences. Sound familiar? Probably.
You may not be able to fix anything or offer the perfect advice, and that's completely fine. Sometimes just being there as a sounding board is exactly what a caregiver needs.
It's also important to recognize the positive and rewarding aspects of caregiving. As a caregiver you make an incredibly meaningful difference in someone's life, each day. You are there when they need you most, and there are many beautiful moments together with the person you are caring for.
You become part of something that is bigger than yourself -- many caregivers describe how the experience forever changes their perspective on life. You are more kind, more grateful, and you realize what is truly important in life.
If you are not a family caregiver already, you will more than likely be one at some point in the future. Caregiving is a role that is very rewarding, yes, but one that is also physically, emotionally and financially stressful.
National Caregiver Day is an important opportunity to bring these issues to the forefront. We need to have conversations about how we can collectively address and reduce the pressures on our caregivers. We need to honour and support Canada's caregivers each and every day.
I've answered calls from, and spoken to, thousands of Canadians facing challenges associated with providing care, whether or not they realized they were "caregivers."
When you suddenly find yourself in the role of caregiver -- for an older parent who has developed health issues, a spouse who has an accident or a new diagnosis, a child with special needs or a friend who has cancer -- you are also still carrying all the responsibilities of your normal life.
You can feel overwhelmed by decisions and questions, such as "What treatment options do we choose?" "Does someone need to move?" "Can I keep working?" "Can we afford to hire private care?"
Even just finding the support to make informed choices can be tough.
What can you do to help? Three ways to support caregivers:
Friends and family have the best of intentions when they say "let me know if there is anything I can do to help." Caregivers are often juggling so many things that it's more helpful to offer specific support. For example, we know that 73 per cent of Canada's caregivers spend time providing transportation.
Can you offer a drive to and from appointments sometimes? Or, say "I'm heading to the grocery store tomorrow morning. What can I pick up and drop off for you?" or "I know a massage therapist who does home visits, and I know you are interested in some alternative pain relief treatments for your mom. Can I look into setting up an appointment?"
Arrange professional support
Caregivers may be focused on multiple day to day decisions and unaware of the range of professional services available to support them. Elizz offers a range of support services for caregivers, including:
Caregiver coaches who provide support by phone and email that is tailored to each caregiver's situation
Group support to connect with other caregivers and learn skills from experts
Online professional counselling to deal with issues such as family dynamics, stress and grief
Nurse advisors to act as go-to consultants, and help caregivers prepare for appointments and understand medical information
Often caregivers who spend the majority of their time providing care experience more social isolation over time. Of course a friend may need to decline a dinner invitation because her husband needs her, but don't stop inviting her. Better yet, bring dinner over one night so that she doesn't have to cook. Caregivers need their own support network now more than ever.
Spend time together, and really listen to them. In caregiving each day is ripe with discoveries in caregiving, parenthood, work and yourself. Fears. Joys. Failures. Frustrations. Hopes and many almost-just-right successes. You may not be able to fix anything or offer the perfect advice, and that's completely fine. Sometimes just being there as a sounding board is exactly what a caregiver needs.
To learn more about caregiving and how to find support, visit Elizz.com
Follow HuffPost Canada Blogs on Facebook