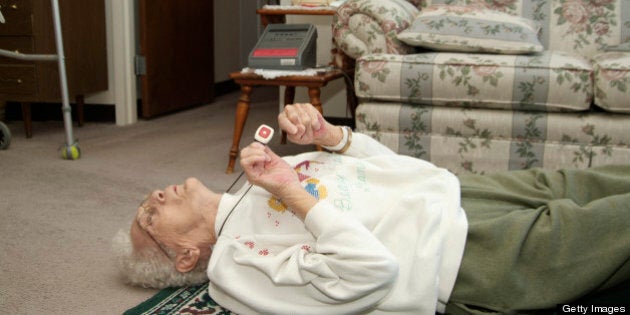 Natalie Strouth is a nurse with Saint Elizabeth and the information specialist behind Ask Elizabeth, a free caregiver support service. Saint Elizabeth, a home health care company, has been a trusted name in Canadian health care for more than a century and is a national, not-for-profit, charitable organization.

In her weekly column, Natalie answers your questions about caring for a family member or friend who needs extra support -- and caring for yourself as a caregiver.

Send your question to askelizabeth@saintelizabeth.com
Todd asks: My parents are getting older and recently, mom has become afraid of falling. She often talks about friends who have taken a spill, and whenever they come over she tells me we should have a railing for our front steps. She's even avoiding rooms where our kids' toys are on the floor. Neither one of them have had a fall -- how worried should we be about this?
My husband called to wish his 92-year-old grandmother a happy birthday last week. It sounded like a pleasant conversation from what I could hear, but he hung up with a sigh and a confused look on his face. When I asked if everything was okay, he chuckled and said, "Somehow our conversation went from being very cheery and happy to her scolding me about the dangers of falling. She warned me to be very, very careful to not fall... because if I do, I will never be the same again. Doesn't she realize I'm only 36 -- what's the big deal?"
His conversation got me thinking about my own family -- my grandfather at 89 years old went from living independently, driving, caring for his home and my dependent grandmother to having to give up his driver's license and his home, moving into a retirement home and using a walker at all times -- he was never the same because of one simple slip.
I found this startling statistic from the Public Health Agency of Canada: "About one in three Canadian seniors will experience a fall at least once each year. Such falls are the leading cause of injury-related hospitalizations among older people. Apart from causing injury, falls can result in chronic pain, reduced quality of life and, in severe cases, death. Psychological effects of a fall may cause a post-fall syndrome that includes dependence on others for daily activities, loss of autonomy, confusion, immobilization and depression."
At Saint Elizabeth we have found that the time of year can increase your risks of falls. There is a somewhat surprising trend that seniors fall more often in the spring and summer than in the winter. Robin Hurst, Saint Elizabeth's Advanced Practice Consultant for Seniors and Mental Health, feels this is attributed to how "the warm weather encourages older adults to get outside. In the spring and summer we receive more reports of older adults falling off of decks, falling while going in and out of buildings, and going for walks. We recommend older adults and their family members review how safe their outside environment is, install safety railings on their decks, and be cautious when walking outdoors."
Also consider if your mom and dad have some of the risk factors for falls. For instance, are either of them:
over the age of 65
living with vision or hearing problems
taking medications to help them sleep or calm their nerves
living with dementia
having problems with balance or difficulty walking
having difficulty getting in and out of the tub
experiencing mood or memory changes, or symptoms of depression
Your mom's fear of falling is warranted but the good news is that checking medications, having conversations about preventing falls, and encouraging her to keep active with exercise that improves strength and balance can all help. Her doctor or health care provider can help determine the right kind of exercise for her.
Finding Balance is a great web site to help seniors prevent falls before they happen.
Although there are plenty of valuable strategies for preventing falls, they can't stop every older adult from ever falling (even if it's just an ungraceful spill) -- nor can my 36-year-old husband guarantee his grandmother that he won't lose his balance. Your mom's fear of falling is actually quite typical, and warranted, for her age. Instead of overly limiting her activities, which some studies show can actually lead to a fall, your mom can be cautious and avoid those toys on the floor, determine safe physical activities to maintain her strength and balance, and address any risk factors. We could all be better off to do the same!
Send your caregiving question to askelizabeth@saintelizabeth.com. Answers may appear in an upcoming weekly column. Ask Elizabeth does not offer legal guidance, nor does it answer questions about personal health issues.