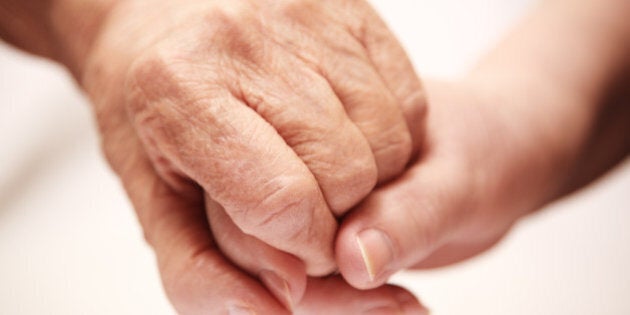 When Carol and Theresa's mom was diagnosed with early-stage Alzheimer's and their dad's vision started failing, the news was met with some denial -- and their parents' groaning aversion to leaving their home of over forty years. The sisters, one of whom is my mother-in-law, came to realize that they are now parenting their own parents. In coming to terms with this they also realized that they each need support too. The result is an inspiring and positive arrangement. They've become "co-caregivers."
Through my years of work with national health care provider Saint Elizabeth, and now our new caregiver services through Elizz, the word "caregiving" is so familiar to me. Upwards of eight million Canadians are doing it every day, either looking after an aging parent or a family member with long-term health needs. I was struck by how my own family members didn't realize they were caregivers, at least not at first. Initially they were just banding together as siblings to help their parents.
Both of their parents were resistant to care. Their dad is nearly blind, but is quick on his feet, and his mind is as sharp as a tack. Their mom now has mid-stage Alzheimer's and has good vision, but getting around is becoming increasingly challenging.
Carol and Theresa's parents lived in Windsor, Carol in London, and Theresa, the furthest away, in Barrie. Carol's own children are older, and she is no longer working. Through several conversations about planning, the sisters felt that having their parents come to London near Carol was best -- but with a firm commitment that Theresa would be there as much as possible.
Becoming co-caregivers means Carol and Theresa are in constant communication. Figuring out what they are each responsible for has evolved. Carol brings meals everyday, and Theresa comes when there are appointments or issues that she can take on over a couple of days.
Part of what makes their arrangement so positive is that even though they are both very busy, they can rely on each other. I know from the caregivers I've supported that burnout is a real risk, but Carol and Theresa even schedule breaks. Both are avid travellers, and they are able to trade off as one assumes the day-to-day care and the other takes time away to relax.
Getting to a good place with your siblings can take time though, especially if you live in different cities or provinces. And not everyone has siblings to rely on. Elizz offers many caregiver services, including a nurse advisor who can pave the way and walk with you throughout the highs and lows of each of the caregiving stages. The nurse advisor is someone you can rely on to be there when something happens, help you get ready for doctor's appointments, and translate medical information. When a parent is diagnosed with something, siblings can all have different interpretations of what needs to take place. An Elizz nurse advisor can bring all of you on a phone call to explain things and help guide the conversation about what needs to happen next.
Even with Theresa's support, Carol sometimes feels like she's doing too much. It's always on the table that Theresa and her husband may have to move from Barrie to London. They have committed to reassess the situation if it becomes too much for Carol, even if nothing has changed with their parents' health conditions. They see their co-caregiving roles as supporting Carol, and what she can handle.
I love how positive my mother-in-law's experience has been. With eight million Canadians taking on family caregiving roles, we can all but count on our turn in the center ring. And remember, we can't do it alone.
Follow HuffPost Canada Blogs on Facebook