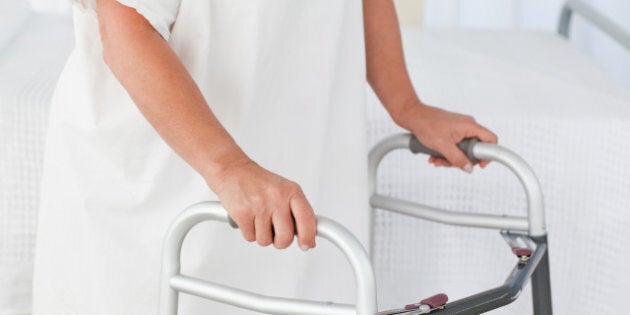 Family caregivers may hear that someone will be receiving palliative care, and think that it's only for end of life. The truth is that palliative care can improve quality of life at any stage of illness, and in some cases, even extend it.

Natalie Strouth is a nurse with Saint Elizabeth and the information specialist behind Ask Elizabeth, a free caregiver support service. Saint Elizabeth, a home health care company, has been a trusted name in Canadian health care for more than a century and is a national, not-for-profit, charitable organization.

In her weekly column, Natalie answers your questions about caring for a family member or friend who needs extra support -- and caring for yourself as a caregiver.

Send your question to askelizabeth@saintelizabeth.com
Megan asks: My grandmother has terminal cancer and her doctor has told us that there are no further medical treatments that can be done for her. He says she will be receiving "palliative care." What does this mean?
Caring for someone toward the end of their life will bring on a huge range of emotions. It is likely something you and your family members are unprepared for as caregivers.
It's important to know that shifting our perspective through palliative care -- which in the simplest terms, means changing the focus from cure to comfort -- can be a great, huge relief.
Palliative care is a type of care for people and families who are dealing with the last chapter of living, at any age. The focus is on providing excellent physical, emotional, spiritual and informational support to patients and their families.
You may also hear palliative care sometimes referred to as hospice care or end-of-life care. This does not mean that there is no more treatment, nor is palliative care only for the elderly or people with a specific illness. I think those myths can leave families under-served, because palliative care addresses the "whole picture" and helps families make informed, tailored decisions about care.
Palliative care professionals include nurses (including home care or community nurses), family doctors and/or specialist physicians, social workers, spiritual care providers, occupational therapists, physiotherapists and personal support workers. They will provide compassion, companionship and care to your grandmother and your family. Care may include:
managing pain and other symptoms such as loss of appetite, shortness of breath and fatigue
nutritional support and personal care (for example, bathing)
emotional, spiritual and cultural support for your grandmother, you and your family
bereavement support
Sometimes family and friends provide palliative care, with no outside help. However, in my experience as a nurse, it is wise to seek help as this type of care is very difficult to do alone. There are professional and volunteer agencies in the community that can help.
Your family members may wish to join an online community to talk and find support when you need someone to lean on, such as Canadian Virtual Hospice.
Although this is a very difficult time for your family, palliative care can make a real difference in re-focusing care and compassion as your grandmother's cancer advances. It may help to also recall these words from Ida Azhari: "Never get tired of doing the little things for others. For sometimes those little things occupy the biggest part of their hearts."
Ask Elizabeth does not offer legal guidance, nor does it answer questions about personal health issues.