We Canadians love our summers -- they feel hard-won after our long winters! So, it's hard to begin contemplating the end of summer and the arrival of a new season. But when it comes to fashion, fall collections are my absolute favourite. There's just so much more going on that's interesting, creative, inventive!
I suppose I feel that in summer we're all just wearing one or two layers, trying our best to simply stay cool, to stop our make-up from melting and our hair from frizzing. In fall and winter, we can embrace layers and interesting textures -- knits, tweeds, laces. We can also use those layers to play with structure and silhouette.
Style forecasts abound this time of year. The things I keep in mind as I look through the magazines, lookbooks and products online are my existing closet and my body. I know the basic shapes that suit me (A-line skirts and dresses, slim-fit pants). I also know my palette (always neutral and dark). When I look at what's new, obviously I follow my heart, but I also listen to my head -- what's really me? What will I wear? And I prioritize my purchases in terms of what I really need and what I want the most. I do a lot of shopping online and sometimes I simply leave things in the shopping cart overnight to give myself that cooling-off period. I've found it's a good way of avoiding buyer's remorse.
Write Your Own "Style Story"
Just as magazines weave trends through the collections to tell overarching "style stories" each season, so do I for my own purpose. I make a list of those trends that are "me." This season, for example, we're seeing a lot of black-and-white colour-blocking. I wear a pretty monochromatic dark wardrobe but love the idea of introducing some white in this way... it seems especially interesting for winter (if you haven't thrown out the "white after Labour Day rule" -- do it now!) I was really inspired by Marie Saint Pierre's latest collection which showcased a lot of great black and white.
Another new push for me is outerwear. I don't usually wear coats, instead opting for sweater coats. But this year, I'm really in love with the statement-making coats. Fur -- faux or real -- is another new texture I'm going to introduce that will complement what I already wear. Outerwear is one of those areas that it's definitely worth investing in -- a good purchase here will last you a long time! The coat that's calling my name is this Wool Crepe Caban Coat from Fausto Puglisi. Talk about a statement-maker! It also has that black-and-white blocking I'm loving right now!
The fashion and beauty industries are all about reinvention. But while it might be fun to imagine drastically changing your look or appearance season-to-season, it's simply not realistic. Odds are, you've already figured out a lot of what REALLY works for you and if it isn't broke, why fix it? Don't let a trend forecast bully you into something that's not "you."
Instead, look for ways of building upon what you already have and love. For example, leather is always a real anchor in my wardrobe and I love my Rick Owens leather jackets. This season, I'll expand on my leather repertoire with this amazing trench. It's a new take on the classic Burberry trench -- while the classic is, well, classic -- it's never felt really "me," but this has that edginess that I look for in my wardrobe.
Another area I'll stick with what I already know is with regards to cut. I love slim pants cut at the ankle, worn with heels or ankle boots. This ankle cut works for me and so I'll stay with it this season, despite the proliferation of wide-legged pants. When I shop for winter pants and shoes, it will be this same cut and silhouette that I work with.
At the same time, it's always important to evolve your style and to assess what's beginning to feel stale, dated or just overdone. If you still love it, that's OK. But if it no longer excites you, feel free to move on. If you're introducing something new, think about letting something else go.
This season I'm moving away from the tunic/dress layered over pants look that's been my staple now for a few seasons. With outerwear being such a focus, I want a more streamlined silhouette underneath. I won't be giving up on layering altogether though. This look from Vince, spotted over at Saks is inspiring me to layer skirts and slim pants. Of course, I also love that the skirt is A-line (my most flattering shape) and has leather accents!
Some seasons are all about accessories for me. More than anything else, I want to splurge on shoes and purses. This season, I'm not feeling that as much. I'm simply still attached to those pieces I invested in in previous seasons (especially my vintage Birkin!).
With regards to shoes, I will always add a few new pairs each season. I fell for these Gianvito Rossi Leopard-print pumps recently. Animal print is always such a great way to liven-up a monochromatic look, but still keeping it "neutral" and I love a pop of print or colour on my feet!
With regards to other accessories, I'm really happiest wearing jewelry that's more deeply meaningful to me rather than simply a style accessory. Again, this is about getting away from the idea that everything needs to be reinvented every season and instead embracing a more organic and personal evolution of style.
I'd love to hear what's on your radar for Fall/Winter this year? What items have you hovering over that "buy" button? But also, what are your own personal style statements that prevail every season?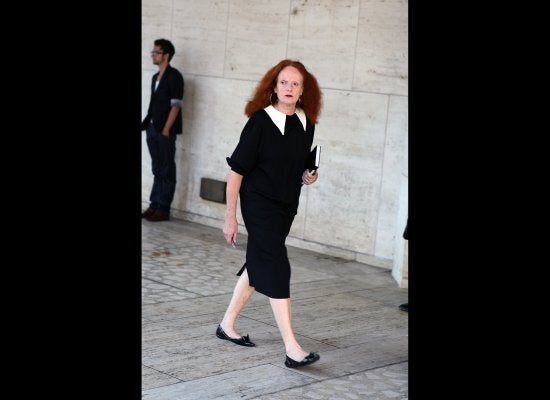 Best Street Style of 2012