Nick Harvey, Getty Images
It may be over 30 degrees outside, but my mind has already turned to fall fashion. It's one of my favourite fashion seasons -- and because this summer's pastels and neons especially challenged my all-black wardrobe, I'm looking forward to a new selection of luxurious options in shades of, well, black, black... and okay, maybe a little something new, dare I say it, burgundy!
Truth be told, I've already started making purchases. The early bird catches the worm after all! I'd love to know what you're most looking forward to! Are there trends you're excited to try out? I recently took a foray into the world of peplum and if you like this look, you'll be happy to know it's sticking around for another season. Here's what else is on my radar (and wish list!!)
1. Burgundy
I know I said black... but I do SOMETIMES permit colour in my closet too, it's just usually reserved for accessories. This year's summer vacation splurge was a vintage burgundy Birkin bag in Rome. This is a classic and I'll treasure it for years. But burgundy also happens to be completely on-trend for this season. If, like me, you're colour shy... think of a shoe or purse, even a pair of gloves! (Speaking of gloves, I love the studded Valentino ones I spotted at Net-a-Porter!)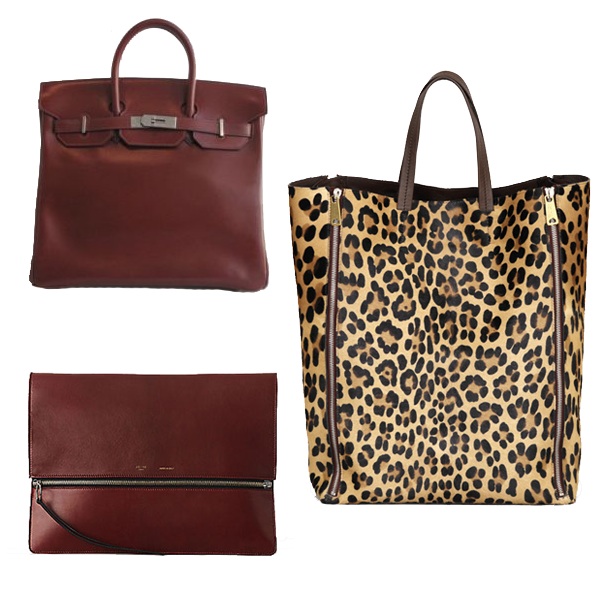 1. http://www.hermes.com/

2. http://www.celine.com/en/collection/winter/leather-goods/

3. http://www.celine.com/en/collection/winter/leather-goods/
2. Leather accents
Leather is a mainstay in my closet. One of my favourite designers, Rick Owens, is known for his leather, either used as an accent or the main material. This season, leather accents add edge to ladylike dresses, create dramatic contrast in textured knitwear. I can't get enough of this this look -- it's edgy, but also polished and I'll be stockpiling all winter long! I just recently purchased a leather shirt from Hakaan. I justified this purchase as it will help me transition from Summer to Fall -- I will wear it open with a t-shirt and jeans...or as a shirt jacket into the fall. Dual purpose, what's is not to love!?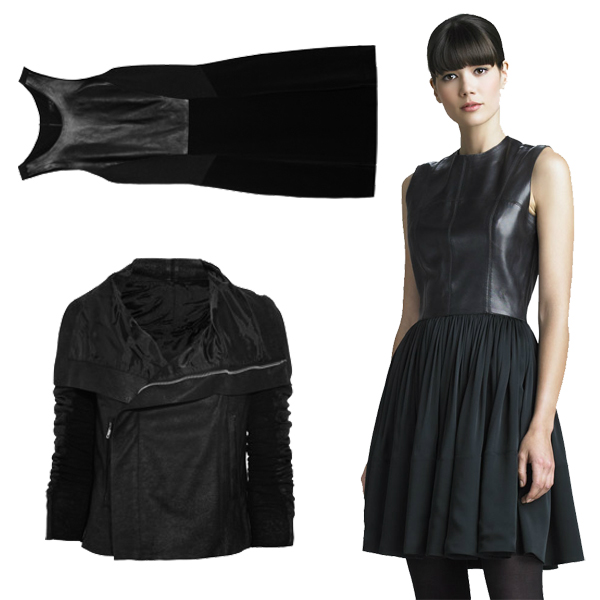 1. http://www.net-a-porter.com/product/198699

2. http://www.net-a-porter.com/product/315500
3. A-Line
The A-line skirt shape is back. For so many women (myself included!) this is the most flattering shape of skirt to wear because it skims over the hips and falls gently outward, without billowing. The whole effect narrows the waist and minimizes the hip and derriere. Most A-line cuts hit at or just above the knee -- again showing the most flattering part of the leg. So, we all have reason to celebrate!! When something I love is on trend, I usually indulge in it. Sure, it's nice to follow the silhouette of the season, but really it's not as important as wearing that shape that's flattering on you! My A-line selections this year will come from one of my favourite designers, Greta Constantine.
4. Booties
In fall you can have real fun with shoes. The bootie is making a strong statement this season and can be paired with skirts or pants. There are options for every heel height, but my preference is always for the sky-high. I pounced on these Chanel ones while in NYC, and let my fingers do the talking...walking...and then buying of these YSL purple booties.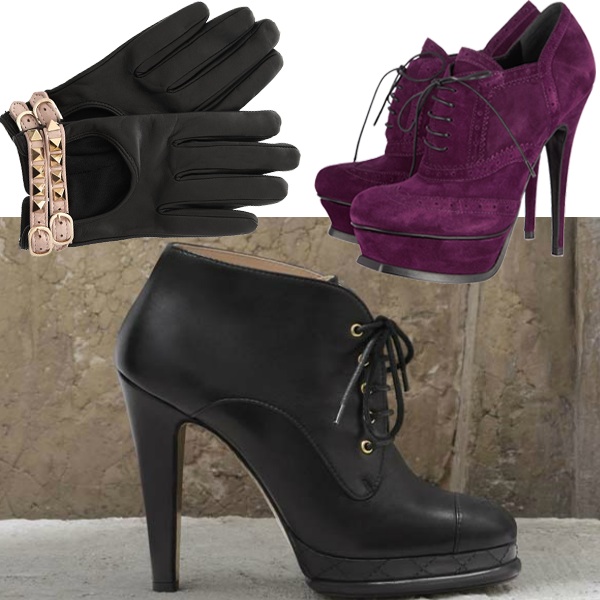 1. http://www.net-a-porter.com/product/314668

2. http://www.net-a-porter.com/product/313274
5. Animal print
It's official -- animal print is the new staple. Definitely for accenting rather than wearing head-to-toe, the animal print has undergone an evolution in the past few seasons, becoming a little more abstract and less literal. Perhaps, this indicates increasing market appetite for faux rather than real? Or maybe it's just that we want a glancing reference to these classic prints. A purchase here will last seasons to come! I adore my Celine animal print tote bag, but I've also been eyeing up animal print lace from Australian brand Lover, which brings us to...
6. Lace
For evening, lace is always a favourite. But, this season, it offers an opulent option for day or night. Lace is readily associated with all things romantic, but we're seeing a new directive -- black lace taking on more gothic connotations. Think high necks and long sleeves, as well as panels of lace alongside leather. Leather and Lace... my uniform this season!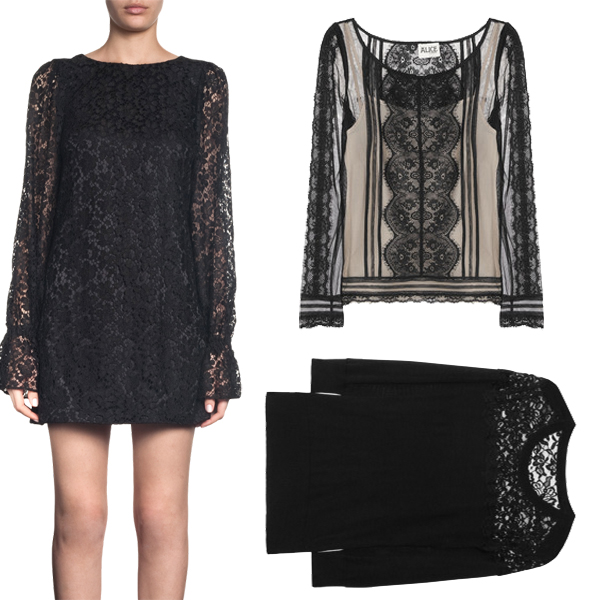 1. Barneys.com

2. http://www.net-a-porter.com/product/197749
Deciding which trends to follow is a personal choice and deciding how to wear those trends is where you can put your own stamp on the season. I'm a big advocate of really investing in a few pieces that are going to last -- the perfect pair of shoes, a great handbag, an excellent winter coat -- these are all sound investments in my mind. Take inspiration and ideas from the runways and then pick and mix your purchases. Don't overlook what you've already got... maybe there's a lace blouse at the back of your closet dying for a second life! But above all, make this season your very own!
xo Natasha