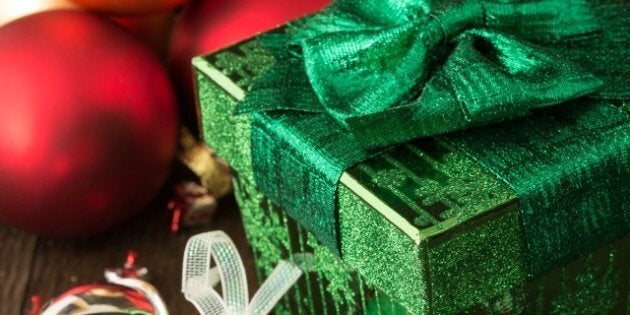 The holidays are a time for many kinds of traditions. Whether it's the lighting of the menorah or the trimming of the tree, reuniting with friends too long unseen, or traveling great distance to visit family, most of us mark this time of year in some small way. Even those who don't celebrate Christmas will use the time off work to gather for meals, admire lights, shop and share in festive feelings.
And, of course, this is a time of year for watching movies and singing songs. And while we spend a lot of the rest of the year chasing the next "new thing," around the holidays, most of us revisit our old favourites... watching movies that take us back to our childhood, like A Christmas Carol, White Christmas or, of course, It's a Wonderful Life.
Or perhaps (like me) you watch those movies that are a more recent blast from the past. Bill Murray in Scrooged always makes me laugh. But most of all I have a weakness for the rom-coms like Bridget Jones and Love Actually, Serendipity or The Holiday. The romantic in me can't get away from the idea of love and romance coming together at Christmas!
I think we're drawn to these movies because there's something so heartfelt about the spirit of them. So much of what we consume nowadays is filled with irony and tongue-in-cheek humour. But the holidays let us be a little more heart-on-sleeve, giving voice to those more sentimental and romantic feelings that we sometimes don't give voice to in the day-to-day.
In a similar way, Christmas songs are usually filled with the same sincere hopefulness, simple wishes to share time with loved ones, for peace and joy. My absolute favourite is "All I Want for Christmas Is You" -- the Mariah Carey version... though I should also admit that I listen to Christmas songs and carols all year around in my car (which is especially funny considering I'm Jewish!).
This year in the office, we've all been sharing our favourite Christmas songs, making playlists on Rdio. And it's been such a sweet way of creating that holiday spirit in the office but also allowing us to share stories of special holiday memories, those songs that we identify with certain times and people.
I really am in love with love, and these songs and movies always make me feel warm and optimistic. But I think there's also nostalgia built into so many of these songs and stories. Often they're a story of love lost, like Wham's "Last Christmas" (another favourite), but they're also uplifting -- a good cry that helps you know you're not alone.
Because, let's face it, many of us have spent a Christmas feeling alone, or heartbroken, and these movies and songs are like a warm blanket to comfort us when our feelings are bruised. In that way, there really is a holiday movie and song for each of us; one that reflects our hopes and dreams but also serves to reassure and uplift. These songs and movies often also offer a chance at redemption and salvation... that message that it's never too late -- to tell somebody special you love them, or to reach out to family and friends who you've lost touch with.
In that way, they also give us hope, that love can be rekindled, or that new love can be found, that even if you're feeling blue right now, life really is very wonderful and it's a wonderful time of year to enjoy it.
What's your favourite movie and music to watch and listen to over the holidays? Happy Holidays, everyone!