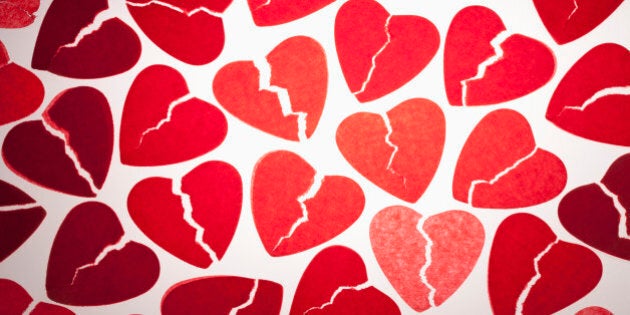 Of all the stresses we experience in life, a breakup is one of the worst. It shakes the foundation of your life at its core and shatters the world that you once knew, wreaking havoc on your mental and physical health. There's a reason they call it heartache!
As painful as a breakup is, it can also be a time for learning and growth, opening up a new world of possibilities ... even new love.
Life is change. Growth is optional.
When you go through a break up, what you fear the most actually happens - the end of the relationship. As much as we mourn the loss of that connection to someone we loved, I think many of us fear something even greater - change. Change is scary and unsettling -- absolutely! But if you embrace change, you will gain a stronger sense of yourself and clarity about what you want, and what you can give to other people.
Use the time for introspection, self-reflection and learning. Accept that it is only through change that you can learn and experience real growth. Just as we were put on this earth to love, I believe we were also put here to grow - to learn as much about ourselves and to continually strive to become better.
"We can't be afraid of change. You may feel very secure in the pond that you are in, but if you never venture out of it, you will never know that there is such a thing as an ocean, a sea. Holding onto something that is good for you now, may be the very reason why you don't have something better." C. JoyBell C., Writer.
Give yourself time to mourn the loss.
Allow yourself to mourn the end of the relationship, both the good and the bad. There was a reason you were with that person and it's okay to reflect on the good times and be sad that they're gone. Lean into the pain you're feeling. Take the time to reflect on your time together. It's all part of the grieving and healing process. Even though it may hurt, especially in the early days and weeks that you are no longer together, trust that over time you will feel better and stronger. Time is a great healer. It gives you clarity about who you were with your ex-partner, who you are now and what you want.
"Pain makes you stronger, tears make you braver, and heartbreak makes you wiser. So thank the past for a better future."
Find the support you need: within yourself and your circle.
The biggest mistake people make when going through a breakup is to is go through it alone. Don't. It will only make the experience more overwhelming. Talk to a therapist. Lean on your friends - the ones who are the best listeners and have no judgements. Write in a journal. Go for a run or long walks. Express how you're feeling. Let all that negativity and those heavy thoughts and feelings leave your body and mind. It will help you heal and move on.
"Get up, dress up, show up, and never give up." Genevieve Rhode, Writer.
Trust that through ruin comes transformation.
One of my favourite authors, Elizabeth Gilbert, author of Eat, Pray, Love once wrote, "Ruin is a gift. Ruin is the road to transformation." Even though it may not seem like it at the time, when things are falling apart, maybe they are just falling into place.
A breakup gives you time to be alone and it's during these times that you can experience real self-discovery and growth. Take that time. Do the things you weren't able to do while together, maybe because your ex-partner didn't like to do them or you didn't have the time. Focus on yourself and letting yourself love and trust again.
"Being ok with being alone is one of the most important things a person can learn." Elizabeth Gilbert, Writer.
Have faith that greater things are in store for you. It's about opening yourself up and not being afraid to be vulnerable. Being vulnerable enables you to really connect with yourself and others. When you show your vulnerability, those are often the perfect times to attract new love in your life.
"Someday you're gonna look back on this moment of your life as such a sweet time of grieving. You'll see that you were in mourning and your heart was broken, but your life was changing." Elizabeth Gilbert.
Have faith that you will find love again.
Even though breakups are painful, I believe that every experience shapes us for a reason and for the better. The relationships I have had have all been incredible learning experiences for me and I am thankful for each one. I will take all that I have learned and apply it to myself and the next love. I remain an eternal optimist and a true believer in the power and joy of love.
Have you had a recent breakup? What did you do to get over it? What did you learn about yourself? Tweet me @NatashaNKPR or comment below!
Follow HuffPost Canada Blogs on Facebook