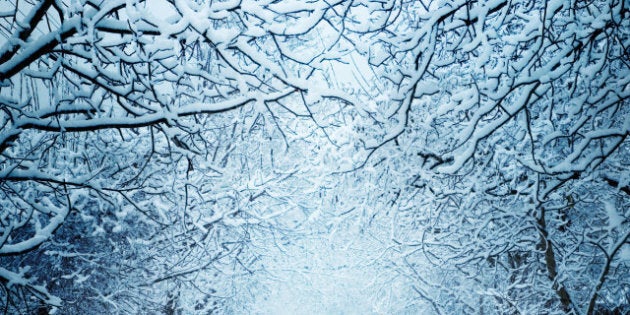 January can be a tough month for many people. Once the early optimism of fresh-starts and resolutions has faded, many feel like they've been unceremoniously dumped in the darkest month of the year. Not me! As a January baby, I've always liked the open-concept feeling of this month.
After all the elevated "joy" of the holidays, something about January feels more real and honest. I think it's a month you can make whatever you want. There are few external expectations around January, no holidays or events that force us to be one way or the other. You can be as solitary and reflective as you like. Or you can throw yourself into something new with extra energy.
Here are some tips for avoiding those January blahs:
1. Embrace routines and structure
I always find my mood is improved when there's some form of structure and routine in my life. With travel and varying schedules, this may not always seem possible. But you can still carve out some time to commit to your daily or weekly routine. Hold yourself accountable to these commitments just like you would a business appointment. Remember, looking after yourself should not be the last thing on your the priority list!
In the last few weeks, I've started running again. The routine I've committed to is key to my success. It helps me feel in control of my body AND my time. Much as we love to break our own rules occasionally, there's something very reassuring and uplifting about having structure, measurable goals, even setting limits on yourself. I think especially that the holiday season can be such a "wildcard" season -- we eat too much, spend too much, socialize a lot. In January, I find the structure helps ground me again and it also helps all those other resolutions I made find their natural place in my everyday.
Yes, structure and routine can be grounding. But not all habits are good ones! Much as I find January a good month for re-establishing my good routines, it's also a month when I like to look at those not-so-great routines. Maybe you got into a bad dietary habit or you've been a little too fast on the draw with your credit card. It could be that you feel you've been neglecting your appearance in some way. Sometimes, we all get stuck in ruts and it can seem like those bad habits have a gravitational pull of their own.
Don't beat yourself up... we all need a little comfort sometimes. But do be honest with yourself and know when you need to step away, or step up your game! Because it's such a quiet, contemplative month, January's a great time to examine your routines and acknowledge the good as well as where there's room for improvement. And remember: Not all resolutions have to take hold on January 1. Why not take a tip from the book The Happiness Project and start a new resolution each month instead of trying to change too much this month?
3. Make room for small pleasures
Neither guilt nor a sense of deprivation is a good basis for making a positive fresh start, so do things in a way that's uplifting and self-affirming rather than self-critical. Sometimes we have a too-perfect version of ourselves in our mind's eye that we use to make ourselves feel bad with. But in order to succeed, we all need to be nurtured and encouraged, not discouraged and belittled. Listen to your inner voice and make sure it's helping (not hindering) your progress. Think of how you would encourage your best friend or partner and make sure the voice you use to talk to yourself is just as kind.
And while you're making positive changes, be sure that your inner voice isn't depriving you of every small joy. Whatever your pleasure, give yourself permission to enjoy it without beating yourself up with a catalogue of things you "should" be doing. This is also where that routine comes into play. If you know your routine and stick to it, you'll have a place for everything and then be able to let yourself relax and enjoy those pleasurable moments. After all, you've earned them!
I believe we are the director of our own movie! So, if you're single and searching for love, take charge. Think about the kinds of things you want from a partner, the kinds of things you want to yourself bring to a relationship. Visualize what that partnership looks like. Be honest with yourself and non-judgemental. These are YOUR needs and wants, not what anybody else says a relationship "should" look like. Once you have an idea of what you want, make sure your heart is open to finding it.
On the flip side, if you're in a relationship, January is a good month to explore all the facets of your relationship, to get to know your partner all over again and make sure you're both fulfilled. There's often something we could be doing to make the other person happier. Open your heart and mind and really listen to what they're saying, and express yourself with similar openness. Although these conversations can be sometimes difficult to initiate, the result can be a deepening reaffirmation of your unconditional love.
We all kick off the New Year brimming with hope, but once we're back to work and the Christmas lights have come down, the month can lose some of its glow. Be gentle on yourself, let yourself take it slowly, phase in those routines and resolutions rather than adopting an all-or-nothing approach. Open your eyes and mind to the gentler delights of January, the people you're sharing it with, the slowly lengthening days and the sense of discovery that lies in this first month of a new year.