AP
My beloved dog, my dear friend, Deecoy passed away last week. My heart is broken.
If you have loved and lost a pet you will not need me to argue that this is a legitimate form of grief. Deecoy was part of my life for 11 years. During those years, my son grew up, my business developed, my love life both thrived, faltered and thrived again, and I personally evolved and matured. But Deecoy was my constant companion the entire time. Sure he aged, he got a little slower, the hair around his nose and eyes greyed. But when he looked at me it was the same steadfast look of love and trust every day.
If I had to explain one thing that made my relationship so special, it would be unconditional love. There's something so special and pure about the bond we share with our pets -- perhaps it's deeper because it doesn't have the complexity of words. Instead, Deecoy and I learned to communicate by a series of looks and gestures, body language and basic sounds. It wasn't a complex relationship, but it was an instinctive, deep and strong one.
And it was like that from the very beginning: When I first met Deecoy, I picked him out of the pack. He was shy and tentative, the most loving puppy of all. I fell deeply in love with him at first sight... Not a love that asks anything in return, or measures whether the love is one-sided. Just a pure and selfless love.
It was so easy to love Deecoy. As I started my business, every day he would sit by my side, watching me and cheering me on. I always felt his warmth and love. We had much in common as well -- my shoes, in particular my Chanel shoes were his brand of choice. And Deecoy was even Coveteured!!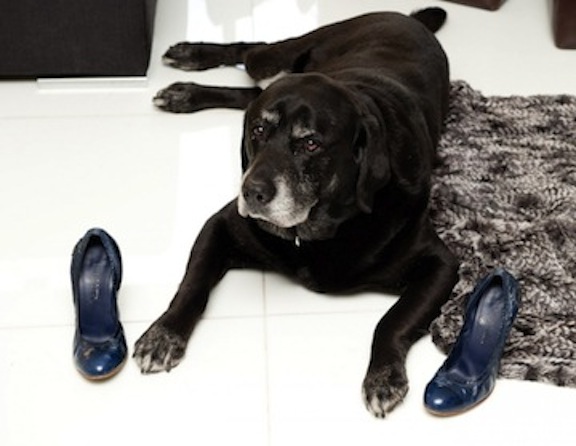 Photograph of Deecoy credited to Coveteur
Although people often argue that we project so much of our own personality onto our pets, I can say with complete confidence that Deecoy had his own unique charm and personality. For some strange reason, he would graze like a cow when we went for walks and he had no interest in chasing balls but loved carrying my Wolford tights all around the house! Deecoy also had his fair share of scares... A car accident gave us all a fright and he even got stuck in a well once, though it didn't alter his spirit! He had a wise and sensitive soul, and I could feel his loyalty, protection, trust and dependence in every look.
Over the last few days, I've found consolation in beautiful expressions of love for animals. This poem that Jimmy Stewart read on The Johnny Carson Show many years ago beautifully captures the individuality, the joy and lightness, but also the depth, trust and ineffability of our relationships with our pets.
Commitment, forgiveness and independence... things we all struggle with in our human relationships were never a struggle with Deecoy. I never questioned the love between us, the bonds of dog and mistress, the responsibility of care that had been gifted to me. Deecoy's nose in my hand or head on my lap was what I needed after a long trip. I was home once he came to my side, always wagging his tail and excited to see me.
Last weekend, I knew there was something wrong when he stopped eating. He loved his food and never turned down a treat. But on that last day, Deecoy wouldn't touch his food and there was a frightened look in his eyes. I think he knew what I didn't -- that it was to be his last day. And how strange life is... Deecoy passed away on the same day he was born 11 years ago.
"I know she is coming close to the time where she will stop being a dog, and start instead to be part of everything. She'll be in the wind, and in the soil, and the snow, and in me, wherever I go." - Fiona Apple in a moving letter about her dying dog
I'm mourning this loss daily but also honouring what we had, acknowledging the importance of all I learned from Deecoy about unconditional love -- which was one of my resolutions for 2013. Losing Deecoy has made for a heartbreaking start to my year, but I'll never forget how much he inspired me, how steadfast his love was, how soulful his eyes, how complete his trust and how I became a better version of myself when I gave and received that unconditional love.
My dearest Deecoy, I will never forget you.
Resources for dealing with pet loss: