Shutterstock
For many of us, our 20s are a decade fuelled by insecurities. We're beginning careers and relationships, finding our own style, and sense of self. I think that often manifests in the spending decisions we make, too. We want to buy the "right" thing, we look to friends and role models to help us on the voyage to finding ourselves and along the way, we work through many trials and errors.
One of the nicer things about being somewhat older and wiser is that we settle down those insecurities. I now have a strong sense of who I am and what I like. Nowadays, my purchases aren't governed by external ideas of what the "right" thing to buy is, but what feels right to me. As we start a new season, I think it's a perfect time to explore something new, to give yourself a fresh start, in some small way. It may be as simple as a new shade of lipstick, or as permanent as a tattoo. For me, it's really about finding and following your own heart, listening to your own inner voice...
Here's what's calling to me right now:
(1) Wearing my heart on my sleeve
Each of my tattoos is a very special reminder and meaningful affirmation for me. I got them at a point in my life when I knew exactly who I was, and what was important to me. They're messages I want to be reminded of every day. One says "Gratitude," the other, "Be Brave" -- and I'm about to get a new one that will say "Love" -- funny I always seem to get my tattoos in the spring!
It's not only important to me to wear such meaningful messages, (literally my heart on my sleeve!), but also because the commitment of getting these tattoos is such an empowering thing to do for myself. I know that tattoos aren't for everybody. But it is one of those things we do for ourselves; it's like giving yourself a birthmark, something you'll have forever. And it's lovely to start a new season on a new and affirming note.
(2) Wearing the clothes, not the other way around
In Miranda Purves' Editor's Letter in the May 2013 Flare, she talks about needing her clothes to take care of her, not the other way around. She's exploring this concept in the context of wearing what she feels drawn to, not what she feels like she "should" wear. This is a powerful message for me and speaks to the same idea of letting go of the rule book...arriving at a place, and sense of self, that puts you firmly in charge of your own style, not following the pack.
I try to embody the same approach by letting myself love what I love regardless of prescribed rules. I just bought six (yes, six!) new kaftans from Soigne K in New York, and feel they'll be perfect for so many occasions. Some of my friends have joked that I'm entering a Mrs. Roper phase, but knowing what I love and going with that is something I now have the confidence to do. It's liberating, but it also makes me feel stronger in my self. I don't need approval or permission to wear what I want!
(3) Hanging art with a meaningful message
An art collection is so much more than a collection of pictures, it's an artist's narrative becoming part of my own life and story. Every artwork I own tells a story about a certain time in my life, about a certain place or outlook I had, or about a connection with an artist. Most of us don't have the talent to create amazing artwork, but by selecting and displaying art, we add our own self-expression to the artist's talent.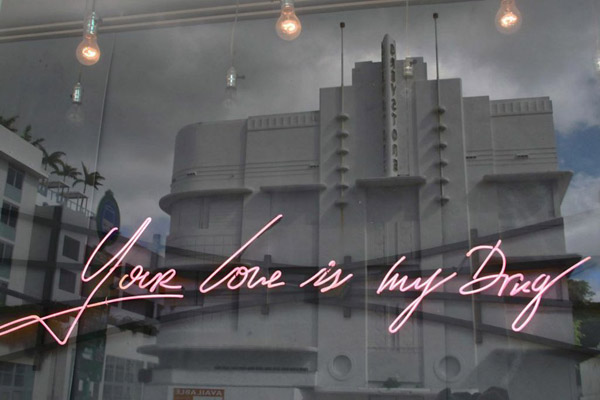 Credit: Olivia Steele
Right now, David Drebin is doing an incredible collection of neon installations. I've been following his work for a long time now, and he always takes things in interesting new directions. I've also been admiring neon installations by Olivia Steele with their messages like "I dream of you in colours that don't exist"... these are words that strike a chord deep in my soul.
(4) Talismans and charms
I'm also really drawn to the new jewellery that's surfacing right now, especially ring-to-wrist jewelry. Jacquie Aiche has some amazing pieces -- and her collection also carries a lot of meaning, like her iconic "love" rings. I'm also loving knuckle rings right now -- Shopbop and Odette both have a good collection! My Redline bracelets are also my constant reminder of love, luck, and life -- the three Ls!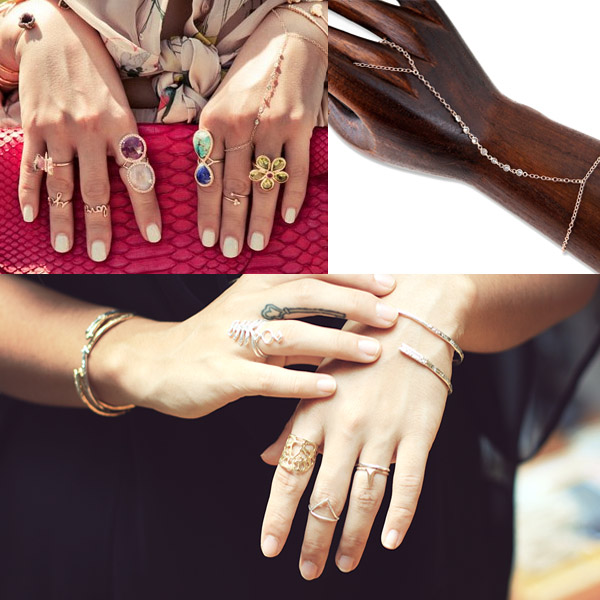 Credits: Jacquie Aiche & Odette
Jewellery is sometimes seen just as a luxury adornment, but it can also be deeply symbolic. Designers like Jeanine Payer, Me & Ro, and Canadian company Pyrrha, all make a strong statement with their pieces, not just from a design standpoint but with messages that reflect and reinforce an individual's outlook. I love the idea of these talismans guiding us, keeping us safe and serving as a constant reminder of what matters most. When I found my Anita Ko heart, I was immediately drawn to it, (almost like falling in love!), and it's something I never take off; it just spoke to me and it wasn't even a question whether I'd buy it or not.
As new collections hit stores and the spring issues of magazines break out all the new trends, the must-have purchases and emerging designers, you may feel pushed and pulled to adopt certain looks. It can feel overwhelming at times; this sense of constant reinvention that the style world cultivates. Let's face it, most of us don't reinvent, rather, we evolve; that means adding and subtracting in ways that are more personal and profound than a simple checklist of "must-have stuff."
Following your heart, whether it be the choices you make around fashion, design, or love...is always the right thing to do.
10 Fresh Styles For Spring 2013