Have you ever come home to find your whole world has been torn away? There's a sinking feeling when you realize you'll have to rebuild it all back up from scratch; things that took you years to achieve. Your mind races: who do you call first, what possessions can you save, is your family pet alright? You have a safety net, insurance, friends and family willing to put you up; you've never needed support like this before but you're so glad you have it.
Now imagine for a moment how it would feel if you lost everything and had nowhere to turn ... because everyone around you lost their everything too.
That's what happened when the 2010 earthquake struck Haiti.
It wasn't the first time the Caribbean republic of 9.7 million people suffered a national disaster, but it was the worst quake they'd had in the past 200 years. One third of the population required emergency aid and hundreds of thousands died.
A few years earlier, vicious storms ravaged the archipelago: in 2004 and 2008, thousands of Haitians died in mudslides and floods, and hundreds of thousands needed humanitarian aid. Over 90% of Haiti's forests had been clear-cut for use as fuel in stoves, aiding the flood destruction. Add political unrest to this desolate mix and it's no wonder Haiti remains one of the poorest and corrupt nations in the world.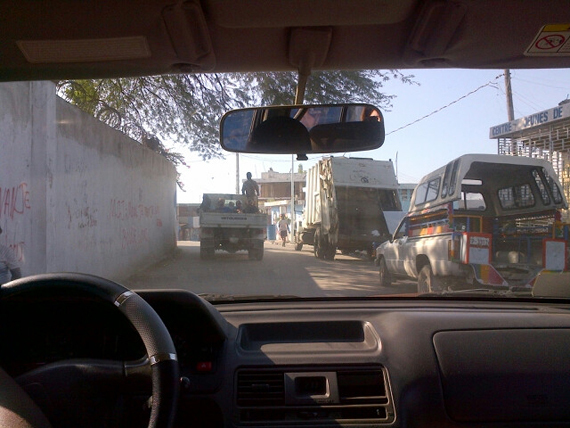 Residents of Cité Soleil live in abject poverty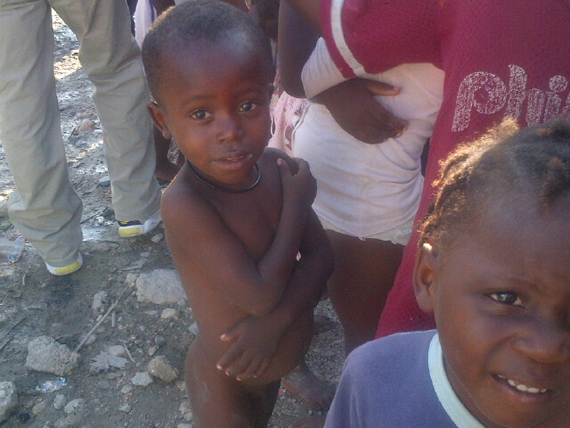 Yet, despite all its hardships, Haiti is also a country filled with some of the most hopeful, loving and eager people in the world. When it gained independence back in the early 1800s, it was the first all-black led nation in the world, and all its leaders were former slaves. That sense of possibility is still present in Haiti's kids -- some of whom lost not just their homes but their families too -- but they never lost their faith in the possibility that things will get better. And they opened my heart so much wider than I ever thought possible.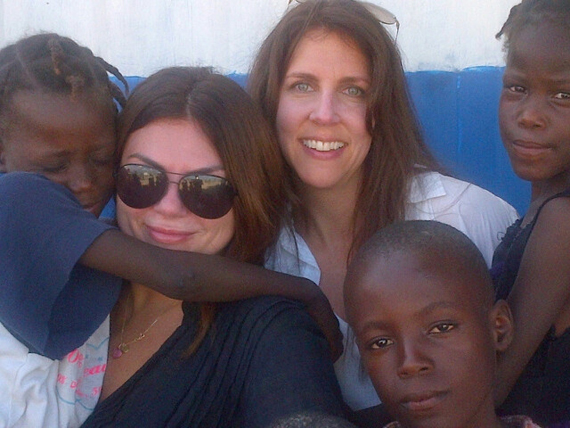 Children are affectionate, hopeful and loving
Here in Canada and the United States, where most of us live in relative comfort, it is so easy at this time of year when we're surrounded with joy and cheer, to forget that a country only a few hours flight away -- in the same time zone as New York, Toronto and Boston -- can be such a world apart.
I visited Haiti last month with Artists for Peace and Justice (APJ), a charity that I am very passionate about. Among us were other avid APJ supporters and board members like Paul Haggis (who introduced me to the cause), Susan Sarandon, David Belle and Jackson Browne. Everyone came from varying degrees of privilege and I think we all took different things away from the experience, but we shared the realization that each one of us has the opportunity to affect change.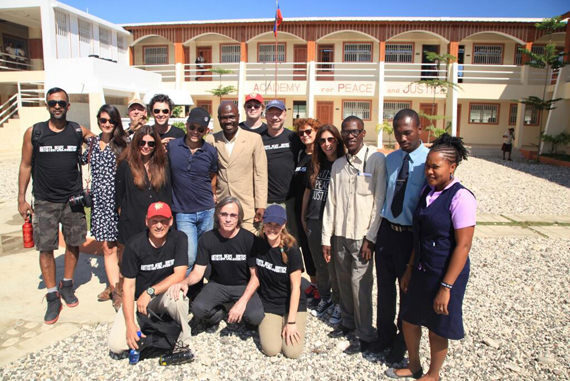 APJ Board Members united by our desire to give back and love unconditionally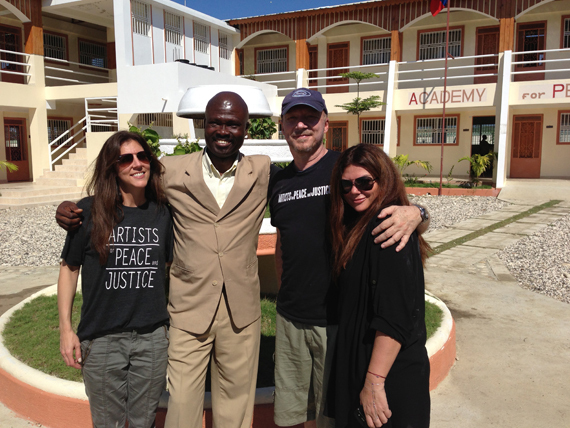 Three-quarters of the Haitian population live on less than $2 a day. Two-thirds are jobless. 80 per cent are poor and over half live in extreme poverty. Cité Soleil, one of the worst slums of Haiti's capital Port-au-Prince, has approximately 300,000 residents living in less than 10 square kilometres.
Compare this to New York City, one of the densest metropolises in the world, which has around 10,000 people per square kilometre; that's three times as many people and all of them live in abject poverty. And with over 30 armed gangs roaming the streets, plus rampant murder, rape, kidnapping, AIDS and a lack of law enforcement, Cité Soleil is also considered one of the most dangerous places on earth.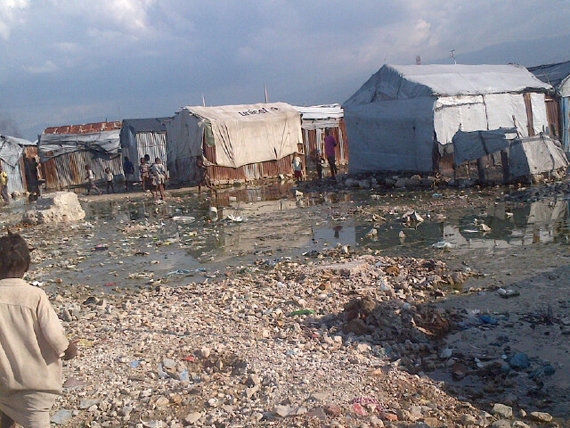 Cité Soleil, one of the worst slums of Haiti's capital Port-au-Prince
But this was not what we saw in Cité Soleil. Children ran up to us, hugged us so tightly, were so excited to see us. They were hopeful, so affectionate and loving. Some of the 2,000 students who attend the Academy for Peace and Justice are from the slums of Haiti. This free high school is where most of the donations to APJ go. Education is so important to me; it's one of the main reasons why I support Artists for Peace and Justice. It is such a moving experience to offer a free high school to children who would never be able to go to school without it. These kids get a hot meal, clean clothes, and a chance to change their fate and the fate of their country. It's about community building; creating a sense of belonging to help lift people up and out of their limitations.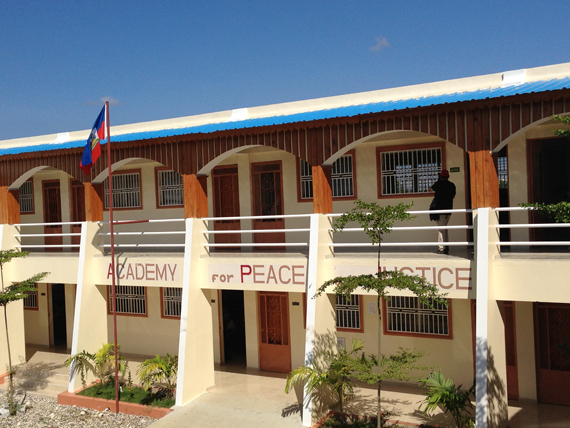 APJ's free high school, the Academy for Peace and Justice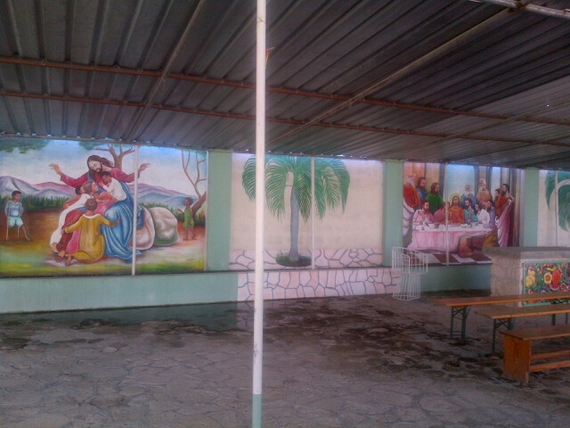 When we visited the school the next day, the kids asked us all a million questions. "Are you married? Do you have kids? Do you have pets?" They wanted to know how we lived and what our homes were like; family is so important to Haitians. We could see the hope and wonder in their eyes; they knew they'd found something special at the Academy, and we knew we'd found something even more special in them.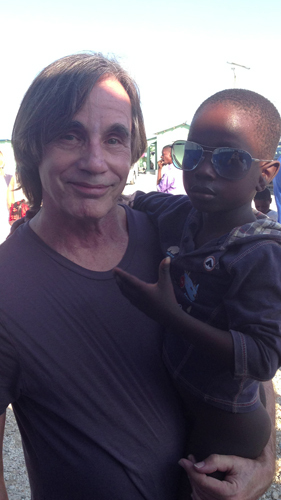 APJ Board Members like Jackson Browne and Susan Sarandon regularly visit Haiti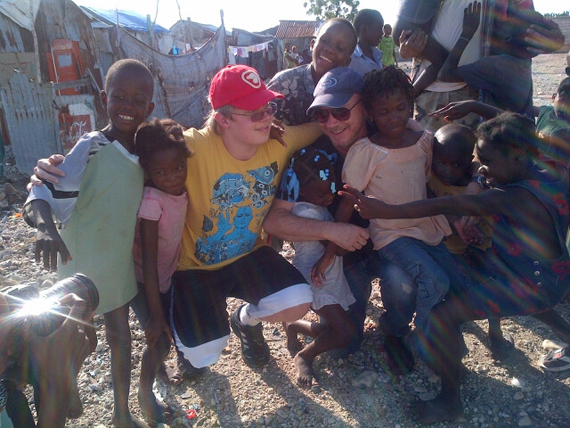 Philanthropy runs in the family. Paul Haggis's son James joins him on this trip to Haiti
One of the students asked me why education is so important; I could just tell by the way he asked the question that this young boy was going to grow up as a leader; he already was a leader. I answered that, for me, education allows us to open our minds and create change. And when I told him that I believed he was going to grow up to be a great leader, tears welled up in his eyes and he began to cry. He said no one had ever said that to him before. I swear I saw a little fire take spark in him and I could see the promise this boy had in the years to come.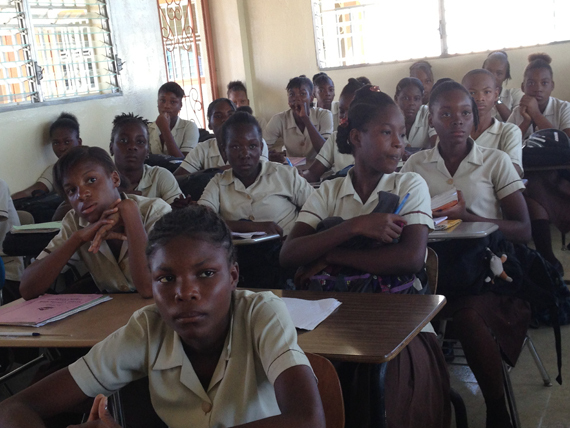 Students at the Academy for Peace and Justice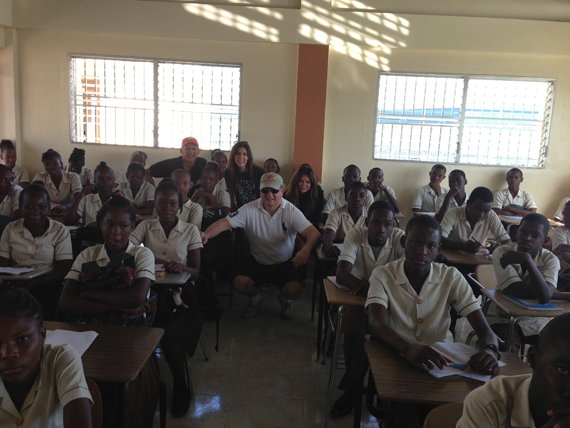 APJ Board Members Natasha Koifman and Paul Haggis with students in a classroom at the Academy for Peace and Justice
Another student asked if we would forget them when we left. Now that made me cry! How could we forget those faces with their soulful eyes and open hearts? Every one of us on the trip will remember it, each for different reasons: Paul Haggis brought his son along to share the journey; Susan Sarandon was there a few years back when APJ bought the land for the school and was now seeing it built and in operation; Jackson Browne saw Haiti's environmental rejuvenation possibilities. We all had our own significant experience and took away meaning that was slightly different but still rooted in the same spirit of giving.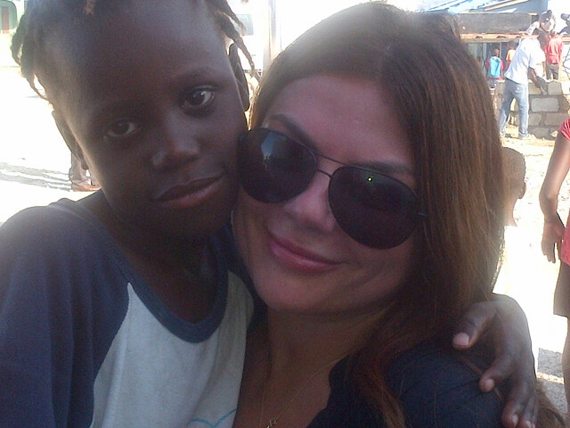 Unconditional love from the beautiful children in Haiti
I will be back to Haiti in a few months and then again...and again. I will never forget how we are helping to hopefully change the course of their lives - and how they have changed and impacted ours. I am constantly reminded of the beautiful children of Haiti and I feel forever indebted for what they have given me this holiday season: the gift of unconditional love.
One of my New Year's resolutions was to love unconditionally; what surprised me is how much love you get in return.
So at this time of year, when you're spending the holidays with your friends and family, remember there are many lives out there you could change for the better...and they might just change your world, too.
A place like Haiti may be a world away, but it's closer than you think.
xo Natasha