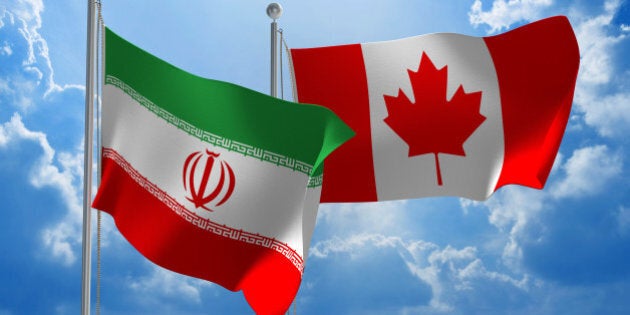 As international sanctions against Iran were lifted over the weekend and as U.S.-Iranian relations dominated the headlines, Canadian Foreign Minister Stéphane Dion implied on the sidelines of a Cabinet-level retreat that the government is considering dropping its sanctions against Iran, a move that would align Canada with its closest international partners. That the government recognizes the economic and strategic disadvantages associated with its inherited Iran policy is a major step toward constructive re-engagement with Tehran.
What is certain is that in pursuit of Canadian national interests, the government is best served by pursuing diplomacy with Iran or risk being left behind as its G7 and NATO partners forge ahead in a new era of relations with Tehran. As the world's leaders gather in Davos, Switzerland for the annual World Economic Forum this week, there is no better time than the present to begin the re-engagement process, assuming it has not already begun.
In his comments to the press, Foreign Minister Dion highlighted the futility of maintaining Canada's sanctions as other countries begin to remove them. He noted the economic disadvantages to Canadian business interests of not only maintaining Canada's sanctions but delaying their removal as it gives other countries a head start in their pursuit of economic opportunities with Iran. As Canada's economy looks to expand and diversify amid a sinking loonie, falling oil prices, and uncertainty in the stock markets, Iran represents a large and untapped market where Canadian firms can compete in Iran's aviation, infrastructure, petrochemical, agricultural, medical and technological sectors, to name but a few.
Economic interests aside, the power of diplomacy with Tehran was in full showcase this past week between Canada's closest ally, the United States, and Iran. Through diplomacy, American sailors were returned swiftly and safely, the prisoner swap brought home prisoners of conscience, a 35-year-old financial dispute was resolved and implementation of the nuclear deal began. The next test will be peace talks later this month to settle the Syrian civil war; a forum that does not include Canada despite its contribution to the fight against the so-called Islamic State of Iraq and the Levant (ISIS).
Re-engaging Iran can also position Canada down the road to work towards bridging divides that exist between Iran and others in the region.
As Canada works towards reclaiming its place on the world stage in keeping with the prime minister's "we're back" policy, it cannot ignore Iran's strategic importance. If Canada can maintain relations with Saudi Arabia, a country that does not share values or strategic interests with Canada and which is losing its economic appeal due to a staggering budget deficit, then surely Ottawa can look to work with Iran on issues of common cause. In echoing Stephen Kinzer who recently wrote about why Iran makes more long-term sense as a U.S. partner ahead of Saudi Arabia: "Countries should fulfill two qualifications to become U.S. partners. Their interests should roughly coincide with ours, and their societies should look something like our own. On both counts, Iran comes out ahead." The same logic should apply to Canada. Both Canada and Iran are battling Wahhabi extremists in Iraq and in Syria and Iran's highly secular society is closer to Canada's than Saudi society.
While hardliners within Iran's political establishment will likely look to embarrass President Rouhani and Foreign Minister Javad Zarif and continue to stand in the way of improved human rights conditions inside Iran, the Rouhani administration is steadily empowering itself to improve conditions for those under political and social duress. In this respect, Canadian engagement with the Rouhani administration will contribute to this effort by adding to their political capital, even if slightly. Re-engaging Iran can also position Canada down the road to work towards bridging divides that exist between Iran and others in the region. To be sure, the benefits of re-engaging Iran are plentiful and have been previously described here. Re-engagement would not mean that Canada would strategically recalibrate towards Tehran, but it would help encourage a regional balance of power between the key players in a region desperate for stability.
In keeping within the spirit of the World Economic Forum of pursuing collaborative approaches to global issues, should an occasion arise on the margins in Davos for Canadian and Iranian delegations to interact, the opportunity should be seized. It would be another win for diplomacy.
Follow HuffPost Canada Blogs on Facebook