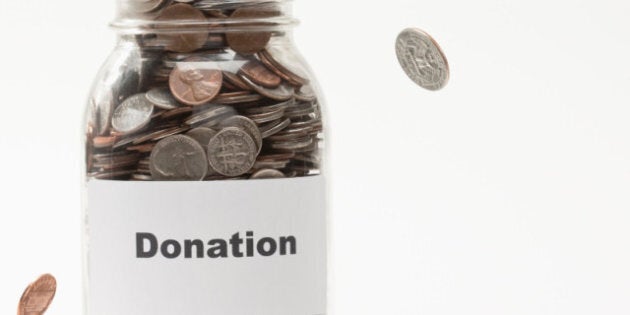 Back-to-school season often means the return of door-to-door fundraisers hawking boxes of cookies, chocolates and other goods that have fuelled a $1.4-billion cottage industry.
But executives behind Better the World, a for-profit social enterprise based in Toronto, hope to flip how Canadians give to charitable causes. Their pitch to major retailers is that they can harness community fundraisers seeking money for neighbourhood improvement projects, school clubs and sports teams by having them sell popular retail gift cards via email and social networking sites such as Facebook, Twitter and LinkedIn.
The twist, however, is that individuals who purchase a $50 gift card can redeem that full amount -- and they trigger a $20 donation from the retailer, which then gets funnelled to a fundraiser's pet project. "It's kind of like a [store] discount," said Steve Croth, a partner at Better the World. "They're just passing the discount to the fundraiser."
The new program, known as FlipGive, is set to roll out nationally this fall through Lowe's Canada, the home improvement chain, as well as Indigo, the bookseller. Executives from these retailers have said FlipGive's digital peer-to-peer fundraising model will help advance their own corporate outreach efforts. "This innovative take on fundraising enables Lowe's to support an even greater number of people, while continuing to support organizations and causes that reflect Lowe's community relations mandate," said Alan Huggins, president of Lowe's Canada.
Yet retailers also stand to benefit from a sales boost driven by gift card redemptions. Studies have shown between 20 and 71 per cent of consumers with a gift card spend more than the initial balance they hold, and those who do, dole out nearly twice as much at the till. "Gift cards have really taken off," said Leslie Hand, research director for the advisory service IDC Retail Insights. "We've seen gift card purchasing increase year-over-year."
Retail partners under the FlipGive program garner free access to a website that's customized for their brand. This allows fundraisers to contact people in their network and describe why they're raising money through the sale of a particular corporate gift card. The retailers then share 10 per cent of each gift card sale with Better the World, which is banking on its FlipGive concept to generate big business. Already, the firm is increasing its staff from 18 to more than 30 employees.
Some retailers have signed on, in part, because FlipGive takes care of sticky situations where loyal customers come knocking for donations or auction giveaways but often get turned away. "From one perspective it allows us to never have to say 'no,'" said Mark Marovich, e-commerce director at Spy, a sports eyewear company that's launching the program in both Canada and the United States this fall.
During a market test of FlipGive done quietly last year, Indigo generated more book donations for its Adopt a School initiative through the sale of electronic gift cards than by taking the traditional route of just asking for money. The peer-to-peer fundraising model proved to be successful enough that Indigo is now expanding its campaign to run the full academic year with a target of 1,000 schools, compared with just three weeks last year at around 150 schools.
"It's people putting it on Facebook or Twittering that they're getting involved, and that tap from someone in your network is way more persuasive than a corporate line trickling down," said Jennifer Jones, director of the Indigo Love of Reading Foundation. "We know people who aren't your typical customer are buying these gift cards; it's a brilliant way to build new relationships."
Getting buy-in from big brands hasn't always been easy for Better the World. When the firm launched four years ago it attempted to sell a permission-based advertising network, where corporate sponsors of charities would flash messages at online viewers then donate money on their behalf to a worthy cause. While the idea showed promise, it fell flat in practice. "We couldn't get the brands without the eyeballs, and we couldn't get the eyeballs without the brands," said Mr Croth. "Chicken and egg -- and we couldn't solve it."
As Better the World evolved into a consultancy and technology provider, it began selling customized corporate social responsibility programs designed for the web. One included Beyond Miles, where Aeroplan members can donate airmiles to charitable causes, while another has helped the Pearson Foundation give more than 1-million books to improve global literacy.
But FlipGive introduces fresh challenges. First, enough consumers have to sign on and stay engaged long enough for other major retailers to want to join the program. Hand also warned that it may not take long for competitors to launch similar offerings. "What a lot of investors are worried about are copycats," conceded Croth.
"We've got probably a six-month head start, so we need to lock these merchants in quickly and be the best at what we do," he added. "We have to be ever-changing and evolving to stay ahead, but other than that it's our opportunity to lose, really, and I think we can pull it off."