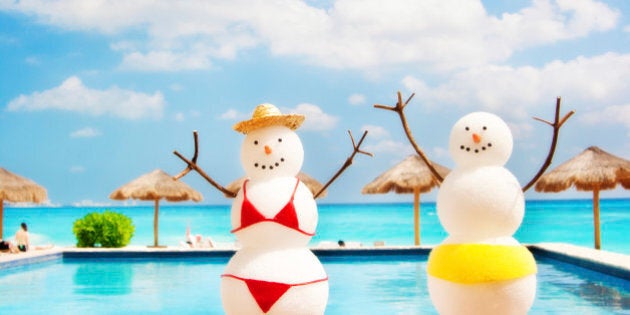 Typically, March in Canada is synonymous with cold fronts, snow, and slush. And for many, it's a time to escape the Canadian cold, bring friends and family together and head south to take in the sun during March or Spring break. From road trips to long flights, to hotel stays and late nights, it may feel impossible to stick to your regular routine, and nutrition is no exception. At times, I've even found myself slipping into a vacation meal trap -- salty snacks, overdoing it at buffets, erratic eating times and not to mention... a dip in physical activity. But vacations don't need to be synonymous with diet disasters -- there are so many easy ways to keep on-track.
Before getting these tips, I'd like to point out that March is also Nutrition Month, and this year, Dietitians of Canada (DC) wants to help Canadians "Take the Fight out of Food." Eating should be a joyful experience that ignites our taste buds and gives us pleasure -- the exact feelings we desire from a vacation. While it may not seem easy, a little pre-planning and a shifted mindset can result in a vacation that is food fight-free, active and most importantly, fun! So let's get started.
#1 Be mindful of food choices
There's no need to avoid getting adventurous and trying new foods. But if the majority of your dining options are energy-dense and nutrient poor, you're likely going to need to schedule in a few days post-vacay to recover before heading back to school or work. Instead, pick out your top restaurants, look at the menus and map out what to have ahead of time so you can balance out heavier meals with lighter ones. Go splitzies with dining partners. If you have access to a fridge, bring unfinished food home to have for lunch or breakfast the next day. At buffet stations, load up half your plate with non-starchy veggies first, followed by smaller portions of proteins and starches.
Take your time at meals. You're on vacation so slow down and savour every bite, take in aromas and pay attention to plating techniques and unusual food combinations. It's not only a great way to eat mindfully, but you'll have an easier time remembering meal ideas you may want to recreate at home.
You may not always have this option at restaurants or food stands -- and let's face it, they can sometimes be overpriced and full of heavy dressings. However, check out nearby grocery stores for pre-washed bags of greens or chopped veggies that you can keep in your hotel room fridge. If you don't have a fridge, many grocery stores, and produce stands offer fresh veggies you can eat on the spot or disposable containers you can eat pre-washed salads out of.
#3 Keep nutritious snacks handy
Often, when on the road, we eat when hunger hits and who knows what might be available at that time. Plan ahead and bring items that don't require refrigeration, like grape tomatoes, mini peppers or mini cucumbers, apples, bananas or pears, dried fruits, roasted chickpeas or edamame, and pre-portioned nuts or seeds (FYI, one portion is ¼ cup). If you want to bring a cooler, stock it with fresh cut fruits, salads, sandwiches on whole grain breads and yogurt cups.
Many healthy foods are permitted on flights within Canada and internationally. Drink water, as moisture content on airplanes is low, increasing the likelihood of dehydration. Avoid high fat, high fibre and starchy foods like avocados, cream sauces, potatoes and bran since they take longer to digest, as well as gas-producing foods like broccoli, beans, peas and carbonated beverages since the gas they produce may expand in the air leading to gastro-intestinal discomfort. In fact, sometimes it is better not to eat at all on long flights, which may help with jet-lag and resetting your body's feeding clock to that of the location you are heading to.
#4 Before you eat, drink!
And to clarify, I'm not talking about alcohol--sorry! Dehydration is common while on vacation and can lead to overeating. Try to drink a glass or two of water before every meal and snack. You can even aim to have one after your meal which may help curb your appetite and the desire to go back for more servings. If you want to consume alcohol, go for half pints of beer, five versus nine-ounce glasses of wine and keep a close eye on what you're using for a mixer. Depending on their portions and contents, mixed drinks or coolers they can contain as many calories as a meal!
Unless you injure yourself, there's no reason why you can't build exercise into your vacation. Take advantage of activities that align with the theme of your trip. For beach vacations, swim, surf or play beach volleyball. While camping, chop wood, canoe or go for a nature walk. During cultural excursions, walk to attractions instead of taking a sightseeing bus or taxi. The distance between various monuments is often much closer than you think, and with the convenience of Wi-Fi and smart phones, you can map out the walking distance ahead of time. There may even be rental bikes that allow for greater mobility and are often quite reasonably priced to rent. The best part is, you may discover some of those off-the-beaten-path spots that would have otherwise been missed!
Néma McGlynn is a registered dietitian with Loblaws. She is part of a network of more than 70 dietitians who provide free services like one-on-one consultations, assisted shopping, school tours and recipe ideas at locations across the country.
Follow HuffPost Canada Blogs on Facebook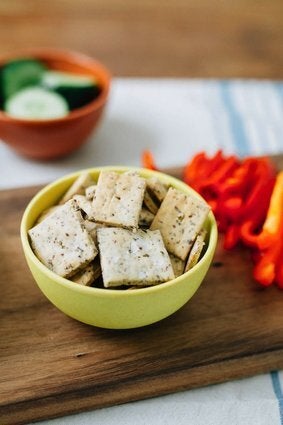 21 Healthy Snacks To Take On The Go