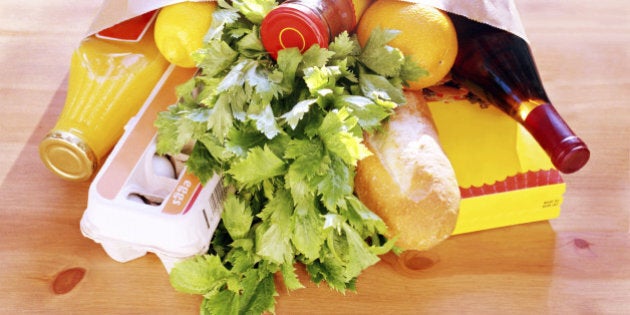 I get it -- meal planning can seem difficult. Doing a single shop to last you a week may seem like a risky prospect for families, especially if you have hungry kids raiding the fridge every day after school. But while it takes time to make a list and plan out your meals, it usually takes longer to do a freestyle shop and you may end up with some strange food combinations.
Simply stated, a little meal planning can be a huge time saver and help you make tastier food. Also, you don't need to do it alone! Get the whole family involved. Kids are more likely to eat meals when they've helped plan and prepare them and it teaches them valuable life skills.
Here are some tips I share with my customers to make meal planning a little easier and help them make healthier decisions in the store.
Check your fridge, freezer and pantry to see what you already have - it's a great way to cut down on food waste. Once you've assessed your stock, write out a list of the meals and recipes you want for the week and the ingredients you'll need to make them. This will help keep you on track when shopping (so long as you remember the list!).
If you want to save even more time during your shop, organize your list by area of the store i.e. produce, bakery, dairy, frozen and grocery so you never have to run back for an item you missed.
Often when heading to the grocery store we have a long list of items to pick up. The best place to start is to grab all your non-perishable items first, including nuts, dried beans and lentils, whole grain pastas, oats and more. Next, grab all your fruits and veggies and perishable foods, such as dairy products and meats - this will help to limit the time your perishables are sitting out at room temperature.
Using a program like Guiding Stars will help you make more nutritious choices while you shop. It rates foods based on nutrient density using a scientific algorithm and is an easy way to increase your intake of favourable nutrients, like vitamin C, calcium, iron and omega 3. Just look for them on the shelf tags in store.
Set aside a day to prep everything you bought. Get the kids involved. This is a great way to introduce them to new foods and have them be part of choosing what's for dinner. Kids can help with things like grating or peeling vegetables, measuring ingredients, setting the table and washing fruits and veggies. Try batch-cooking healthy meals that are ready to eat when you're crunched for time.
I also tell my customers to plan to use leftovers - it's a great way to help make weekday meal prep a little easier and to reduce food waste. Items like roasted chicken or veggies can be turned into gourmet sandwiches, salads or even pizza toppings. Leftover fresh herbs or fruit are the perfect addition to get the kids drinking more water. So don't toss them in the bin, let them sit in your water jug to infuse the water.
When trying to make more nutritious food choices, there are a few easy swaps I like to recommend.
• Instead of white or brown rice, go for wild rice or mix lentils into your rice dish for more fibre and protein.
• Choose "no salt added" canned goods like canned tomatoes or tuna instead of those with salt added to help lower sodium intake.
• Blend your fruits and veggies instead of juicing them to keep the fibre.
• When baking muffins or sweet breads, replace up to half of the requested oil or butter with pureed fruit or veggies to lower the total amount of fat.
• Try plain cottage cheese, plain Greek yogurt or plain skyr instead of flavoured yogurt for more protein and less sugar.
• Go for "whole grain" instead of "whole wheat" or "enriched flour" when looking at the ingredient list for a good bread, cereal or cracker. "Whole grain" items generally contain more fibre, vitamins, minerals and phytonutrients than those that aren't.
• When eating out, ask for half portions or split large meals with a friend or family member. Not only will this help prevent overeating and reduce your intake of sugar, saturated fats and sodium, but it will also keep a little extra change in your pocket. Bonus!
Néma McGlynn is a registered dietitian with Loblaws. She is part of a network of more than 70 dietitians who provide free services like one-on-one consultations, assisted shopping, school tours and recipe ideas at locations across the country.
Follow HuffPost Canada Blogs on Facebook