CP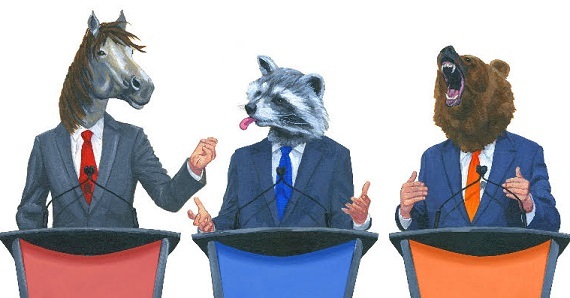 Art by Tony Taylor
This current political three-way cluster-squeeze to the 24 Sussex Drive is becoming annoying. We Canadians have become that proverbial couple -- husband wants to hug a cold one and catch a ballgame while wife is demanding a night at the ballet. One -- or likely both -- will be disappointed.
On Monday night in Toronto three major party leaders showed their wares and clashed swords in front of a well-dressed crowd at the Roy Thomson Hall. While the leaders debated foreign policy, the viewers, in essence, looked to gauge who looked best to represent Canada on the world stage. That is the reason other party leaders were not invited. Make no mistake about it -- this is a contest for the seat of the Prime Minister of Canada.
Mulcair: "You catch more flies with honey than with vinegar."
Early on in the debate, Harper became an easy target of attacks by both opponents on the question of Obama's rejection of Keystone XL pipeline project, the deal Harper once described as "no-brainer." Mulcair intoned, "There is an old saying, Mr. Harper, that you catch more flies with honey than with vinegar. I think you were pouring vinegar by the gallon on the Americans and it is not a surprise that they said no."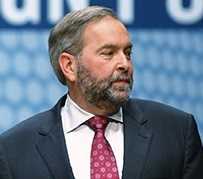 Mulcair: "How are you going to stand up to Putin?"
The audience broke into laughter when Justin Trudeau -- the junior politician on stage -- was asked how he would "deal with Vladimir Putin." Harper almost bragged saying, "I met with Putin many times." Mulcair did not miss his chance to jab at Trudeau, "You cannot even stand up to Mr. Harper on C-51, how are you going to stand up to Mr. Putin?"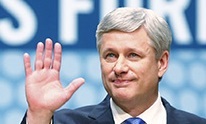 Harper: "The threat we face today is not CSIS. It's ISIS."
It was staple Harper and an instant crowd-pleaser, "This government is fully committed to protecting both our freedoms and our security. ... The threat we face today is not CSIS, it is ISIS."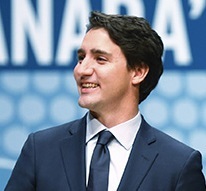 Trudeau: "A Canadian is a Canadian is a Canadian"
Towards the end of the debate Harper almost bated Trudeau, "Why would we not revoke the citizenship of people convicted of terrorist offenses against this country?" Justin Trudeau's response was his finest moment in the debate. He showed that he could take on an emotionally divisive issue and forcefully stand by his convictions. "A Canadian is a Canadian is a Canadian,' he said. "You devalue the citizenship of every Canadian in this place and in this country when you break down and make it conditional for anybody."
Perhaps for the first time in this election Mr. Trudeau looked prime-ministerial. We got a sense that he has the wherewithal to deal with the likes of Putin.
Alas, there were no clear winners in this debate. Harper convincingly held his ground. He was unapologetic about his strong positions -- be it on Ukraine, Israel or free trade. On the question of refugees he suggested foresight on the part of his government's prudent policies: "Some European countries just started letting everybody in, and now they're trying to reverse those policies."
Mulcair did a good job at the podium. He stressed, "When we started our fight against C-51, the vast majority of Canadians were in favour of it. Mr. Harper had done an excellent selling job. ... The only party that stood on a question of principle against Bill C-51 was the NDP." In our hearts, we know he is right. We owe a debt of gratitude to NDP for forcing the government to make amendments to the original bill. Liberals have pledged to amend it yet further.
Trying to present himself as the man to replace Harper, Mulcair managed to land some good punches. As Donald Trump said of his fellow 2016 Republican presidential candidate Jeb Bush, "More energy tonight. I like that." It was not enough to take Harper down.
Monday was a good day for democracy -- we saw three leaders proved worthy to represent Canada in the international halls of power. And that is our dilemma -- no politician is making big mistakes.
Could one of the party leaders please do something stupid? We Canadians would like to make up our minds. Current public opinion polls put us in a tight three-way race. We will need a miracle to escape a debacle of a minority government come election day on October 19. Ballgame or ballet? It will not make for a happy couple to try to do both.
ALSO ON HUFFPOST:
In Photos: Canada Election 2015