This is Canada. There is something phenomenally Canadian about our politicians who do the business of governance and manage to find time to connect with every imaginable community in this crazy multicultural land of ours.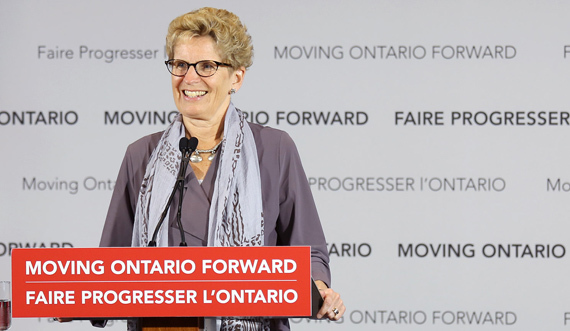 Ontario Premier Kathleen Wynn speaking in Hamilton (May 26, 2015, Queen's Printer)
Some people just manage to do it all -- take our Ontario Premier Kathleen Wynne.
On Tuesday, May 26, Ms. Wynne was up and early at 8 a.m. in Hamilton making an announcement about the government's $1 billion investment in LRT and GO. Ontario House session did not start until 9 a.m.
Ms. Wynne was back in the legislature just in time to face a cannonade from the opposition. "Will this Premier do the right thing, fire her Minister of Education?" intoned NDP leader Andrea Horwarth, referring to the "chaos in the education sector" due to the teachers' strike. Ms. Wynne would forcefully defend her government that day against a number of attacks on the government's "Stephen-Harper-style omnibus budget," Hydro One privatization initiative and public transit funding.
Hard to believe, but Ontario MPPs discussed that day at least 65 different topics, from Electronic Cigarettes Act to Nelson Mandela.
It is, therefore, incredible to contemplate that around 4:30 p.m., Ms Wynne found the time to meet with the Ukrainian community at a small reception at Queen's Park. She individually and carefully greeted each guest and then gave a thoughtful speech honoring Holodomor victims - those who died in Ukraine in the famine of 1930's.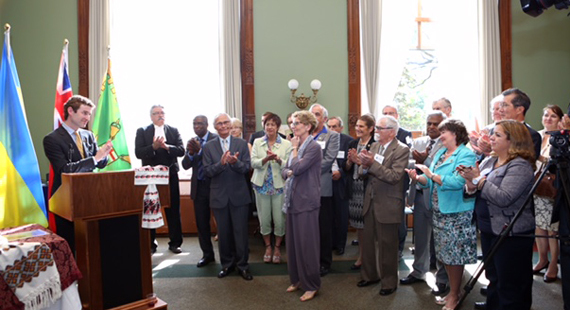 Speaker Dave Levac, NDP MPP Cheri DiNovo, PC MPP John Yakabuski and other politicians attended the Holodomor reception. Liberal federal candidate Arif Virani, Oksana Rewa from Ukrainian Canadian Congress, Bozhena Fedyna from Ukrainian Canadian Research and Documentation Centre and other community members were present. (May 26, 2015, by Jenna Muirhead)
"I am proud that Canada was the first country to recognize this tragedy as an act of genocide," Ms. Wynne said. "We have a responsibility to ensure that horrors like the Holodomor do not happen again."
"More Ukrainian-Canadians call Ontario home than any other province," she said, adding "I want to thank you for everything you do for your community and for Ontario."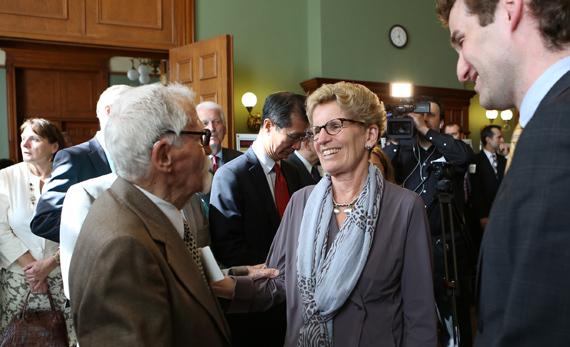 Holodomor survivor Stepan Horlatch, Premier Kathleen Wynne and MPP Yvan Baker at the Holodomor reception (May 26, 2015, Yvan Baker Office)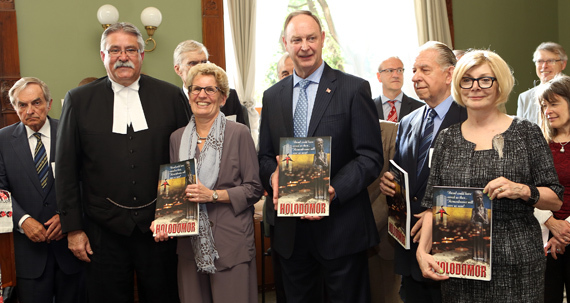 Politicians received copies of illustrated book "Holodomor: The Ukrainian Genocide" by League of Ukrainian Canadians at the Holodomor reception (May 26, 2015, Yvan Baker Office)
A day before, the Premier met with Aga Khan, the spiritual leader of Ismailis, another peaceful (and at times persecuted) community.
We Canadians are comforted to know that our politicians are accessible to us, no matter how busy they are. Our grievances will be heard, no matter the size of our community.
Parliamentarians adjourned at 11:14pm that day, after a debate about the Crop Insurance Act. This is Canada.