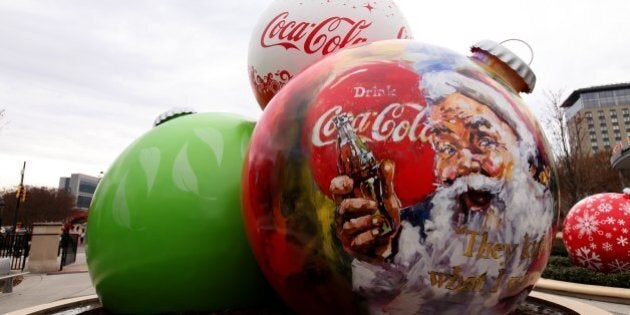 In a sea of black coats, it's the pop of colour that grabs our attention this time of year. Fitting in gets you lost in the crowd. Keep this in mind when you brand for the holidays.
Just as the lights, the decorations, and the overall glow of the season offer a breath of fresh air against the dull weather outside. So too do our favourite brands -- if they make an effort to stick out.
Especially in today's digital world, through computers, mobile devices, and television, businesses thrive because of the relationships they build with their audiences. Cultivate these relationships and make it the "most wonderful time of year" for your business and your audience with these holiday branding strategies:
For many of us, tradition is what makes the holiday season "perfect." Twinkling lights, Santa Claus, good food, and great parties are traditionally on the must-have list for Christmas cheer. Coca-Cola can often be included on this list. Since the 1950s, the refreshment giant has planted itself as a Christmas staple, using the season to remind consumers to include coke in their festive events while promoting key components of the season -- kindness and togetherness. Take a look at this vintage coca-cola ad from the 1970s. The company has created such a firm foothold in our Christmas traditions that some even believe it invented Santa Claus' current image! Brands that help consumers capture the typical holiday ideal not only stand out from the competition but become a natural fixture in their consumers' lives.
Businesses who know their audiences are the ones who succeed. Consumers want to know that their favourite brands are listening to them. Use your holiday branding initiatives to share that you know what your consumers are looking for. The latest Samsung holiday commercial, for example, highlights the use of its products in a relatable way. How many of us use our phones to discuss gift selection, or have turned the TV on to the fireplace channel (just because you were curious, of course)? The ad even includes the favoured classic movie, National Lampoon's Christmas Vacation. Many of us can view at least one scene in the ad and say "yes, that's me!"
The most memorable ad campaigns do an excellent job at tugging on the heartstrings. When consumers feel powerful sentimental feelings towards a brand, they are more likely to become loyal buyers. This year's John Lewis Christmas ad, Monty the Penguin, does an excellent job of connecting with their audience's emotions to build brand loyalty.
Adding some comedy to your branding strategy makes sense. We all love to laugh, and we all love sharing things that make us laugh. As long as it coincides with the brand's original messaging, humour can nurture more personal and lasting relationships with businesses and consumers. Kate Spade's latest holiday ad, the Waiting Game, with funny girl Anna Kendrick brings a breath of fresh, festive air to the label while showcasing its latest products. Watch the video here.
Give and share the feeling
The feeling of giving a gift is very powerful and sharing that feeling with others can be equally so. Many of you will remember last yearss #WestJetChristmas miracle campaign. This year they did it again -- in the community of Nuevo Renacer in the Dominican Republic. The WestJet blue sleigh and Santa were in full form making some wishes come true in this small and very humble town. Air Canada also joined the fray with their own giving spirit. Their Gift of Home video gave Canadians living in the U.K. (hanging out in an ex-pat pub) one of the best gifts imaginable -- flights home to see their families at Christmas. Both are pretty powerful because you can see and feel what these gifts provide the recipients.
When implemented as part of a long-term marketing strategy, holiday campaigns can go a long way. Especially, if it's done well and within the character of your brand.