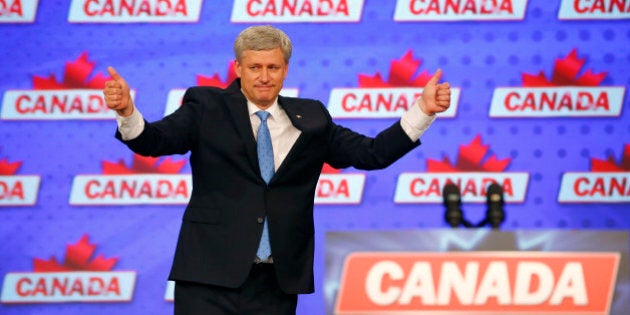 Former Conservative Prime Minister Stephen Harper apparently isn't satisfied with having destroyed a lot of wonderful and important things in Canada. Now he has signed on with Dentons, the world's largest elite law firm, to spread his dark viewpoints around the globe.
Dentons proudly announced Monday that Harper -- who does not have a legal degree -- and his new consulting company will work from its Calgary office.
For Harper, the appointment is his reward from the corporate set for many years of stalwart service. He will now be able to stuff his pockets with greenbacks and 76-cent Canadian dollars.
The recently resigned Calgary MP will no doubt stick a Canadian flag on his suitcase as he peddles his anti-social ideology. Hopefully, this will be Harper's final insult to our national pride.
It is outrageous that a former prime minister is able to join a massive, influential international corporation such as Dentons when his seat in Parliament has barely cooled.
Dentons is like an octopus. It has more than 7,200 lawyers in over 50 countries, and seems to be constantly expanding.
In easily translatable jargon, Dentons said Harper has teamed up with the firm to provide clients with "advice on market access, managing global geopolitical and economic risk, and maximize value in global markets" -- i.e. postulating himself based on the credibility he gained during nine years as PM.
The Donald Trump of the legal set
"Dentons is the Donald Trump of the legal vertical," writes legal expert and columnist Mark A. Cohen. "The firm is brash, bigger-than-life and something entirely different. It receives a disproportionate amount of press because it is always doing something that drops jaws."
The firm surprised the legal/business world by forming a partnership with a huge Chinese firm closely tied to the Communist Party. They employ more than 6,000 lawyers that are working on hundreds of projects, both inside the country and internationally.
Dentons isn't fussy about which companies it represents in litigation. It works for Wal-Mart Stores, Monsanto, Citigroup, Duke Energy, Bank of America, Barclay's Bank, Wells Fargo and others.
It's no surprise that Harper will pick up fat paycheques from Dentons. The firm likes buying former politicians. Former Liberal PM Jean Chretien and former Manitoba Premier Gary Doer are also on the Dentons payroll, as is former Harper Cabinet Minister James Moore. Last year, Dentons snapped up controversial former U.S. politician Newt Gingrich.
Harper's cold personality could damage his one-on-one work for Dentons. The former PM once famously said: "I can't even get my friends to like me."
Outrageous move by Harper
It is outrageous that a former prime minister is able to join a massive, influential international corporation such as Dentons when his seat in Parliament has barely cooled.
Dentons is deeply involved in all kinds of wheeling and dealing at the highest levels around the world. Part of its success is based on collecting inside information on corporations and governments.
There are few legal constraints for Harper in his new job. Canada's Lobbying Act prevents Harper from being directly involved in lobbying the Canadian government for five years.
In addition, the Conflict of Interest Act says that "no former public office holder shall give advice to his or her client, business associate or employer using information that was obtained in his or her capacity as a public office holder and is not available to the public."
Having been prime minister for more than nine years, Harper is aware of what is supposed to be confidential information concerning corporations in Canada and what are supposed to be secret arrangements among foreign governments.
Harper will claim he will not reveal privileged information, but there is no way of knowing whether he will break his word. Just imagine if he were hosted by the King of Saudi Arabia, seeking approval for some energy-related project -- would Harper not be tempted to spill the beans about what he knows about the fossil fuel industry worldwide?
Former PM a valuable asset
Harper will be a medium-sized fish at Dentons, but he can help the firm in countries where he has good relations with government leaders, and on some issues.
Given Harper's record of spending little money on fighting climate change, he could work with government clients on how to avoid spending millions on carbon reductions and he probably could help corporate clients avoid carbon penalties.
Instead of marketing his skills through Dentons, it would have been more appropriate for Harper to get involved in academia. He would have been welcomed at the University of Calgary, where a group of professors and some students established the influential right-wing "Calgary school."
And Harper doesn't need the money. Currently 57, he is receiving $127,000 in annual pension payments. When he turns 60, the amount will increase to $134,000 per year. The Canadian Tax Federation says that Harper's MP pension pay would add up to roughly $5.5 million up to age 90 (factoring in for inflationary increases to the payments).
Follow HuffPost Canada Blogs on Facebook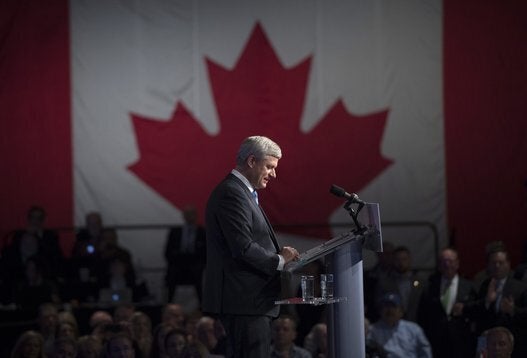 Harper's Legacy: Top Achievements, Failures, According To Poll