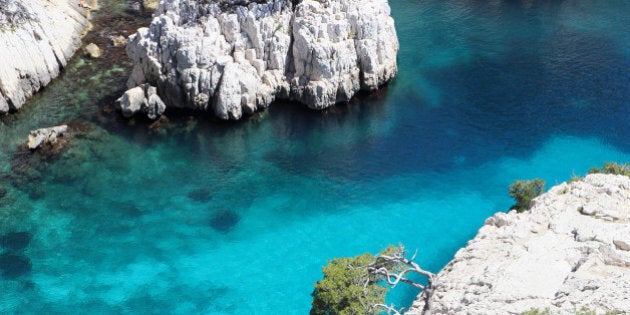 "You can smell the rosemary in the air." Jean Marc Naridini is a jovial fellow with a bright burst of silver hair and sentences punctuated with giggles. In his thick French accent he tells me that he has been guiding people along the enchanting trails of the calanques in Southern France for years. He meets people from around the world who tell him that this is one of the most beautiful places they've ever been. "People come to the Calanques for an adventure," he says, "but what they also find is a story."
The calanques -- deriving from the Occitan and Corsican word for inlet -- is just that: a series of natural inlets spanning 20 km across from Marseille to Cassis across Southern France. These emerald fingers, as Marseille's tourism site refers to them, dip between cliffs and were formed 12 000 years ago after a gradual warming during the ice age caused sea levels to rise, consequently flooding the valleys. There are several inlets that are more popular among tourists, and one of them is Calanques de Sugiton -- that's where my friend and I we were headed today.
It's a scorching hot June day and Marseille is sizzling to life. I go with my friend to buy tickets for a Calanques boat tour. I originally wanted to hike but my friend insists it's too hard, and so I acquiesce. I bring a bathing suit not realizing these tours don't allow you to swim. We arrive at the booth when I notice the dock emptied of the usual crowds, but I count it as luck. The lady at the ticket booth is covered in a million beads of sweat. She shakes her head firmly, "not today," she says, as is typical in France, there is a strike.
Our only option is to go home, or hike -- coming another time isn't an option because I'll be on a plane for Italy the next day. So we're off on a jam-packed bus towards the hiking trail. It starts as a russet path by Luminy University. The air is thick and hot as broth. I have one of those flimsy bags -- the one that flips inside out and becomes a towel -- in tow, stocked with a box of already melting chocolate biscuits, and that signature viscous water left to warm in a plastic bottle.
The silence is the first thing that hits me. I walk between the walls of thickening trees and for the briefest moment, feel myself in a terra nullus -- no time, no civilization, only land and sky. I have only begun the 90-minute trek when I come face-to-face with these enormous white cliffs. It looks so one-dimensional; this utter clarity that at once flattens your thoughts into a sense of pure awe. But then I remember that I'm hot, and that somewhere 900-ft down is a cool, inviting cove that will wipe away all the sweat and heat-pain. So I continue on what is so far beautiful flat land that sizzles beneath my sneakers. Note: don't hike in sneakers. Every so often, a hiker glazed in sweat, shoulders roasting red under the noon-day sun, traverses my path. I come upon some hikers and ask which way it is to the Calanques. One lady points through the bushes where she is standing, "down there," she says, her index finger pointing perilously steep, "just be careful." I poke my head through the bushes and see nothing ahead, then my eyes drift downward, and there it is: a path plummeting into rocky precariousness below.
Many great stories have started here. This is the mythical bedrock of France's foundation. Legend has it that in 600 B.C., Greek explorer Protis sailed towards these hibernating white beasts. He docked and found himself in an unexpected banquet held by King Nanus of Segobriges. The king sought for his daughter, Gyptis, the finest suitor. The new king, along with his queen, would reign over their new dominion. Protis waltzed right into this affair, and before you know it, Gyptis raised her cup of wine to him. He found no problem declaring an easy victory over love, and over his new land, Masallia, now known as Marseille.
Where great tales begin, many have also ended. Antoine de Saint-Exupéry, famous for his enduring classic, The Little Prince, met his untimely death here after the military P-38 unarmed aircraft he was flying crashed off these shores in July of 1944. In 1998, a fisherman pulled a silver bracelet from his net with engravings of the author's name, and his wife's name next to it. In 2003, remnants of a plane off the shore were confirmed as belonging to Exupéry.
The assiduous student of batteries, and one of the world's most well-known historical figures, Napoleon, got his start here when he planned out a heavy battery of artillery along the coast of Morgiou -- one of the Calanques -- to protect against invading British fleets in 1810.
Among the greats there was me, sweating and panting until I finally reach that small cupping shore where bright waters recede into the deeper, darker depths. Young boys tiptoe to the edge of cliffs, giddy to jump, and finally, fall like spears through the deep velvety water. On the turquoise pebbled shores, a crowd has come to laze in their colourful medley of bathing suits. I crawl through the ripples of cold turquoise water and feel the thick polished stones slide against my palms. I dip my head in and let the coolness wrap around every hair follicle and slide across my neck. As I swim past the cove and turn left, the whole ocean opens up to me.
Without the ache, the sweat, and that cursed gluey-warm bottled water; today would simply not have been the same. As I float in the water's soft drift, I let my body relax and sniff for the rosemary in the air. I realize shortly after that the trek back up is a pure, 900-ft ascent up the same, wobbly, crumbling rocks. But I'll just stop here.