Very quickly on the morning of October 22, the hashtag #ThisIsNotOurCanada began popping up on my Twitter and Facebook timelines. Even as alarming (and ultimately inaccurate) reports of multiple gunmen rampaging through the downtown core were still rolling in, some of my fellow Canadians began using the hashtag to reflect on their experience express their collective grief and horror at the unfolding situation. #ThisIsNotOurCanada had become a salve for a new wound that we still didn't understand or know how to deal with.
In some ways, the stream for #ThisIsNotOurCanada was a beautiful thing to behold. It was filled with messages about Canada's penchant for peace, tolerance, and unity. But it was also, in many ways, inaccurate. Because this is our Canada. Perhaps not the one we hope for, envision, or hold in our hearts, but it is our Canada of reality.
In fact, it's the Canada of our own creation, and it's the Canada we need to take responsibility for.
As the Archbishop Desmond Tutu famously said, "my humanity is bound up in yours, for we can only be human together." Peace starts in recognizing and valuing the inherent humanity in each of us. And lasting peace comes when that outlook bleeds into every interaction that we have at work, on the street, and in our homes. Then will will be able to say, finally and proudly, that our Canada is peace.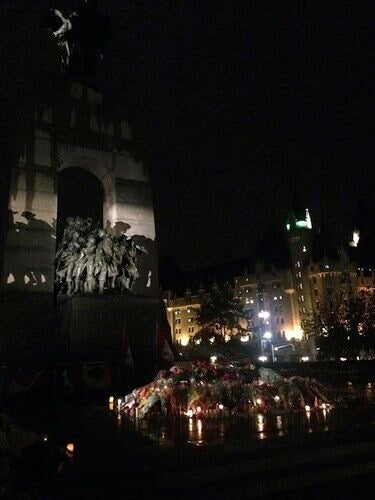 Visiting the war memorial late last Saturday night, I was so moved by the sight of flowers, candles, notes, and gifts piled high on the steps. So many people had given generously of their hearts, time, and money to remember a life lost to violence. I couldn't help but wonder, what would our Canada look like if we could tap into this tremendous well of love and compassion on a regular basis?
Where do we go from here?
If we really want a Canada that is peaceful, it's going to take deliberate, daily action from each and every one of us to make it a reality. We're going to have to do hard things, like opening our hearts and minds to the truth of Canada's colonial past, and our present-day colonial reality. It's going to require us to take a hard look at whether or not our criminal justice system aligns with our values. It will mean that we have to get real about uncomfortable topics like resource exploration and poverty.
We will also need to make room for complications. Because yes, my Ottawa is a wonderful city, filled with beautiful buildings, luscious green spaces, and caring citizens, but it also sits on unceded Algonquin territory, it lacks sufficient affordable housing, and is a place where I frequently get harassed walking down the street.
And the hardest part of all might be that we're going to have to love each other through those tough conversations.
As researcher and author Brene Brown explains, we can't have conversations about racism, oppression, and privilege without experiencing shame. And shame can be paralyzing unless we neutralize it with compassion, empathy, and love.
"You cannot talk about race without talking about privilege. And when people start talking about privilege, they get paralyzed by shame." - Brene Brown
There is a quote from author and spiritual teacher Marianne Williamson that I have held onto since October 22nd. It perfectly summarizes my hope for our collective reaction to this tragic incident: "the way of a miracle-worker is to see all human behavior as one of two things: love, or a call to love."
Peace is not the sole responsibility of brave women and men in blue helmets. Those folks in Cold Lake who came out to clean up messages of hate and anger off the walls of the local mosque were not just kind-hearted people, they were peace-builders.
I invite you to consider how we make peace in our daily interactions. If we truly want to look at events like the Ottawa shooting and say "this is not my Canada", we need to get more serious about living the values of peace, justice, and inclusivity that we claim to espouse.
I've heard many people say that marriage is hard work, and that the deep love we all crave is built on a million small, daily acts of love. So is peace.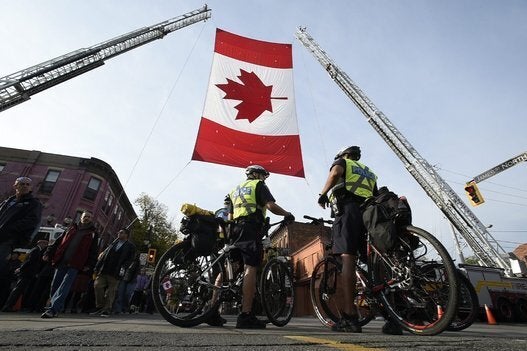 Funeral procession of Cpl. Nathan Cirillo