 March is finally here and this means we can start daydreaming about sunshine and springtime. Spring is one of those seasons that is a fan-favourite across the board. Its only downfall is all of the sporadic rain, but that's nothing that a cute umbrella can't fix!
We all know that April showers bring May flowers, and my absolute favourite spring trend -- floral prints! Floral hit the scene a couple of years ago and now it's everywhere. As soon as the temperatures rise and the winter boots disappear, those colourful flowers find their way into our outfits.
Now for those of you who are terrified of prints and spend your spring days in beige tanks and jeans, I've come equipped with a solution. I've broken down the five easiest ways to work floral into your spring wardrobe.
Story continues after slideshow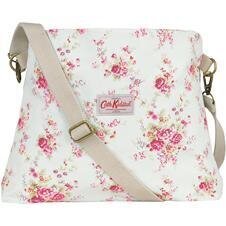 The purse is an accessory that we can all have fun with. Go for a small- to medium-size cross shoulder bag with a small floral print. If this is your first jump into the wonderful world of printed purses, keep it simple with a beige strap and a neutral background.
Floral-printed flats! I remember the first time I bought a pair of floral boat shoes and I literally tried to hide them from my sisters as I knew they would hate them and call them "Grandma" shoes. I was right, they did make fun of me endlessly, but they were wrong about the Granny shoes. If we all reflect back to spring 2012, we'll remember that floral-printed flats were in almost every shoe store, and you can bet that will be the case again this year.
I'll admit I've never been a big fan of headbands, not since I was nine years old anyway. However, the headband has slowly, but surely made a huge comeback. It is no longer a childhood memory, and when done right, it looks super cute. I would recommend starting off with a thin black headband with a small floral print. Once you get into the look, then you can spring for the courageous ones with big bows and brighter prints.
When it comes to floral-printed tops, I would veer away from T-shirts and tank tops to avoid dressing like a playground regular. Instead, opt for a floral-printed blouse, preferably linen or sheer. This is a great casual look with denim pants or shorts. Pick a blouse with a pastel background to keep the springtime feel; my favourites are canary yellow, peacock blue, and coral.
The summer dress is the most daring of these five looks, for you "floral-phobes." I call it the most daring because the whole outfit will scream floral, but it is also my favourite! A cute and simple floral-printed summer dress is perfect for a day strolling in the city, a picnic in the park, or an afternoon at the beach. Not only will you look incredibly cute, you'll also be incredibly comfortable in a cotton dress.
I hope I've inspired you to take the plunge this spring, and purchase some floral-printed pieces for your wardrobe. It's also important to remember not to throw too many floral prints into the same outfit. If you fall in love with the trend (as I have), don't overdo it. Mixing prints is a tricky business, and I'll need a whole new post to break that one down for you!