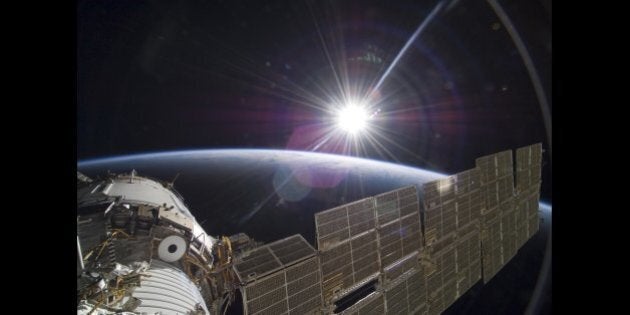 Crowdsourcing is gaining pace in 2015 with accelerated growth in 2014, expanding by 167 per cent to reach $16.2 billion raised, up from $6.1 billion in 2013. And, in 2015, the industry is set to more than double once again, on its way to raising $34.4 billion.
There appears to be a shift towards more well-known brands jumping on the opportunity to engage and inspire collaboration and contribution.
Recently, NASA's Center of Excellence for Collaborative Innovation (CoECI) and NASA Tournament Lab (NTL) contacted Freelancer.com. They asked to partner on crowdsourcing 3D designs of tools for use by the Robonaut 2 (R2) robot that resides on the International Space Station (ISS). Back on February 24, 2011, Robonaut 2 launched up to the ISS fulfilling a 15-year dream to put a humanoid robot into space. And, now NASA has opened up the ability for people on Earth to help it do even more to help the crew.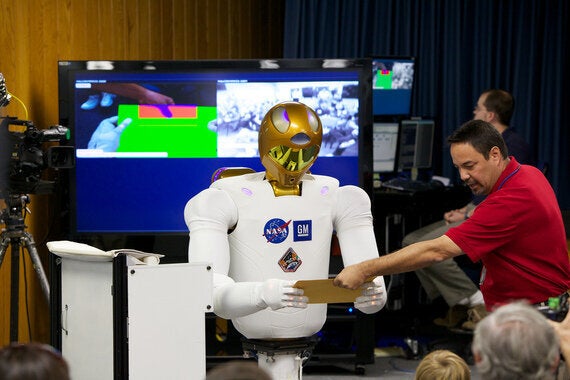 R2 is the first humanoid robot in space, an astronaut assistant, and will be manipulating many of these tools and interfaces in its daily chores. The R2 team uses a special supervisory control interface that brings the robot data and model together with tool models in an environment to help with planning.
The CAD models provided by the crowd on Freelancer.com will be used in this supervisory control interface, and will be representative of tools that R2 may use on the ground or on orbit, such as RFID Scanners, Drills, and Scopemeters. NASA's project is examining the benefits and costs of using crowdsourcing sites like Freelancer.com to perform required development tasks.
NASA originally reached out after talking to the team at Planetary Resources who had recently ran the ARKYD space telescope project T-Shirt challenge. NTL works to set up and run challenges across NASA and facilitate the use of them across U.S. Federal agencies. They have recently been looking at platforms like Freelancer as a way to undertake specific tasks. NASA is really trying to make crowdsourced challenges a tool for our workforce and smaller challenges seem to provide a low-barrier introduction to the concepts and potentially provide real value for their teams.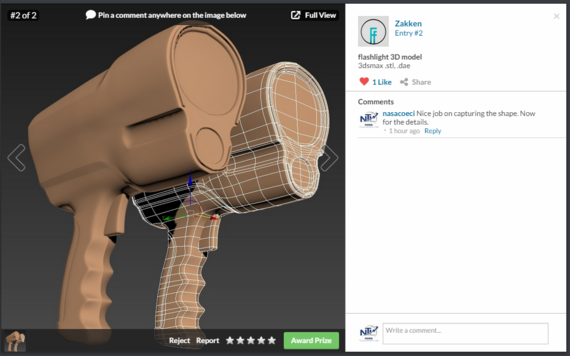 Steve Rader, Deputy Manager, Center of Excellence for Collaborative Innovation (CoECI), is very pleased with the results so far, "The number and quality of submissions that we have received have far exceeded our expectations. The 3D models that we are receiving are truly photo-realistic and engineering accurate models."
The teams at NASA and Freelancer spent some time talking about best practices for running contests and it was a very collaborative process. The following are three key parts to running crowdsourcing contests:
Post a clear brief. The more descriptive that you can be, the better the results.
Communicate with the freelancers entering the contest. Producing new ideas is not good in a vacuum. It can feel like your efforts are not being recognized. This recognition and involvement is central to making crowdsourcing work well.
Think of multiple contests like a campaign. As a brand, you can really inspire people to be a part of an amazing challenge and help elevate themselves and you to new heights.
As the NASA challenge contests continue, even more of Freelancer.com's 16 million plus registered users will jump on board to be a part of history. What is really great is that NASA is interested in engaging these online communities going forward in helping to contribute to the efforts of Space Exploration, and the contest to design an app for use by astronauts is being planned right now.
But, what does this mean? Well, other brands need to start paying attention to very smart ways of getting work done online. Smaller and more agile businesses are using crowdsourcing platforms and will continue to eat into the market share. Larger brands need to think like small businesses and do the following four things:
Be brave. This is the new world and it is quite disruptive. You may want to run a crowdsourcing contest but other staff members may feel threatened or uncomfortable by the new process. At this point it's time to invite them into the process and learn along with you. It's the only way to drive acceptance.
Remove the bureaucracy of decision making. If you have an idea then qualify quickly, discuss it internally and then go for it! Passing time kills the passion for ideas. The more people see it, the more they will try and complicate a simple idea that has a chance of working. It's human nature to overthink things.
Empower your management. Crowdsourcing contests can speed up creative idea development and go-to-market with campaigns that can have a great effect on the business. They will usually cost in the low hundreds of dollars. Think about giving management purchase power online without multiple levels of approval.
Celebrate the good and the not so good. Not all entries will be great but you might learn some interesting perspectives from how people perceive what the brief means to them. The majority of the entries will be great, and you will soon find the 2 or 3 that just blow you away and make you ask "where has this person been hiding?".
Following these simple steps will revolutionize creative parts of your business. 3-D models, landing pages, flyers, stickers, t-shirts, and even tools for your space robot can now be via the power of the crowd.