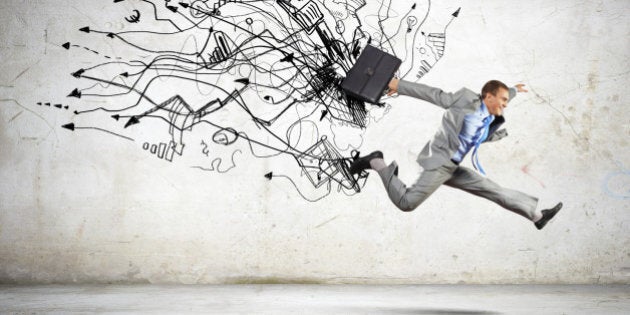 Vancouver is a special place. Its geographic location is incredible. The mountains, the ocean, incredible scenery, an open-minded culture and a pioneering spirit -- these are many of the things that attract people to move here and call it home.
Things are not all positive though. The job climate can be considered a little stifling with so many satellite offices, a lack of diverse businesses and foreign investment driving up the cost of living. If you were to take the city as it is today and drop it in a less attractive landscape, what would it really have to offer prospective workers? Would it still have that magic? Would it still be as prosperous?
Well, over the past few years we have seen a rise in entrepreneurial spirit with many new companies, technologies and initiatives finding success here. The startup culture is really starting to mature into an essential hotbed of innovation.
A recent report from B.C. Stats highlighted that the province's tech sector contributes around $12.5 billion to the Canadian GDP, trailing three other provinces. Ontario leads ($45.8 billion), followed by Quebec ($24.9 billion) and Alberta ($17.7 billion). Ontario is probably the most similar to British Columbia with regards to its startup culture.
Startups in B.C. are not chasing Ontario, and they don't need to.
They are standing together and are resolute in the knowledge that there is something special happening here. Companies like HootSuite, Food.ee, RentMoola, Recon Instruments, General Fusion, Luvo, Human, Mobify, Unbounce, Spacekraft and Lighthouse Labs all hail from here and are changing their respective areas of focus.
Ian McKay, the CEO of the Vancouver Economic Commission (VEC), is bullish about what Vancouver is. "Vancouver's startup ecosystem has already been recognized as world class. With the right capital and talent, it will rank best in the world," he says.
Both the Vancouver Economic Commission and the startup community feel strongly about celebrating what we have and structuring that ecosystem so that we support and nurture each other.
Back in 2014, a team of passionate advocates and companies came together to create the first Startup Week Vancouver. What they achieved -- more than 80 events engaging more than 3,000 people -- in just a few short weeks demonstrated how strong this community is. The local community jumped on board. Startup Week Vancouver is now in its second year, and things are becoming more established. I spoke to Andrew Dilts, one of the organizers. "We're excited to build on that success, focusing on the growth of emerging companies in the technology and innovation communities. Vancouver Startup Week is a key platform aimed at helping Vancouver startup companies achieve the next level of success," he says.
This year, it happens during the week of the September 21.
Vancouver Startup Week begins with a number of talks, gatherings and workshops aimed at creating a stronger community. Two highlights stand out to me. The first is the Networked Business Boot Camp that was conceptualized and will be run by the Vancouver Economic Commission. This event aims to show all kinds of local businesses what tools they can utilize to create community, connections and get ahead of the competition.
Pietra Basilij, VEC's sustainable Community Development Manager, gave me the run down on the event. "Businesses can expect to learn how to use the many local tools and services that are already out there and available to them -- and they will learn from the best of the best. Participants will hear about how to find top talent from Riipen, create social marketing campaigns from Hootsuite, get access to funding from FrontFundr and Grouplend and run events from Picatic," he says. The audience will include non-tech or low-tech startups, SMEs and social enterprises that are looking to grow or evolve their business through online tools and channels.
The second is the recruitment fair, and it has some great buzz around it. Startup life is attractive to so many graduates and experienced workers. It offers hard work, varied tasks and the feeling that you and your team have the chance to change the world. Oftentimes, more established businesses don't allow for the freedom and creativity that is needed. Vancouverites and those that move here crave that. Hundreds of attendees and many great local companies will be there.
So, what will the outcome be after this week of activities? Will we get more investment happening within the community? Will the VCs down in Silicon Valley fly up with bags of cash to buoy the tech startups? Maybe not.
One thing is for sure, however: with each startup event that happens throughout the year, we are standing a little taller as a community, being a little more innovative and getting back to the business of hard work. That's the defining factor: When things don't come easy, we work harder. For me, that's the startup culture in Vancouver.
If Vancouver as it is today were dropped in a less attractive landscape, would it still have that magic? Would it still be as prosperous?