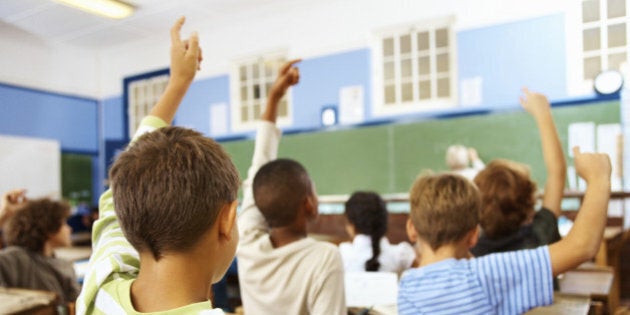 The B.C. teachers' labour dispute is settled. We should all feel a sense of relief that our students are back to school, and the teachers have reached a compromise with the government.
I do feel relief, but I am also concerned about the large task ahead of us. The issue of class size and composition has not been settled, but deferred. There is a court case pending, but I don't think the issue belongs in court, nor should it be settled as part of a (future) labour dispute. The matter goes to the heart of our education philosophy -- what do we want our schools to look like?
We have redefined "inclusion" to mean that every student should feel at home in the district, with their needs being addressed. (The old definition had "inclusion" being synonymous with "integration," or "main-streaming.") To be clear, no one is envisioning reverting to a segregation model, where special needs students have their own separate school system. However, experience over the last 20 years has lead to insight that can both improve the delivery of education for all students, and likely reduce the cost, as well.
The labour dispute has disrupted this initiative, but I am hopeful that we can get back to it, full tilt, in the very near future.
The connection between class size and composition, and inclusion is that your inclusion policy is an important ingredient to your class size and composition constraints, which as we know, is a province-wide concern.
It is great for individual school districts to address this issue on their own, but I also believe that a provincial task force is called for, to give leadership in solving this problem. The task force can consist of the government, trustees, and teachers.
It is interesting to consider how this all relates to the current court case -- the government's appeal of the Justice Susan Griffin ruling. Any judge would be quite happy to see the parties settle out of court, so the pending case should not be seen as an impediment to our working together on this problem.
Class size and composition certainly affects the teachers' working conditions, and so should be considered in labour negotiations. However, class size and composition also cuts to the core of our education philosophy, and should also have provincial guidelines which all labour contracts must follow.
The proposed provincial task force should make recommendations on such guidelines. The participants in the task force can do their work without prejudice to the court case -- whatever progress is made here will be helpful regardless the outcome of the appeal(s).
As a trustee witnessing the unfolding of this past labour dispute, I felt frustration, anger and helplessness. For all the advocacy that trustees can do, the effect is quite minimal. It is important to do the advocacy, but there was always the accompanying feeling of helplessness.
I was angry that there appeared to be no sense of urgency to engage in serious negotiations during the summer months, angry that students were losing school time, angry for the hardship on families, angry for the hardship on teachers, and angry for the hardship on our school administrators.
We must plan to not recreate the same conditions that led up to the past labour dispute. The time to organize a provincial task force is now. It does not make sense to relegate a discussion of core educational philosophy (class size and composition) to be part of an adversarial labour negotiation.
Let's start this work, now, so that when the new contract has elapsed in a few years time, we will be in a healthier, clearer and fairer place for engaging in labour negotiations.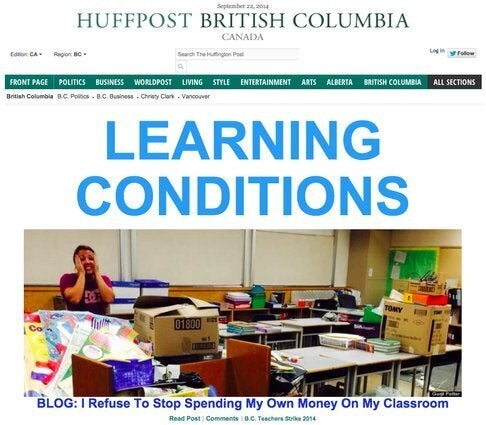 B.C. Teachers' Dispute Front Pages