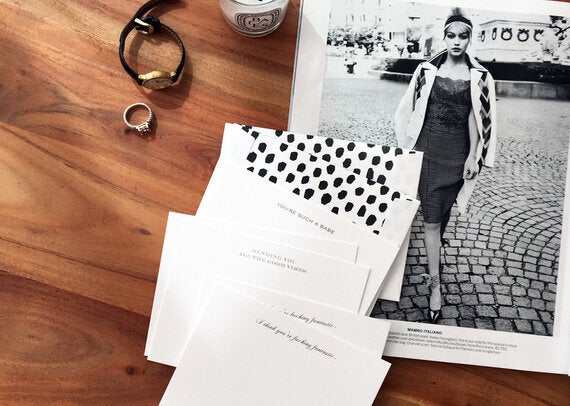 When celebrating the little things -- the daily things that humans do for one another, like setting up a fruitful introduction or loaning a game-changing book that you don't give back for months -- it would be perfectly acceptable to send a text message or email offering thanks. However, those are quick missives in comparison to the significance of a cheerful piece of mail showing up in one's bill-laden mailbox.
Certainly receiving a handwritten note will brighten your recipient's day, but it also signals that you hold your relationship in high regard; that you have a great amount of respect for your friend, family member or colleague; and that you wish to continue to build upon the relationship, and that is quite something special.
Text message is the home of the flaky bails where it has become inconsequential to blow off an event or plans just a couple hours before it begins. It's also the place of cheeky group chats and silly emojis, and so it is understandable that it may not feel of as much significance to receive thanks via this medium.
("Did they really, actually appreciate my effort? Should I offer to help again?")
However, a note has a finite amount of space, so each word must be thoughtfully chosen as there is no delete button, no asterisk to correct spelling mistakes or change a course of thought. The message must be thought of beforehand and carefully applied to paper, with a pen that has already done a little scribble so as to avoid that awkward first-word, dry-pen issue where you have to then trace back over the word to make the ink look even (is this a thing for everyone or just for the stationery-obsessed?).
A note is tangible, often kept and posted up where it will be easily viewed at home or by colleagues, and this is specifically why as stationers, we choose to create flat cards; not only are the message and design visible together, but the design of the card acts as a frame for your words. They deserve to be framed, kind words are the very best thing we can offer.
Our favourites are the "just because" notecards that don't ask for a special occasion to be sent. These notecards go out to friends who've been hustling towards a big goal or to someone who's recently been going through a tough time and could use words of encouragement.
In a challenging moment, what is most significant is knowing that another human being is thinking of you and truly cares about what's going on in your life. The greatest thing we can do for our relationships, be them personal or professional, is to show gratitude. At Love & Mark Paper Co., we believe that stationery is simply a vehicle for sharing this gratitude.
In an age where the digital world simultaneously and bizarrely has the power to connect us all and then leave us feeling the most disconnected and lonely with not enough likes on a photo, responses or RSVPs to a Facebook event or text messages coming through, the importance of genuine human connection is at an all-time high.
Ironically, through all this connectedness, the relationships that we have fostered most are those with our devices. We've all seen the couple on a date, both on their phones (likely doing something trivial like scrolling through Instagram), and little in the way of conversation. And we all say to ourselves, that's not me, that won't be us.
As human beings, we all crave balance in our lives, and for us, good stationery is a starting point for reclaiming that balance: ensuring that we are forging strong ties with the wonderful, important, kind people around us.
Follow HuffPost Canada Blogs on Facebook