Binging and purging are at core of current pop culture and social media.
Binging means to watch all episodes of Stranger Things in one sitting, and purging is when you decide to finally delete dozens of old high school classmates from your Facebook account.
But for me, binging and purging will only ever be the methods to my madness; of my bulimia.
After a relationship ended abruptly in my second-year at university, I became suffocated with social anxiety. Despite being surrounded by friends, my low self-confidence and body image issues made me feel alone and isolated. My anxiety manifested itself in my desire to eat in secret, quickly snowballing into a textbook case of a bulimic's binge-and-purge cycle. When this wasn't enough, I began abusing laxatives and doubled or tripled the recommended daily doses.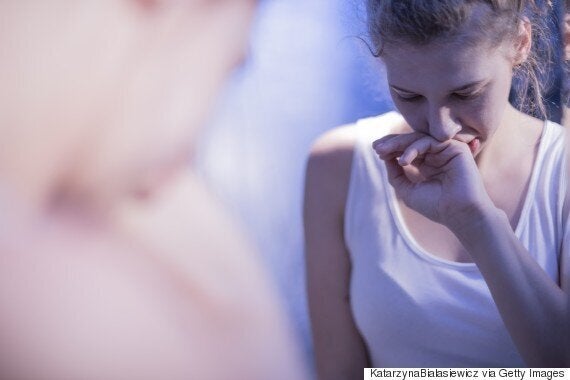 Simple tasks like picking food from a restaurant menu or a trip to the grocery store or dressing myself in front of a mirror became painfully difficult. Any mention of food, weight, appearance, or fitness were triggers.
I was drowning; shackled to a ball and chain, thrown into water, and expected to swim.
Our culture is slowly shifting towards discussing mental health openly, but conversations about specific mental illnesses, like eating disorders, are moving at a snail's pace. On the heels of Bell Let's Talk campaign and National Eating Disorders Awareness Week in Canada, we're still riding a self-congratulatory high of "ending the stigma surrounding mental health."
Though the $6,585,250 raised for Bell Let's Talk record-setting, we need much more than a monetary figure to herald its success. Talking about mental health by dancing lightly around it is as ineffective as not talking about it at all. We need a two-way dialogue that digs into the frank realities of these illnesses.
We speak in platitudes about the "road to recovery" with eating disorders, like there's an easily-replicable strategy, like winning a board game. My recovery was a hellish game of snakes and ladders: I'd make progress and then have a setback and slide back to start. At work, I withdrew further into myself as I gave flaky excuses to cover-up my weekly psychotherapy appointments and support group meetings. I avoided parties with my friends for fear of triggers or rejection if anyone found out about my illness. Even as I made leaps and bounds in therapy, I still felt like I was barely treading water.
Each sufferer's journey is different, but each one of us is part of an alarming statistic.
Sophie Grégoire Trudeau, Lady Gaga, Janet Jackson are among some of the public figures who have come forward to share their experience in coping with an eating disorder. As much as reading their stories gave me the comfort of strength in numbers, I still thought that my circumstance was an embarrassment to discuss with even my closest friends and family members.
My concerns about how others might treat me if I revealed my disorder were -- and still are -- very real. There are still many who think that having an eating disorder is a luxury, or somehow glamourous. I've overheard women in gym locker-rooms bemoan that they wish they were anorexic, or "had bulimia." Far too often, eating disorders are the punchline in a TV sitcom, a meme on Instagram, or referred to as a glorified "New Year, New You" fad.
In a report of the Standing Committee on the Status of Women in November 2014, it states that "[a]t any given time in Canada, as many as 600,000 to 990,000 Canadians may meet the diagnostic criteria for an eating disorder, primarily anorexia nervosa, bulimia nervosa, or binge eating disorder." According to the National Eating Disorders Association, eating disorders can cause a wide range of health complications including heart and kidney problems, gastric ruptures, high blood pressure, and death. Eating disorders can affect anyone -- men, women, teens, persons of colour -- eating disorders do not discriminate, but seeking treatment does.
My recovery wasn't smooth, but eventually, I came up for air.
I come from a middle-class family in the GTA, and so I could afford psychotherapy. My loving family and supportive boyfriend drove me to and from appointments, attended group therapy sessions, and endured the emotional baggage that comes with caring for a loved one with an eating disorder. This can't be said for all sufferers: what about those without the means or income to get to treatment, or those who live in rural or northern regions where specialized treatments are not as readily accessible? These questions of privilege need to be addressed in the context of mental illness discussions -- far more complex than just a once-a-year tweet and an accompanying hashtag.
If the Canadian government truly cares about the mental health of its citizens (especially its youth), they need to assess the benefits of investing in psychotherapy and treatment centres. In the long-term, it will improve the quality of our health-care system and our economy, to say noting of the emotional and psychological well-being of our friends, family, and communities. Member of Parliament Carol Hughes (Algoma-Manitoulin-Kapuskasing) recently called for a pan-Canadian framework and strategy to cope with eating disorders. I hope parliamentarians carefully consider a national strategy, given the renewed interest in funding mental health programs in this country. Let's not lose sight of why we started this dialogue in the first place.
It's been nearly seven years after my first bulimic episode. My recovery wasn't smooth, but eventually, I came up for air. Even now it's not easy, but I know my triggers and possess the ability to cope and deflect my symptoms.
I'm not a picture-perfect success story. After all, perfection was what I craved in the first place.
My bulimia no longer controls me. I didn't drown. Many aren't as lucky.
Follow HuffPost Canada Blogs on Facebook